Maharashtra panel to reopen cases of Acquittal under PNDT Act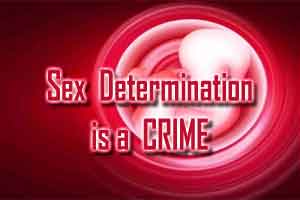 Pune: Struggling to curb sex determination in the state, a Maharashtra government expert committee is now going to reanalyse PCPNDT cases that were filed under the act but led to the acquittals of medical practitioners
The Maharashtra government panel recently held a meeting to discuss the acquittals cases of sex selection cases registered under the PCPNDT act. A report in Express states that committee will now review the 180 cases, in which doctors and radiologists have been acquitted of various charges related to foetal sex determination under the Pre-conception and Pre-Natal Diagnostic Techniques (PC-PNDT) Act.
Reviewing the filed cases under the PNDT Act, Anuja Gulati, state coordinator of the United Nations Population Fund (UNFPA) said, "We want to understand whether there are cases that can be taken up for further appeal."She further said that there were 91 cases the accused were convicted though the court gave them relief.
Dr Archana Patil, in-charge of the State Family Welfare Bureau said that there could be several technical reasons due to which a large number of cases ended in acquittals.  There must be simple errors could be among the reasons like in some cases, official documents stating that the concerned person was an appropriate authority implementing the Act were not submitted. "We want to discuss the merits of each case and decide whether they are fit for appeal," said Patil.
Pune Municipal Corporation (PMC), Assistant Medical Officer Dr Vaishali Jadhav, who handles the implementation of the PC-PNDT Act alleged said that the lack of implementation of MTP Act could be a reason behind the increasing number of sex determination cases, reports Express
The total number of 572 cases were reported under the PC-PNDT Act where 280 cases are pending and the accused in 180 cases were acquitted by the Judicial Magistrate First Class court.
To stop the rising number cases of sex determination in the state, a Maharashtra assembly committee on the suggestion of the Public Accounts Committee (PAC) had asked to making pre-natal sex determination mandatory to prevent female foeticide. The committee had also called for monitoring of pregnant women by local health officials to ascertain if they have aborted the foetus in case it was female, reports
HT
Maharashtra Sex Ratio Rate
Maharashtra's sex ratio at birth dipped by eight points in 2016 as compared to the previous year, according to a report from the state health department. The report says the ratio of newborn girls per 1,000 boys went down from 907 in 2015 to 899 in 2016.
Ideally, 951 girls should be born for every 1,000 boys. "If the number of girls born is less than 920, we can safely assume there is discrimination against the girl child," said Dr P Arokiasamy of the Deonar-based International Institute for Population Sciences told
TOI