Making sense of the trust deficit between doctors and patients
Healthcare in India consists of provisioning by both Public funded and private hospitals. While after independence we looked forward to have complete health provisioning through the government hospitals, it was not to be as many problems ailed the government system. Private hospitals set up and were preferred by the population because they filled the gap left by the public sector. But both the sectors are far from perfect in their functioning. Government hospitals have been reported for apathy and corruption. A study revealed that 3 in 4 people believe that government hospitals are corrupt in India. Private hospitals have regularly been chastised for profiteering, even though there are no regulations regarding on this issue. In recent times, the incidences of patients resorting to violence in order to get better outcomes from healthcare institutions has increased.
Medicine, like all other professions, is a service. The increasing instances of violence and mistrust against doctors and other caregivers throughout India have made an artificial divide, of doctors and the patients. Although it would be wrong to paint all doctors and all patients with the same brush, increased incidences of mistrust should make us all introspect. As patients and doctors, we should collectively reflect on how can we contribute towards filling in the distrust divide and to achieve a common goal. In the dynamics of a doctor-patient relationship, there is an information asymmetry in favor of doctors. Therefore, most of the suggested interventions are applicable for doctors:


Time value: A recent report suggests that a primary care doctor in India connects with their patients for barely two minutes. Though overcrowding is a legitimate cause of concern due to which a doctor cannot give adequate time, studies have also shown the failure of optimum performance of public and private sector providers. A study of Indian Medical Association indicates that 9 out of 10 patients want their doctor to hear their complain in their own words and be empathetic about it. To mend this disequilibrium, doctors need to provide an opportunity for the patients to speak up and make them feel equal partners in the healthcare provision.


There aren't enough doctors in most countries of the world. However, there is other medical and paramedical staff that can be trained and later trusted with doing some routine procedures to reduce the burden on a doctor. This would revitalise the importance of such staff who are sometimes reduced into doing administrative work even when they are trained to interact and work with the patients. New
studies
are being done worldwide to check for the feasibility and outcomes of such delegation. Innovations and more research in India, along with delegation in basic settings can improve health outcomes of the population.


Encourage transparency: Because of lack of communication and the information asymmetry between the doctors and patients, there is a high risk of corruption, which leads to erosion of trust within the community for all doctors. Transparency in terms of costs of procedures, the average time taken and costs of medicines before the patient undergoes the treatment is sought after by any patient, and should be provided whenever possible.


In its 51 years of existence, the Medical Council of India(MCI) has
blacklisted
just 146 doctors. Any doctor in the profession would agree that the number of corrupt and negligent doctors are more than this. It is because of the failure of self-regulation by the doctor community that the patients have to resort to taking consumer and criminal actions against their wrongdoers. The following image depicts the growth in medical negligence cases along the years: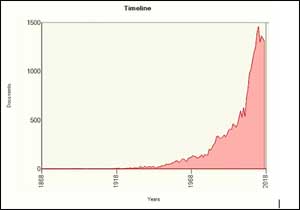 Data taken from
Manupatra
, for the number of case-laws and literature on 'Medical Negligence' from 1869 to 2018


Emphasis on prevention: Before independence, the work of doctors was performed by two sets of professionals, the licentiate, and the MBBS. Licentiate doctors were taught for 3.5 years in basic medicine and would be generalists and practice in rural and semi-urban areas. The idea was serve the growing population with the help of doctors holding diploma before we could grow our MBBS institutions. After independence, it was decided that administration of preventive as well as curative healthcare would be done by the same MBBS doctor, and licentiate doctors and schools were abolished by the first five-year plan. We know now that this model never worked and the MBBS doctors ended up focusing more on healthcare than preventive health. Our country, because of its various socio-economic inequalities as well as inequitable access conditions, requires far more attention in preventive care. Doctors in positions with the political and bureaucracy can have an important role in reviving the medical community's interest in preventive care.


Encourage follow up:
Even though follow-up is a part of communication, it is presented here separately because once the doctor informs the patient about the importance of follow up, it becomes patient's duty as much as the doctors, to ensure that they are not amiss. Follow up can be undertaken by various methods, including
phone calls
, through health care workers and visits.
Even though this is not taught to medical students in detail, information can be sought from best practices across the world and applied on the specific setting of one's practice.
It is true that the doctors in India are struggling due to lack of resources and overcrowding. There are instances of patients being unreasonable as well. However, it must be acknowledged and understood that the system of regulation of doctors was with the doctors for the longest time, and has failed miserably. Like other professions, currently, doctors in India are not given practical training about their work in terms of soft-skills and providing the bigger picture in terms of their position in the society. There is a dearth of researchers in the profession looking to develop innovative methods to bridge the gap between the patient and doctors. Even though India is taking steps to move in a new direction, with laws like
Clinical Establishment Act
(2010) and the
National Medical Council Bill
, (2016) they are not free from defects. These systemic defects in the system are causing physical, mental as well as economic harm to the country. Until the political will to cure the defects is gathered, It is essential for all stakeholders to introspect and innovate, keeping the wellbeing of the population as our goal.