Man dies after falling from hospital bed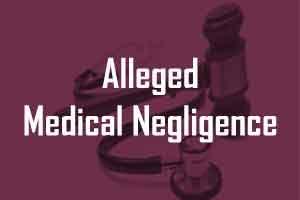 Gurgaon: A 55-year-old man, who was admitted to a hospital, died allegedly after falling from a bed at the health facility, police said.
Ram Phal died and his family members lodged a complaint, alleging negligence by doctors and hospital staff, they said.
He was admitted to the Metro Hospital for fever, Phal's son Sukendra Kumar said.
Kumar alleged that doctors admitted his father in the emergency ward and asked him to stay outside, despite he informing them that he was the only relative present at that moment.
"Three hours later, doctors informed me that my father's condition was very serious and he had to be shifted to the ICU. I went inside the ICU with my brother-in-law Sandeep. He was lying on the bed with head injuries and blood on his sweater," he claimed.
The complainant alleged that when he inquired about the injuries, doctors did not have a satisfactory reply and said that he was on the ventilator, police said.
"There was no movement. Moreover, they behaved rudely with us and only said the treatment was underway," Kumar said.
The family members along with villagers assembled at the hospital and launched a protest. They claimed that doctors had accepted that Phal had fallen from the bed, police said.
However, Dr Anup Sinha, medical superintendent and GI surgeon at the hospital, said that the patient could have suffered a stroke as his haemoglobin and platelet counts were very low.
"There were two nurses present inside the ICU. He probably suffered a stroke and his head could have hit the bed's support rods," he said.
Sinha said that he was unaware of the allegations levelled by Phal's family.
"We don't know what happened inside the hospital. Doctors say that he accidentally fell from the bed, but we suspect he could have fallen during shifting from stretcher to the bed," Sandeep said.
The police have registered a case under sections 304A (causing death due to negligence) and 34 (criminal conspiracy) of the Indian Penal Code against the hospital's administration, Ravinder Kumar, PRO, Gurgaon police, said.
"The case has been recommended to the civil surgeon of Gurgaon for detail investigation as it appears to be of medical negligence," the police PRO said.