Man saved of paralysis with decompression surgery at Artemis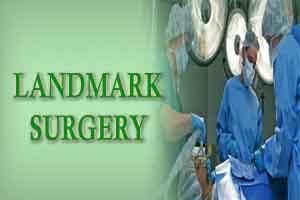 Gurgaon: A young man suffering from spinal tuberculosis and unable to move either of his legs was cured of the paralysis after undergoing a "decompression surgery" by an innovative approach at a private hospital here.
Aryavrat, 23, a resident of Panipat district, was diagnosed with tuberculosis of the spine and had already undergone treatment when he came last month to Artemis hospital here.
He was completely paralysed and unable to move either of his lower limbs.
Aryavrat was admitted, investigated and found to have his two vertebrae, D9 and D10, completely destroyed with severe compression of spinal cord and adjoining nerve roots.
After all examinations, a team of doctors at Artemis, led by Rajesh Verma, Head (orthopaedics), decided on an emergency "decompression surgery".
It's a type of surgery used to treat compressed nerves in the lower (lumbar) spine. The surgery aims to improve symptoms such as persistent pain and numbness in the legs caused by pressure on the nerves in the spine.
"Normally, such surgeries are done by two big incisions, one anteriorly and one posteriorly. But, we went through single incision; two ribs were removed and through thoracic cavity we reached the site of infection," said Rajesh Verma.
"There was complete destruction of the vertebral bodies and there was a lot of pus, dirty granulation tissue which was severely compressing the nerve roots and spinal cord," he said.
The whole of destroyed vertebral bodies, pus, granulation tissue was removed and the dead space created by removal of vertebral bodies was replaced with a metallic expandable cage which was filled with bone graft taken from his iliac crest, Verma said.
To strengthen the adjoining spine, it was fixed with eight screws and two rods.
Just three days after the surgery on March 18, Aryavrat had been completely relieved of pain and almost completely recovered from the paralysis.
He is now able to move both his lower limbs well and can stand and walk.
Aryavata is extremely happy with the result of the surgery, Verma added.