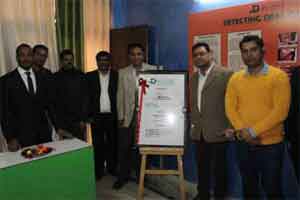 Greater Noida: In a move to create more awareness as well as detect early signs of Oral Cancer, Manavta Cancer Foundation of India has launched a free oral cancer screening centre here.
In collaboration with Just Dental, Manavta Cancer Foundation has set up free Centre for Oral Cancer Screening and centre for Tobacco cessation. The centre was inaugurated on January 7, 2016 by Sayed saba karim (former Test cricketer) at Premises of Just Dental, Greater Noida. On this occasion, Dr. Jagdeesh H G, Dean School of Dental Sciences, Sharda University, Dr. Rashmi Sabah (member ,QCI) Dr. Pankaj Solanki, President, Federation of Resident Doctors Association, New Delhi were also present
Oral Cancer is becoming one of the biggest killers in the country. As per WHO, India Tops in the Death due to oral cancer worldwide. This  obviously is attributed to the predominant direct use of tobacco in the form Gutka, Kheni, beedi, Cigarette and the like. As per Dr. Rahul Singh, President, Manavta Cancer Foundation of India, if the symptoms of oral cancer are detected at right time 80 to 90 percent of the people can be saved from death.
Speaking on the occasion Dr Rahul Singh, " Awareness is the best way to fight cancer. We are tying up with Just Dental to open more such screening centres for oral cancer in 19 different cities of the country.These include states such as Haryana, UP, Bihar, Jharhand, and West Bengal. These states in particular have seen high use of tobacco products and hence cases of oral cancer"
On the day of the launch itself the foundation screened 8 patients who were detected with different forms of cancer including Carcinomas, tumour of the neck, and other types. According to Rahul, all patients had strong history of tobacco use.
The campaign of Manavta has found support from luminaries in the past including Dr. A. p J Abdul Kalam, Sushil Kumar, Vijender Singh, Yuvraj Singh, Milkha Singh, Saina Nehwal .
Supporting this campaign Shri Milkha Singh said, "Milkha singh too supported this campaign and said "I am delighted to hear about the efforts being made by the Manavta Cancer Foundation of India to provide free services to people for cancer awareness and also supporting them in many ways. I hope that people will take the benefit of these noble efforts being made by the foundation."
0 comment(s) on Manavta Cancer Foundation launches free Oral Cancer Screening Centre