Manipal Hospital fined Rs Rs 1 lakh for allegedly violating bio-medical waste management rules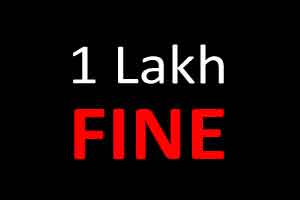 Bengaluru
: For allegedly violating bio-medical waste management rules, Manipal Hospital, Bengaluru has been fined Rs 1 lakh by the Bruhat Bengaluru Mahanagara Palike (BBMP). The hospital authorities were found to have mixed the Medical Waste and Dry Waste together. This is strictly against the Bio-Medical Waste Management Rules, 2016.
Bio-medical waste means any waste, which is generated during the diagnosis, treatment or immunization of human beings or animals or in research activities or in production or testing of biological or in health camps.
Bio-Medical Waste Management Rules, 2016 was notified on March 28, 2016, by Ministry of Environment, Forest and Climate Change, Govt. of India under Environmental Protection Act, 1986.
As per the biomedical waste rules, different colour bags should be used for the disposal of different types of biomedical waste.


Yellow bins: They must only contain human waste, tissue, organs, or bodily fluids. They can also contain chemicals, soiled bedsheets, animal carcasses, or laboratory waste.


Red bins: They must only contain IV tubes, catheters, tubing or syringes without the needle.


White bins: They includes sharp items like used needles, scalpels or blades.


Blue bins: These are used for the disposal of glass materials like beakers, vials and other broken glass equipment.


Under the rule 15 of the Environment Protection Act,1986, whoever fails to comply with or contravenes any of the provisions of this Act, shall be punishable with imprisonment for a term which may extend to five years or with fine which may extend to one lakh rupees, or with both.
Now, in the recent case, the fine was imposed to the Manipal Hospital, Bengaluru as per the guidelines of Bio-Medical Waste Management Rules, 2016. The matter came to light on January 08, 2020; after D Randeep, Special commissioner of solid waste management tweeted against the violation allegedly done by the hospital.
"Staff at Manipal hospital, JP Nagar have been found handing over Medical Waste mixed with Dry Waste to Open Lorry by Marshal. Penalty challan raised for Rs 1 lakh," he had tweeted.
In response, the hospital authorities took to twitter denying the breach and sought opportunity by BBMP to explain their stand on this matter. They had tweeted:
"Dear Sir, as a responsible Hospital, Manipal Hospitals has always been adhering to the Solid Waste Management protocols as guided by the BBMP. We have strict policies in place to adhere to the same. We have sought an audience with the responsible authorities in BBMP to explain our stand on this matter and produce details related to the same," Manipal health replied on January 09, 2020.