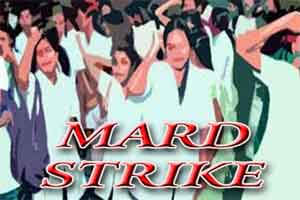 Around three hundred doctors of MARD Aurangabad Division at GMCH Aurangabad are still on strike since 8 a.m yesterday morning, following the assault of a fellow resident. With the second day coming at end, their call for justice still awaits reaction from the police department and the official authorities. The residents under MARD aurangabad had demanded, that the culprits be put behind bars under the Doctors Protection Act, or the strike will continue indefinitely.
Rumour has it that the members of Aurangabad MARD had met the collector today, and the collector (like the police department) could only give verbal assurances that the accused had been arrested, but did not show the doctors the people in person. It is also rumoured that collector indicated the situation is political and involves political people , therefore asking the doctors not to strike.
Central MARD had yesterday, extended its support to the Aurangabad wing, and as per current sources, would go on a 24 hour token strike Maharashtra wide to show their solidarity to the fellow doctor at GMCH, from tomorrow, if the accused are not caught by 8.am tomorrow morning.
0 comment(s) on MARD GMCH Strike Day 2: Still waiting for justice