Max Healthcare introduces 24x7 ward monitoring system for improved patient safety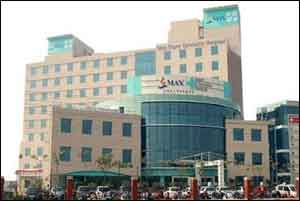 New Delhi: Max Healthcare, one of India's leading healthcare providers has partnered with US-based VIOS Medical for the launch of a 24x7 intelligent vital monitoring system. The innovative technology provides continuous monitoring of vital signs such as oxygen saturation, Heart Rate, Respiratory Rate, ECG and BP in general wards, thereby enabling early detection and critical care facilityeven outside an Intensive Care Unit (ICU) set-up.
The solution is an advanced measure to enhance patient safety – a dedicated focus area for Max Healthcare.  Akin to a High Dependency (HDU) or Intensive Care Unit (ICU), the solution allows continuous monitoring of vitals and a continuous ECG display. The two companies have signed the Memorandum of Understanding for implementation of this solution across Max hospitals.
The VIOS ward monitoring system comprises two connected sensors – chest and finger – which communicate wirelessly (via Bluetooth) with a bed-side tablet that maps all vital trends. These, along with alarms (in case of adverse episodes/ change in trends), can be remotely viewed by nursing staff and clinicians on Nursing stations and smartphones via web links. This ensures that hospital staff can continuously monitor even the patients who are in rooms and ensure better care. The efficient alarm management allows faster detection of change in vitals,enabling better real-time escalation of any deterioration or adverse episode. System's build in AI capabilities help in quick diagnosis of several cardiac conditions. The technology also aids clinicians in making more effective treatment plans by providing vital trends and patterns.
A successful pilot of the system, covering several specialties such as Cardiology, Pulmonology, Medicine and Neurology was conducted at Max Healthcare, Dehradun. The system will be soon launched across all network hospitals under Max Healthcare.
Speaking about the innovative solution, Dr. Sandeep Budhiraja, Clinical Director at Max Healthcare said, "Our partnership with VIOS's comprehensive ward monitoring system is a step towards helping us deliver on our brand promise – Eager to Get You Home.With the pilot launch itself, the system has helped us improve overall patient care, with significant reductions in ICU stay and mortality. We also saw several positive interventions where deteriorations were caught much earlier before any significant harm could have happened.This innovation is also offering better hospitalization experience for patients and caregivers. The psychosis/ anxiety felt by patients under long term critical care has a strong impact on their recovery. With this technology solution, patients can experience 24x7 critical monitoring, even outside an ICU environment, helping them recover in the comfortable presence of loved ones."
The solution doesn't just have great clinical benefits, but can also help reduce upto 30% critical care costs as compared to ICU charges.
With this technology innovation, Max Healthcare is ensuring that patients can go home faster and healthier, while delivering better hospitalization experience.