Max Healthcare to acquire 51 percent stake in Saket City Hospital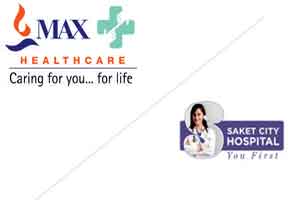 Max Healthcare Partners Smart Health City to Operate and Manage South Delhi based Saket City Hospital
Max Healthcare (MHC) today announced a partnership with Smart Group wherein MHC would acquire 51% stake in Saket City Hospital Pvt. Ltd., from Smart Health City Pte Ltd, the Singapore based BK Modi Group company which manages and operates the Delhi based 
Saket City Hospital (SCH)
. The transaction is subject to confirmatory diligence, requisite regulatory approvals and other customary conditions.
Located in the heart of South Delhi's Saket area, SCH, which started operations in 2013, has 230 operational beds and is currently expanding to 300 beds. Max Healthcare plans to further expand this facility by 900 additional beds, thereby expanding SCH's capacity to 1200 beds. This addition represents a more than 50% increase compared to Max Healthcare's current capacity and will significantly enhance access to quality healthcare.
Combined with Max Healthcare's existing and contiguously located flagship facility (Max Super Speciality Hospital - Saket), Max Healthcare will have a footprint of more than 2000 beds in Saket - making it one of the largest single-location healthcare facilities in India.
MHC's flagship quaternary & tertiary care hospital Max Super Speciality Hospital (MSSH) Saket is already one of North India's premier destinations for tertiary & quaternary care including Centers of Excellence for several tertiary specialities. It is also home to a large number of top clinicians of national eminence and has a strong flow of both domestic and international patients. This development is expected to yield tremendous benefits of scale, synergy and quality across clinical, patient safety, customer service, management and financial aspects in tandem with the Max Healthcare network.
For Smart Health City, the partnership will progress Dr. B K Modi's vision of creating a world-class Medical Office Building (MOB) in addition to SCH. The complementary medical services by MOB will include day care procedures, diagnostics, assisted living, rehabilitation center, medical and clinical research etc.
The integrated healthcare facility comprising MSSH-Saket, SCH and MOB will collectively result in the development of a world class Medicity in the heart of India's capital.
SCH will be rebranded as Max Smart Super Speciality Hospital to reflect the shared vision of the two partners.
Commenting on the partnership, Rahul Khosla, MD, Max India and Chairman, Max Healthcare, said, "The ability to create a 2,000 bed world class integrated Medicity, is a life changing opportunity for Max Healthcare and is in line with the company's vision to be a best in class healthcare services provider. Max Healthcare is confident that this acquisition will provide significant opportunities through the realization of a clear vision that includes setting up a world class center dedicated to Oncology, development of high end Neurosciences capabilities, expansion of tertiary and quaternary specialities, installation of facilities to cater to transplants, deployment of high end technology solutions such as robotics to improve care and safety as well as to address the growing burden of lifestyle related, especially non communicable diseases."
Talking about the partnership, Dr. B K Modi, Founder & Chairman, Smart Global Group, said, "The partnership between Smart Health City and Max Healthcare will be transformational for healthcare delivery in North India. Max's reputation as a premier healthcare provider and the expertise of their international JV partner, Life Healthcare, South Africa, will act as a catalyst for Smart Health City's aspirations of creating a world class healthcare destination. I am now confident of providing India a health facility we will all be proud of."
Reflecting on the development, Andre Meyer, CEO, Life Healthcare, said, "Max Healthcare is a critical part of our international portfolio. This Brownfield expansion will accelerate value creation. MHC is our first large scale healthcare platform outside Southern Africa and its continued success has strengthened our commitment to India in general and Max Healthcare in particular."
Rajit Mehta, MD and CEO, Max Healthcare said, "We believe that we will be able to integrate SCH with our hospital network quickly to optimize clinical and service standards, realize cost efficiencies and attract more top clinicians to an already respectable talent pool."
Dr. Ashok V Chordiya, Vice Chairman, Saket City Hospital, said, "'This partnership will pave the way forward to superior care in medical as well as other complimentary and ancillary services providing comprehensive healthcare."
Ernst & Young acted as the Advisor to the transaction.