Max Shalimar Bagh Felicitates Late Sahil's Family, organ donor to 6 people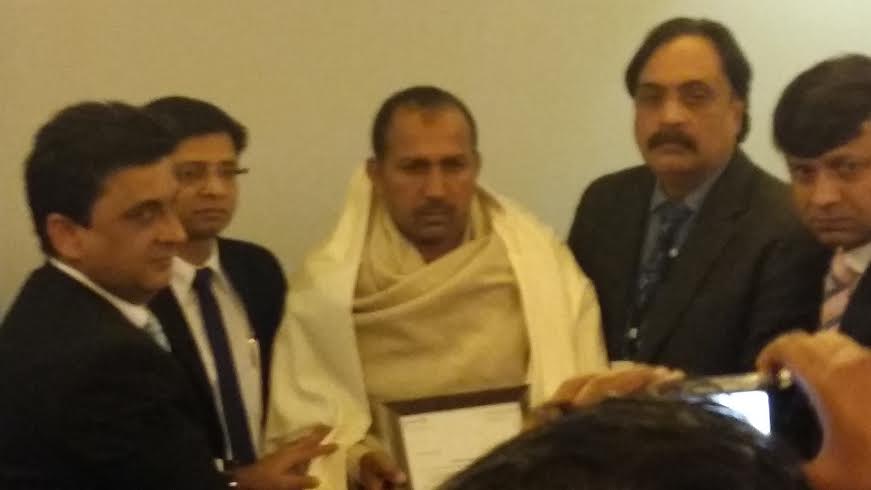 Max Hospital honored the parents of Late Sahil, 17 year old deceased (cadaver) organ donor from a small village called Dikadla in Panipat at a press briefing. The courageous parents of Sahil, 17 year old accident victim generously donated 6 organs on 7th January 2016. For this noble act, they were awarded a memento by the hospital to mark their inspirational act of selflessness and bravery.

In India, every year nearly 500,000 lives are lost due to unavailability of organs. Despite a population of 1.2 billion people, India stands at a mere 0.08 organ donors per million population (PMP). Statistics show that 150,000 people today are on a waiting list for kidney transplant. Heartbreakingly, only 3,000 of them (less than 1/50) get a chance at life again. For years, India has been battling the myths associated with organ donation and encouraging people to come forward and take this brave step towards being humane. In this dismal scenario, the courageous step taken on 7th January by sahil's father Shri Surender stands as a true testament of heroism.

Sahil's father Shri Surender consulted Dr. Anil Kansal, Associate Director Neurosurgery at Max Super Speciality Hospital, Shalimar Bagh after Sahil was declared brain dead by the team of experts at the hospital and expressed his desire to donate the organs of his son Sahil. According to Dr Anil Kansal , "It is a very brave step and an extremely difficult decision to make for any family. Despite the family being from a rural background they took an informed decision to give hope and life to other families struggling to find suitable organ donors."

Dr. Waheed Zaman, Senior Consultant Urology & Renal Transplant, Max Super Speciality Hospital, Shalimar Bagh, who transplanted the donated kidneys in two patients successfully said, "The decision taken by the parents truly re-emphasizes how organ donation is a true sign of humanity. We salute the spirit of Sahil's family in making and executing such a brave decision which gave a new lease of life to six different people. 1.8 Lac patients need kidney transplant; only 5000 transplants are done in India every year. Two lakh new patients develop chronic kidney failure in our country, lack of awareness among people and unavailability of donor being the major reasons for non treatment of these patients. With more than 150,000 organ donations required in India today, we at Max Healthcare, urge everyone to take inspiration from the family of the young deceased and come forward for organ donation."

Commenting on the honor bestowed upon the parents, Dr. Kewal Krishan, Program Incharge – Heart Transplant and Ventricular Assist Devices at Max Super Speciality Hospital, Saket said, "My team and I at Max Healthcare are proud to have been a part of this noble act. More than 50,000 people in India die every year due to cardiac disease. Many of them spend years battling heart failure in the hope that one day, they will get a heart and a second chance at life. Very few actually get to witness their wish see the light of day. The courageous decision taken by the parents of Sahil saved the life of a mother who can now live a full life with her growing children. My team at Max Healthcare and I are proud that the heart transplant was carried out without any road-blocks."

A 32 kilometer green-corridor set-up from Max Super Speciality Hospital, Shalimar Bagh to Max Super Speciality Hospital, Saket on 17th January 2016 helped transport the heart of the 17-year old victim in 45 minutes and 27 seconds. A 46 year old lady with dilated cardiomyopathy along with end-stage heart failure, was the recipient of the heart donated. A team of stalwart experts led by Dr. Kewal Krishan, Program Incharge –Heart Transplant and Ventricular Assist Devices at Max Super Speciality Hospital, Saket ensured a seamless and successful heart transplant procedure. Max Super Specaility Hospital, Shalimar Bagh also coordinated with other hospitals in the city to help transport the remaining organs –two kidneys, two corneas and a liver - quickly. The organs donated of the 17 year old victim resulted in seven people receiving a second lease to life. The donor's two kidneys successfully saved lives of two patients respectively at Max Super Speciality Hospital, Shalimar Bagh, the two corneas were sent to and the liver saved two lives at other hospitals in Delhi.

Here are some Facts and Figures about Organ Donation in India:

 500,000 people die every year because of non-availability of organs

 200,000 people die every year in India of liver disease because of lack of donors

 50,000 people die from heart disease every year for lack of donor hearts

 1,000,000 lakh people suffer from corneal blindness and await transplant

 Statistics suggest that about 150,000 people in India are waiting for a kidney transplant;

however, only 3000 of them receive of them are able to receive a transplant. Only 1 out of 30 people who need a kidney receives one. 90% of people in the waiting list die without getting an organ.