Maximum Age of Senior Resident to be raised to 45: MCI to amend TEQ rules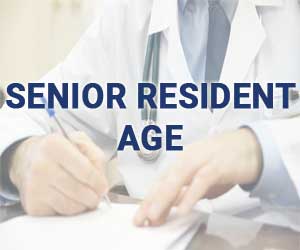 New Delhi: In a move that is growing to bring relief to thousands of doctors who wish to join medical academia but are unable to do so  due to the current Medical Council of India (MCI) rules as they have crossed the threshold of age 40, the apex medical council is soon going to amend the rules to increase the maximum age of Senior Resident (SR) to 45 years.
Senior Resident-ship (SRship) is a necessary entry point to medical academics in India
.
Medical Dialogues had earlier reported that in 2017, the Medical Council of India had amended the Teachers eligibility Qualifications Rules (TEQ),
prescribing the maximum age limit as 40 for posting as a senior resident.
Medical Fraternity had also shown strong objection to this clause that set up a new maximum age limit of 40 years, for those who wish to join Senior Resident-ship, a necessary entry point to medical academics. Doctors pointed out that on the face of acute shortage of medical faculties, while the government was increasing the retirement age of teachers and increasing the student: faculty ratio in medical colleges to add more seats, on the other hand, it was limiting many medical practitioners beyond 40 years, from joining medical academia.
Read more at Medical Dialogues: MCI Clarification on Teachers Eligibility Rules; Check out the details 
In 2018, Various doctors filed a petition (PIL) in the Madras High Court against a clause of the Medical Council of India which prescribes 40 as the maximum age limit for appointment to the post of senior resident or assistant professor in medical colleges. Doctors in their petition asked the court to declare the MCI legislation "unconstitutional, ultra vires, discriminatory and illegal"
Read also: The real reason why doctors cannot join Senior Resident after 40 years
The matter was then referred by the state HC and the government to the Medical Council of Indian Board of Governors and was brought up in the BOG meeting that was held in April 2019. The MCI BOG decided to accept the Tamil Nadu govt request and raise the age limit of SR ship to 45 years.
The Board of Governors decided to accept the request of State Government of Tamilnadu and raise the maximum age for Senior Resident from 40 years to 45 years in the Minimum Qualifications for Teachers in Medical Institution Regulations, 1998 for both government and private Medical Colleges and Hospitals. Necessary proposal for amendment in Regulations be placed for approval of the Central Government.
When the central government also gives its nod to the proposal, the amendments will be made and brought into practice with the Gazette