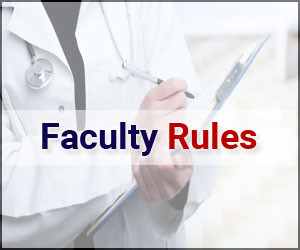 New Delhi: With the advancement in medical science, the era of super-specialisation is now here. The Medical Council of India, taking cognisance of the growing nature of super-specialisation is also trying to incorporate new PG and SS courses and medical colleges are now moving to offer these courses to create a highly qualified medical workforce.
However, with the introduction of new specialisation courses, the challenge comes for a medical college starting with the super-specialisation in finding faculty to teach such a course. MCI requirements call for the teachers to have particular qualifications as well as training experience in order to be qualified as a faculty for that particular discipline.
Now, with disciplines and specialisations which are being introduced for the first time in the country, having a prerequisite Teacher qualification for that discipline is indeed a difficult task. Providing a solution to this problem, the Medical Council of India Board of Governors, recently gave their nod to a proposal that calls for Consideration of in-house training as experience for the appointment of faculty members in newly introduced super speciality courses
The proposed model amendment in Minimum Qualifications for Teachers in Medical Institutions Regulations, 1998 was placed for approval by the Board of Governors in their meeting in December 2018. While the case in question was the specialisation of M.Ch. (Surgical Gastroenterology), however, it was proposed that in case of approval, the same principle will be followed for all such new disciplines where the teacher with prescribed PG super speciality qualification/PG broad speciality qualification plus 2 years special training is not available.
The Board of Governors came to the following decision. For the course in question, it was decided that the TEQ requirements would be as follows
M.Ch. (Surgical Gastroenterology)
OR
M.S. (Surgery) with 2 years special training in Surgical Gastroenterology
OR
M.S. (Surgery) with three years work experience in Surgical Gastroenterology Unit/Department With the following conditions:
a. Work experience is duly certified by the Head of Unit and/or Department and endorsed by Director/ Dean /Principal
b. Such faculty member must have devoted at least 2/3rd time in such super speciality during last 3 years (Teaching, Clinical and Research work duly certified by the Head of Unit and/or Department and endorsed by Director/ Dean /Principal.
c. Documentary proof of contribution to teaching research, clinical services/public health etc. in a related speciality.
The Board of Governors directed the TEQ/PG Section to use the above model for proposing the suitable amendment in TEQ Regulations.
The condition relating to the availability of the above exemption for 10 years be maintained, the BOG stated.
Medical Dialogues is a dedicated Medical Newsportal in India. Our team efforts to bring you updated and timely news about the important happenings of the medical and healthcare sector. Our editorial team can be reached at editorial@medicaldialogues.in
12 comment(s) on MCI BOG nod to new formula for TEQ rules in case of New Super-specializations