MCI BOG preparing guidelines for MBBS, PG Medical fee regulation: Health Ministry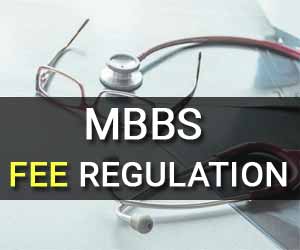 New Delhi: The issue of fee regulation for MBBS and PG medical courses will see major developments in times to come as the government has requested the Medical Council of India Board of Governors (MCI BOG) to prepare draft guidelines for fee regulation.
The same will form the base document, once the National Medical Commission (NMC) replaces the MCI
The Board of Governors (MCI) has been requested to prepare draft guidelines for fee regulation, so that they can be used as a base document by NMC, confirmed Additional Secretary in the Health Ministry Arun Singhal, while speaking to media persons yesterday.
The confirmation came along with a series of announcements made by the Union Health Minister, Dr Harsh Vardhan along with the health ministry officials on the process of complete revamp of the medical education sector with the coming of NMC.
Read Also: MBBS admission to AIIMS, JIPMER via NEET only: Dr Harsh Vardhan
The steadily rising fees for medical courses, both MBBS and PG has indeed been a matter of concern in the field of Medical Education.
While earlier capitation fee was an issue, with the advent of NEET, the official MBBS fee at most private medical colleges skyrocketed, with the entire course fee even crossing Rs 1 crore in many cases. This is bound to create some financially burdened doctors, the government worried
Both the Roy Choudhury Committee and the Parliamentary Standing Committee expressed concerns regarding the high cost of medical education for students and gave recommendations in favour of capping the fees.
However, given the fact that IMC Act, 1956 has no provision for the regulation of fees the erstwhile MCI refused to interfere with the
MBBS fee
structures at private medical colleges citing 
lack of mandate, 
which further became a bone of contention between the medical council and the government
With the takeover of the Medical Council of India by the Board of Governors, the government directed the BOG to come up with solutions, to tackle this growing problem. The solutions so prepared will now be documented in the form of guidelines and will form the basis on which the future NMC will work, officials informed.
The National Medical Commission will regulate fees and all other charges for 50 per cent seats in private medical colleges and deemed universities.
Read Also: MCI replacement Begins: Health Ministry to draw lots on Oct 14 to elect NMC members