MCI cracks the whip on ghost faculty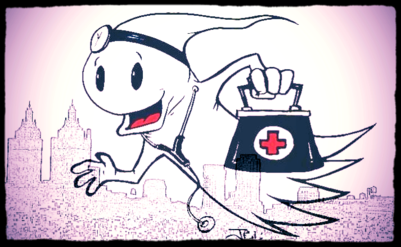 MCI has resorted to taking strict measures against the medical colleges and the doctors-who pose as ghost faculty, during inspection visit to colleges. A penalty can be imposed on such doctors, on the grounds of misleading and supplying incorrect information.
The decision was taken in the last meeting of MCI executive committee recently. It also has also written to state governments, to not allow any transfer of faculty from one college to another, for the purpose of MCI assessments. The council implied this in context of transferring of faculty (from one college to another) for filling up faculty positions during the assessment.
MCI has also suggested that the name of Dean, HOD, and the doctor concerned, involved in such malpractices, be removed from the Indian Medical Register (IMR) for a year.
A heavy punishment is likely to be imposed for showing fake documents, or in case of posing a non-medical person as a medical teacher or resident. If it happens during the assessment, then Dean, HOD, doctor, and the resident concerned will be removed from IMR for three years. Besides, an FIR will be filed against the person for posing as faculty.
The aforementioned situation in all its probability is likely to pose difficulties for district level medical colleges and general hospitals in any state. As implied in a media report, more often than not the state government is challenged by these factors i.e. shortage of faculty, or lack of infrastructure. It is exactly during this time, when the government resorts to redeploying staff from one college to another, temporarily during MCI inspection.
A doctor may also be censored from the services, as in a case of maximum punishment given for the offence. A case in 2012, led to removal of 32 doctors in a private medical college in Tamil Nadu by MCI. They were removed for 3-5 years from the State and national medical registers.
"The MCI has made it clear that the norms would be no different for government doctors. Not just the doctors who are transferred, but the Director of Medical Education (DME) who issues the transfer orders or "temporary redeployment orders" for the purpose of managing MCI assessments in medical colleges could face penalty," a senior doctor and health activist pointed out to the Hindu.
A similar incident was reported in Idukki and Palakkad government medical colleges last year, when the state of Tamil Nadu was on the verge of losing 150 seats. However, it was only after the intervention of the health ministry, on request of the state government to give it more time to address the shortage, did the matter get sorted.