MCI directs councils to act tough on diagnostic centres violating norms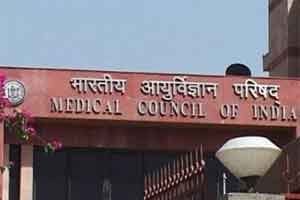 Punjab Medical Council (PMC) president Dr GS Grewal, in a press statement issued here on Tuesday, said that the Medical Council of Indian (MCI) has directed the state medical councils to act tough on diagnostic centres, which refer patients for "unnecessary" tests in order to earn "commission".

He said, "MCI has issued two separate letters to the state councils, asking them that they should take immediate action against such complaints and investigate them in a time bound manner. The councils have also been asked to take suo-moto wherever the councils feel it necessary."

The letters, written by the secretary and deputy secretary of MCI, read, "The MCI has received a complaint with regard to various diagnostic centres giving commission to doctors for referring patients to their diagnostic centres and prescribing investigations which were not required."

"Whenever a complaint is received against a medical practitioner for accepting commission, illegal abortions or nexus with the drug companies, the council should take immediate action and even suo-moto and notify the action taken by them in local newspapers and put it on the website under intimation to the MCI," read the letter.

Grewal said that the PMC would strictly act according to the directions issued by the MCI. He also warned that no doctor or practitioner indulged in unethical practices would be spared.