MCI moves to implement 10 percent EWS quota in medical colleges, Asks States to submit Seat Matrix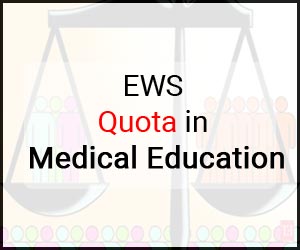 New Delhi: Taking cue from the Ministry of Health regarding bringing of 10 percent Economically Weaker Section (EWS) quota in PG medical seats at  government medical colleges across the country, the Medical Council of India ( MCI) has now written to the various state governments and medical colleges asking them to provide preliminary details for the same
The council with the notice has moved towards the Implementation of reservation of 10% seats in Postgraduate (PG) course for the Economically Weaker Section (EWS) candidates by enhancing of PG seats in the existing Medical Colleges/ Institutes under the policy 10A of the IMC Act, 1956 for the academic year 2020-21
As per the policy, 10 per cent of seats will be reserved for EWS quota and for the implementation of the same, increments in the PG medical seats will be made at various government medical colleges. For the same, MCI has now asked the DMEs. state secretaries, heads of medical colleges and universities of various states  to furnish details of the PG course wise seats at the various medical colleges
The Secretary In-charge of Medical Education and Health Department of the States are hereby requested to send their proposal under the EWS scheme in consultation with DMEs and concerned institutions u/s 10A of the IMC Act, 1956 for the academic year 2020-21. Efforts may also be made to put in place additional facilities ie. teaching, training, beds and faculty, etc. required for the same.





You are further requested to furnish the programme-wise seat increase matrix along with course-wise information as per the enclosed format.
The format is attached in the PDF below
Medical Dialogues had reported that earlier this year, on January 9, the Parliament had passed the Constitution (124th Amendment) Bill 2019 to help the Economically Weaker Sections (EWS) of Indian society. The bill focused on providing 10 per cent reservation in jobs and higher education to the general category poor.
Considering the bill, it was decided that all educational institutions including ones in the medical field, will offer the EWS quota in the General Category.
To facilitate the decision, the MCI has now issued a circular to respective medical education departments, medical universities of the states running GMCs under its jurisdiction; directing them to furnish necessary information in the given format so that the EWS quota can be implemented at these concerned institutes.
The format mandated to be filled by medical education departments' authorities entails the information regarding medical college wise name of programme courses (PG Medical), their existing capacity both permitted and recognized and the number of seats to be increased in 2020-21 to implement to 10% reservation.
The format which is required to be filled by medical institutions includes the proposed number of seats for 10 EWS quota that could be accordingly increased by MCI, the name of the PG medical courses, their existing intake of PG medical students and number of recognized and permitted seats. In addition, the MCI has demanded the details of the MBBS seats at these GMCs, infrastructural and teaching facilities and clinical material as well as radiological investigation details.
Read Also: Medical admissions: 10 percent EWS quota challenged in Bombay High Court