MCI President defends her council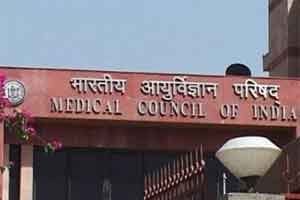 Amoungst the hoards of pilling allegations against the Medical Council of India; the counsel president, Dr Jayshree Mehta has sprung in defense of  council, stating that the apex body has not been 'given a reasonable opportunity' to present its side of the story.
This year MCI, drew major flak from the Parliamentary Committee on health, which called for restructuring the Medical Council of India (MCI), stating that its current composition is "biased" against larger public health goals and is an "exclusive club" of medical doctors from corporate hospitals and private practice. This was followed by the NITI aayog panel calling for dissolution of the apex body and its replacement with the National Medical Commission. At the same time, Supreme court also appointed a three-member committee, headed by former Chief Justice of India, RM Lodha to oversee and monitor all the functions of the council.
Speaking to Hindu, Dr. Jayshree Mehta, President of the council has stated the council has not been 'given a reasonable opportunity' to present its side of the story. She also called the negative attention that has dawned upon the council following the parliamentary panel report, as unfair adding that the report did not reflect reality
"We sought time from the Parliamentary Committee but were not given any time. To that extent, the Medical Council was denied the mandatory opportunity of hearing, which the principles of natural justice guarantee," Dr. Mehta told Hindu, adding that the Parliamentary Standing Committee did not bring out any specific complaints of corruption of any type and magnitude.
The council president has also opposed the NITI Aayog's decision to replace with the National Medical Commissing, terming it as  "remedy more dangerous than the disease."
The draft Bill on the National Medical Commission, 2016, is plagued by several problems and contradictions," which would result in "complete loss of democratic character expected of a regulatory body," she said.
With regards to the oversight committee, she pointed out that this was nothing new.
 "In 2001, the Delhi High Court appointed a full time administrator who supervised the MCI's functioning for a year. During that year, they could not bring even a single event pertaining to the functioning of the Council, which could be said to be contrary to the governing rules," Dr Mehta claimed.
Later a four-member ad hoc committee as formed which examined all of the MCI's decisions between 1996 to 2001. "So, we have been under scrutiny from 1996 - 2001 and then 2002 – 2009 and nothing has been found. While the Lodha Committee does not in any way disrupt the functioning of the Council, the decisions/recommendations given by MCI have remain unimplemented for the substantial period of time," she added.
Asked why the MCI did not inspect the medical colleges even after being asked to do so by the Lodha panel, Dr Mehta said the panel had wanted the applications for starting new colleges/ increase of seats that had been rejected by MCI be accorded another opportunity of compliance. "We considered all the applications in our Executive Committee meeting and found that all these applicants had already been given the required opportunity to comply
Above are excepts taken from a story done by the hindu. You can read the full story by clicking on this link