Why Study Medicine at Manipal's American University of Antigua?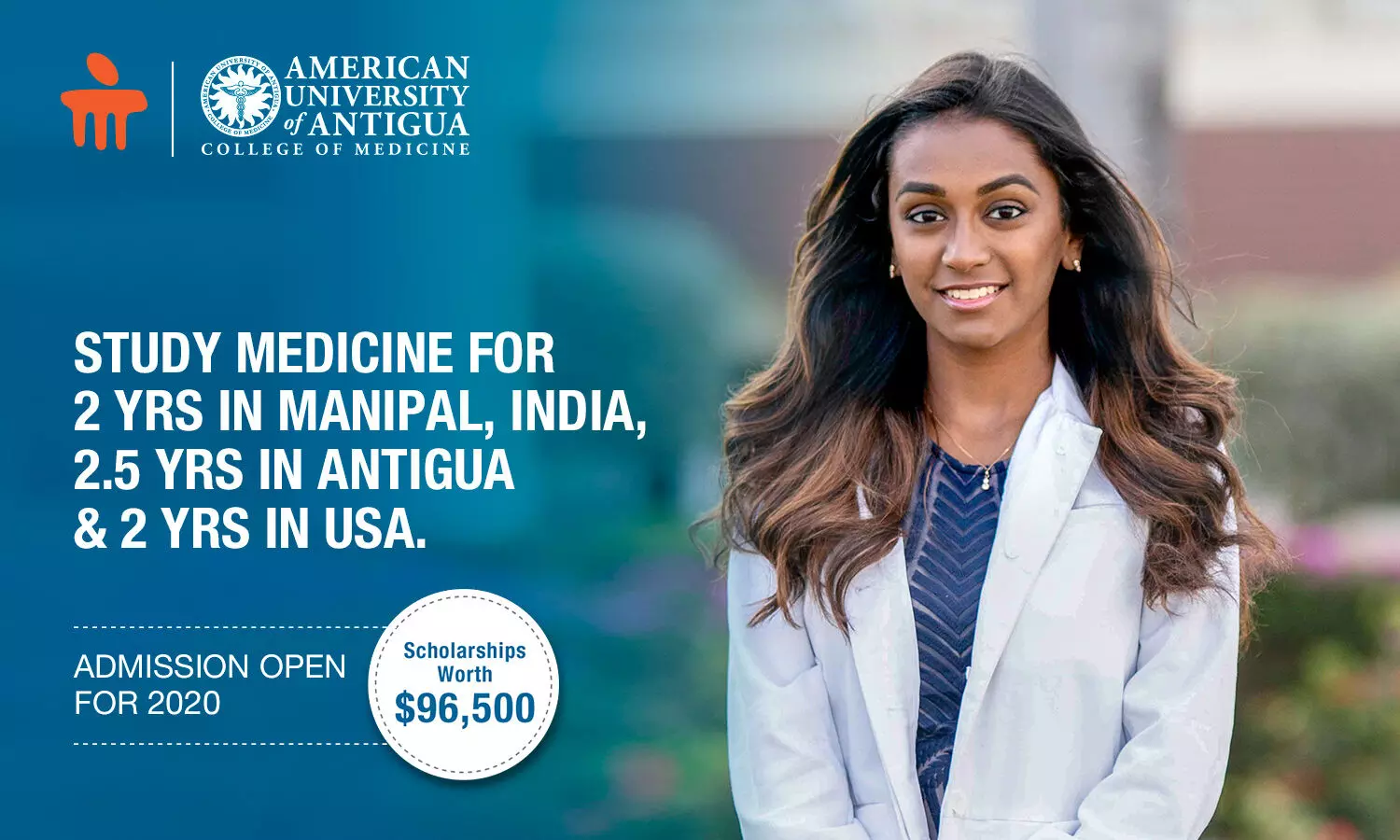 [Sponsored]
Studying medicine is a choice for long term dedication towards building confidence and capability before serving the healthcare sector. Many students aim to serve society with the best of their abilities and aspire to earn a degree in medicine from a well-known foreign university. The American University of Antigua (AUA) is one such renowned institute in the Caribbean island that helps aspiring doctors from different corners of the world to fulfill their dreams. For nearly two decades, the university is training future physicians and offering a Doctor of Medicine (MD) degree. AUA is accredited by the Education Commission for Foreign Medical Graduates (ECFMG) and Caribbean Accreditation Authority for Education in Medicine and Health Professionals (CAAM-HP) which validates the university's standard of medical education that is followed at all international medical programs.
Accreditations and Recognitions:
AUA's dedication and commitment towards providing the best-in-class medical studies to its students helped it to gain the highest academic standards from different government bodies and international accreditating organizations. In addition to the abovementioned accreditation, AUA is also recognized by the Medical Board of California, the Medical Council fo India (MCI), and the American Association of Physicians of Indian Origin (AAPI) along with licensed by the Commission for Independent Education of the Florida Department of Education. The university is also accredited by the United States Department of Education and approved by the New York State Education Department.
Program overview:
In collaboration with the Manipal Academy of Higher Education (MAHE), AUA provides opportunities to its prospective Indian students to earn MD within 6.5 years. After studying a pre-med course at MAHE for the first two years, Indian medical aspirants can complete their medical studies at AUA and earn an MD degree within the next 4.5 years. During these 4.5 years, they study Basic Sciences at Antigua and continue to experience clinical rotations across the US.
During the first two years, students gain knowledge on subjects that help them to prepare for USMLE Step 1. The subjects include biology, biochemistry, genetics, medical ethics, epidemiology, anatomy/physiology, pathology, pharmacology, immunology/microbiology, and introductory clinical medicine. Once USMLE Step 1 is completed, students commence their clinical rotations in the US which helps them to get ready for the USMLE Step 2. During the two years of clinical rotations, students learn and gain practical knowledge about internal medicine, family medicine, surgery, psychiatry, paediatrics, and OBGYN, and then they explore the elective rotations of their interest. Once the clinical rotations are over and the students compete in their USMLE Step 2, they become eligible to apply for the residency program on the basis of their areas of interest.
AUA also provides the Residency Education and Preparation program that enhances the chances of the graduates from International Medical Schools (IMGs) to obtain a residency position in the US.
Gaining Experience in Global Healthcare
AUA provides knowledge on global healthcare through its global MD pathway. Students at AUA obtain exclusive experience through a 10-week course curriculum and clinical rotations at Florida International University (FIU) affiliated hospital sites during their 3rd and 4 th year of medical school. This supports the students in building their academic portfolio for residency applications. During these two years, the students spend each week in the hospital observing, interacting and then assisting physicians. This practical experience gained through clinical training is an excellent start for students to experience and understand the struggles managed by doctors in reality. This broadens their diagnostic ability and adaptability.
Scholarships:
The American University of Antigua also grants several scholarships which include Dean's Achievement Scholarship, Physician Diversification Initiative Scholarship, New York Scholarship, Canadian Scholarship, AUA Research Grant, and many others. In addition to these, Indian students are also granted special scholarships that worth around $96,500. Following is the breakup:
• $10,000 awarded with an increase of $2,500 for each of the four semesters of the AICASA premed program.
• $47,500 awarded with an increase of $9,500 for each of the four Basic Sciences and intersession semesters of the MD program.
• $39,000 awarded with an increase of $9,750 for each of the four Clinical Sciences semesters of the MD program.
Medicine Practice in the US and India
Not all international medical universities and schools provide the opportunity to practice medicine in the US as well as in India. Accreditations should be considered while selecting a medical school. AUA's curriculum is evaluated regularly to keep it parallel as per the standards of its USA and Canadian counterparts. Also, in India, the recognition by MCI validates the MD degree earned by Indian students at AUA. This helps AUA students to practice medicine in the US as well as in India.
AUA in collaboration with many foreign universities like the MAHE, FIU, The University of Warwick, and many others has successfully helped more than 2800 students to graduate. Many students in the long-run have shown their interest in being a part of the AUA alumni and also contributed to a greater extent for the welfare of the university. Surrounded by beautiful nature with warm hospitality received from the natives of the Caribbean region, AUA surely stands out to be a place to build a career in medicine.
You can get more details by dialing on the helpline No:
+916366782676
Disclaimer: This article is a sponsored contribution by Manipal's American University of Antigua and published under our MD Brand Connect Initiative. The views expressed in the article are entirely that of the sponsorer and in no way represent the views and opinion of Medical Dialogues