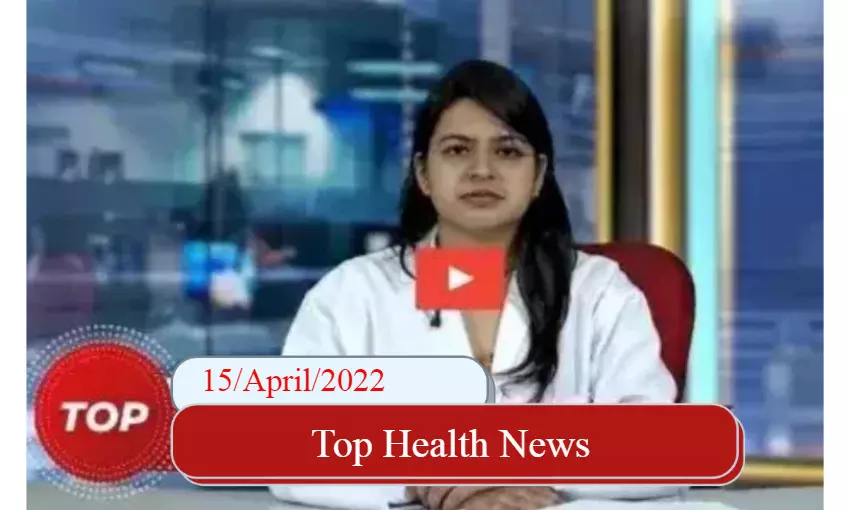 Overview
Here are the top health stories for the day :

Fourth shot protects against severe Omicron outcomes;
According to a study from Israel conducted when the Omicron variant was dominant, a fourth dose of the COVID-19 vaccine from Pfizer and BioNTech provided significant added protection against severe disease, hospitalization and death for at least a month in older individuals.
The estimated effectiveness of the fourth dose during days 7 to 30 after it was administered compared with a third dose given at least fourth months earlier was 45% against infection, 55% for symptomatic disease, 68% for hospitalization, 62% for severe disease and 74% for death, the research team reported on Wednesday in The New England Journal of Medicine.
Delhi HC slams NMC, allows Gujarat medical college to participate in NEET PG counselling round for 9 PG courses
Slamming the National Medical Commission (NMC) body, Medical Assessment & Rating Board (MARB) for issuing disapproval letters to Dr. M.K. Shah Medical College and Research Centre for PG seats in 11 Disciplines, the single judge bench of Delhi High Court opined that MARB should be able to justify its decisions of rejecting applications.
In fact, the bench comprising of Justice Rekha Palli opined in its judgment that MARB cannot overrule the assessor's inspection reports merely on suspicion.
For more information, check out the full story on the link below:
Delhi HC Slams NMC, Allows Gujarat Medical College To Participate In NEET PG Counselling Round For 9 PG Courses
Hospital, Doctors under Medical Council radar for offering free treatment as supermarket deals
Referring to an advertisement that shows free OPD service is being given to people in exchange of Supermarket shopping, the Chhattisgarh Medical Council has demanded immediate action from the Haryana Medical Council regarding the matter.
Writing to Haryana, the Registrar of Chhattisgarh Medical Council, Dr. Shrikant Rajimwale pointed out that such an advertisement was not only derogatory to medical profession but it was also a blatant violation of MCI rules. Therefore, Chhattisgarh Medical Council urged action in the matter for upholding the dignity of medical profession.
For more information, check out the full story on the link below:
Hospital, Doctors Under Medical Council Radar For Offering Free Treatment As Supermarket Deals
Super Specialty Courses 2021 to Commence from April 18, continue till March 31, 2025: NMC
Referring to the delay in commencing Postgraduate Super Specialty courses, the Post Graduate Medical Education Board (PGMEB) of the National Medical Commission (NMC) has informed that the super speciality courses for the year 2021 shall commence from April 18, 2022.
Apart from this, NMC has also set a deadline for the completion of the course, clarifying that it should be completed by March 31, 2025.
For more information check out the full story on the link below:
Super Specialty Courses 2021 To Commence From April 18, Continue Till March 31, 2025: NMC
Speakers

Dr. Nandita Mohan is a practicing pediatric dentist with more than 5 years of clinical work experience. Along with this, she is equally interested in keeping herself up to date about the latest developments in the field of medicine and dentistry which is the driving force for her to be in association with Medical Dialogues. She also has her name attached with many publications; both national and international. She has pursued her BDS from Rajiv Gandhi University of Health Sciences, Bangalore and later went to enter her dream specialty (MDS) in the Department of Pedodontics and Preventive Dentistry from Pt. B.D. Sharma University of Health Sciences. Through all the years of experience, her core interest in learning something new has never stopped.