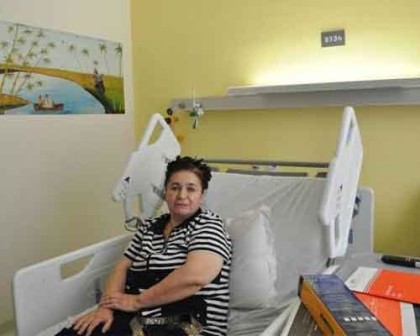 Gurgaon: In yet another breakthrough surgery at the Medanta Bone and Joint Institute (MBJI), the doctors restored the mobility impairment of an Uzbek national. The patient, Ms. Guzal Ruzamatova was suffering from the condition since the last 9 years. The 55 year old lady had met with a traffic accident in 2006 and sustained a fracture of the shaft of her left femur (the long thigh bone). While she was treated locally and underwent a series of surgeries for fracture fixation, implant failure, infection from 2006 to 2009, the issue could not be corrected. Finally in 2009 all the implants and external fixators were removed and the leg was left to heal on its own. As a result of all these procedures, the patient was practically wheelchair bound with barely any mobility.
After years of living with pain, the patient was finally recommended to Medanta Bone and Joint Institute in India where a team of doctors lead by Dr. Ashok Rajgopal, Chairman Medanta Bone and Joint Institute (MBJI) recognized that the patient had a shortening of about 12.5 cms of the left leg. She had an extremely limited range of movement of just 20-60 degrees of the left knee. Additionally, the shoe raise worn by her was extremely heavy and did not allow for much motion.
Dr. Rajgopal and the team at Medanta Bone and Joint institute immediately recommended her for a segmental resection and a total knee replacement surgery, both cutting edge procedures that are championed by Dr. Ashok Rajgopal and his team. In a surgery that lasted almost six hours, both the procedures were successfully performed by the team on December 17th2015.
Speaking about the surgery Dr. Ashok Rajgopal, Chairman – Medanta Bone and Joint Institute said "When we first met her, she was severely disabled and was a wheelchair bound patient. She had had 9 previous surgeries and multiple scars on the same leg. Her limb was a little over 12cm short and had an un-united fracture of the thigh bone. We did a segmental resection implant and restored about 11cm of her leg length without damaging any nerve or blood vessel, thereby restoring her quality of life."
Almost three weeks after surgery, Ms. Guzal is a happy lady and is re-discovering the joys of an independent life free from the handicaps. She is comfortably mobile albeit with a walker and independent in all her personal activities of daily living and can bend her knee normally. She has regained 11cms of length in her left leg basically making the length of both her legs almost the same further aiding her movement. With a small insole of 1.5cms she can further do away with any need of wearing the cumbersome shoe raise in future. Narrating about her experience, Ms. Guzal said "I was treated at Tashkent earlier but it didn't help me much. I didn't have any hope of getting back my leg and walking normally. I am grateful to everyone at Medanta for the treatment and returning my life back to normal."
0 comment(s) on Medanta helps Uzbek national walks for the first time after 9 years