Medical Bandh in Karnataka: More than 50000 Hospitals, Nursing Homes to Strike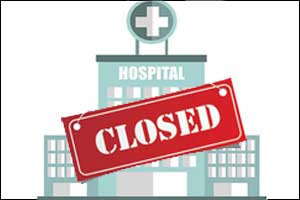 Bengaluru: More than 50,000 Private hospitals, Nursing Homes, Diagnostic Centers and clinics in Karnataka are expected to remain closed on
November 3
as the IMA State Branch has called for a shut down of services against the proposed amendments to The Karnataka Private Medical Establishments Act 2007.
It is reported that in the month of June 2017, the government had tabled The Karnataka Private Medical Establishments (Amendment) Bill - 2017, to further amend Karnataka Private Medical Establishments Act - 2007.
The bill empowers the government to fix rates for procedures in private hospitals, set up grievance redressal cells, prohibit any additional charges and any advance payment in case of an emergency. Moreover, if the private medical establishments collect more charges than that fixed by the state government, the government can impose a penalty of not less than Rs 25,000 which may extend to Rs 5 lakh and imprisonment not less than six months which may be extended to three years.
The Bill was immediately opposed by the medical fraternity, which had called for a shutdown of services protesting against the said amendments. Under the pressure of the medical profession, the Legislative Assembly referred the bill to a joint house committee to incorporate the concerns of the medical profession come up with recommendations
A recent report in
Indian Express
states that the committee submitted its final report to Legislative Assembly Speaker K.B. Koliwad in the first week of October. According to a draft of the rephrased Bill, inconsequential of the committee's recommendations, no changes demanded by the protesting private medical establishments have been incorporated into the final Bill.
Speaking to Medical Dialogues team, IMA representatives informed that the bill was designed the squeeze the medium and small private hospitals out of business. " We agree to display the cost of each treatment but how does the government has any right to decide what should be the cost of treatment at our private hospitals? We have not taken any land or concession from the government, so the government has no right to dictate us like this." said Dr Rajashekhar Bellary, IMA President, Karnataka State Branch
IMA has also demanded to drop amendments made in respect of constituting district grievance redressal committee, punishment for doctors in case of failure of treatment and charging fees as well as prescription audits which is assumed to promote " Inspector Raj" .
Private doctors and hospitals have also expressed displeasure over government hospitals being kept out of the ambit of the legislation, despite Justice Vikramajit Sen committee recommendation that there cannot be two sets of rules for private and government hospitals.
It is expected that around 50,000 hospitals, nursing homes as well as diagnostic centres will participate in the strike, in some form or the other. Some institutions have already decided on their shutter down, while some have announced that OPD would be closed with emergency services functioning. A Delegation of doctors will meet the state health minister on November 2 to discuss their grievances one last time, before announcing the stirke
Read Also :
Govt to Fix Rates of Private Hospitals in Karnataka, Tables bill