DrNB Urology: Admissions, Medical Colleges, Eligibility Criteria, fee details here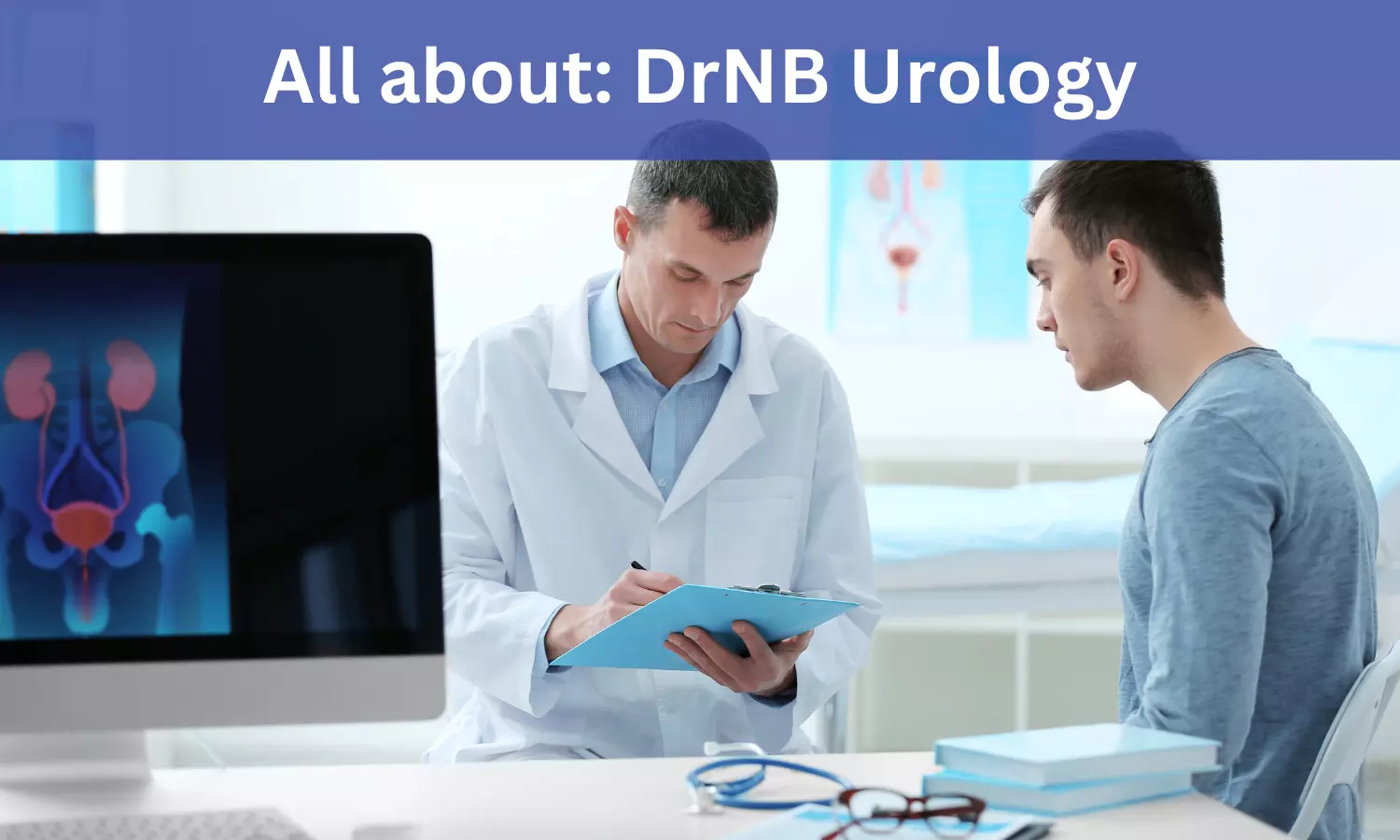 DrNB Urology or Doctorate of National Board in Urology also known as DrNB in Urology is a super specialty level course for doctors in India that is done by them after completion of their postgraduate medical degree course. The duration of this super specialty course is 3 years, and it focuses on the study of treatment and management of diseases of the Genito-urinary systems.
The course is a full-time course pursued at various accredited institutes/hospitals across the country. Some of the top accredited institutes/hospitals offering this course include Sir Gangaram Hospital, Delhi, P.D. Hinduja National Hospital and Medical Research Centre, Mumbai, Medanta The Medcity, Gurugram, and more.
Admission to this course is done through the NEET-SS Entrance exam conducted by the National Board of Examinations, followed by counseling based on the scores of the exam that is conducted by DGHS/MCC/State Authorities.
The fee for pursuing DrNB (Urology) varies from accredited institutes/hospital to hospital and may range from Rs. 43,000 to Rs.1,25,000 per year.
After completion of their respective course, doctors can either join the job market or can pursue certificate courses and Fellowship programs recognized by NMC and NBE. Candidates can take reputed jobs at positions as Senior residents, Consultants, etc. with an approximate salary range of Rs. 5,00,000 to Rs. 37,50,000 per year.
DNB is equivalent to MD/MS/DM/MCh degrees awarded respectively in medical and surgical super specialties. The list of recognized qualifications awarded by the Board in various broad and super specialties as approved by the Government of India are included in the first schedule of the Indian medical council Act, 1956.
The Diplomate of National Board in broad-specialty qualifications and super specialty qualifications when granted in a medical institution with the attached hospital or in a hospital with the strength of five hundred or more beds, by the National Board of examinations, shall be equivalent in all respects to the corresponding postgraduate qualification and the super-specialty qualification granted under the Act, but in all other cases, senior residency in a medical college for an additional period of one year shall be required for such qualification to be equivalent for the purposes of teaching also.
What is DrNB in Urology?
Doctorate of National Board in Urology, also known as DrNB (Urology) or DrNB in (Urology) is a three-year super specialty program that candidates can pursue after completing a postgraduate degree.
Urology is the branch of medical science dealing with the study of treatment and management of diseases of the Genito-urinary systems.
The National Board of Examinations (NBE) has released a curriculum for DrNB in Urology.
The curriculum governs the education and training of DrNB in Urology.
The postgraduate students must gain ample of knowledge and experience in the diagnosis, and treatment of patients with acute, serious, and life-threatening medical and surgical diseases.
PG education intends to create specialists who can contribute to high-quality health care and advances in science through research and training.
The required training done by a postgraduate specialist in the field of Urology would help the specialist to recognize the health needs of the community. The student should be competent to handle medical problems effectively and should be aware of the recent advances in their specialty.
The candidate is also expected to know the principles of research methodology and modes of the consulting library. The candidate should regularly attend conferences, workshops, and CMEs to upgrade her/ his knowledge.
CourseHighlights
Here are some of the course highlights of DrNB in Urology
Name of Course

DrNB in Urology

Level

Doctorate

Duration of Course

Three years

Course Mode

Full Time

Minimum Academic Requirement

MS/DNB (General Surgery) obtained from any college/university recognized by the Medical Council of India (Now NMC)/NBE

Admission Process / Entrance Process / Entrance Modalities

Entrance Exam (NEET-SS)

INI CET for various AIIMS, PGIMER Chandigarh, JIPMER Puducherry, NIMHANS Bengaluru

Counseling by DGHS/MCC/State Authorities

Course Fees

Rs.43,000 to Rs.1,25,000 per year

Average Salary

Rs. 5,00,000 to Rs. 37,50,000 per year
Eligibility Criteria
The eligibility criteria for DrNB in Urology are defined as the set of rules or minimum prerequisites that aspirants must meet in order to be eligible for admission, which include:
Candidates must be in possession of a postgraduate medical Degree (MD/MS/DNB) from any college/university recognized by the MCI (Now NMC)/NBE
The eligible feeder specialty qualification for DrNB in Urology is mentioned below:

| | | |
| --- | --- | --- |
| Name of Super Specialty course | Course Type | Prior Eligibility Requirement |
| Urology | MCh/DrNB | MS/DNB (General Surgery) |
The prior entry qualifications shall be strictly in accordance with Post Graduate Medical Education Regulations, 2000 and its amendments notified by the NMC and any clarification issued from NMC in this regard.

The candidate must have obtained permanent registration of any State Medical Council to be eligible for admission.

The medical college's recognition cut-off dates for the Postgraduate Degree courses shall be as prescribed by the medical council of India (now NMC).
Admission Process
The admission process contains a few steps to be followed in order for the candidates for admission to DrNB in Urology. Candidates can view the complete admission process for DrNB in Urology mentioned below:
The NEET-SS or National Eligibility Entrance Test for Super specialty courses is a national-level master's level examination conducted by the NBE for admission to DM/MCh/DrNB Courses.
Qualifying Criteria-Candidates placed at the 50th percentile or above shall be declared as qualified in the NEET-SS in their respective specialty.
The following medical institutions are not covered under centralized admissions for DM/MCh courses through NEET-SS:
1. AIIMS, New Delhi, and other AIIMS
2. PGIMER, Chandigarh
3. JIPMER, Puducherry
4. NIMHANS, Bengaluru
Candidates from all eligible feeder specialty subjects shall be required to appear in the question paper of the respective group if they are willing to opt for a super specialty course in any of the super specialty courses covered in that group.
A candidate can opt for appearing in the question papers of as many groups for which his/her Postgraduate specialty qualification is an eligible feeder qualification.
By appearing in the question paper of a group and on qualifying for the examination, a candidate shall be eligible to exercise his/her choices in the counseling only for those super-specialty subjects covered in the said group for which his/ her broad specialty is an eligible feeder qualification.
Fees Structure
The fee structure for DrNB in Urology varies from accredited institute/hospital to hospital. The fee is generally less in government Institutes and more for private institutes. The average fee structure for DrNB in Urology is around Rs.43,000 to Rs.1,25,000 per year.
Colleges offering DrNB in Urology
There are various accredited institutes/hospitals across India that offer courses for pursuing DrNB in Urology.
As per the National Board of Examinations website, the following accredited institutes/hospitals are offering DrNB(Cardiac Anesthesia) courses for the academic year 2022-23.
| | | |
| --- | --- | --- |
| Hospital/Institute | Specialty | No. of Accredited Seat(s) (Broad/Super/Fellowship) |
| AIG Hospital Mind Space Road, Gachibowli, Hyderabad Telangana-500032 | Urology | 3 |
| Alchemist Hospital Sector-21, Panchkula Haryana Haryana-134112 | Urology | 2 |
| Apollo Hospital 21, Greams lane, Off Greams Rd, Thousand Lights, Chennai. Tamil Nadu-600006 | Urology | 3 |
| Apollo Hospital Plot No. 251 Sainik School Road Unit-15, Bhubaneshwar Orissa-751005 | Urology | 1 |
| Apollo Hospital Room No. 306, Office of the Director of Medical Education Jubilee Hills, Hyderabad Telangana-500033 | Urology | 2 |
| Apollo Multispecialty Hospitals Limited 58, Canal Circular Road, Kolkata West Bengal-700054 | Urology | 2 |
| Apollomedics Superspeciality Hospital Sector B, Bargawan, LDA Colony, Lucknow Uttar Pradesh Uttar Pradesh-226012 | Urology | 2 |
| Army Hospital (R and R) Delhi Cantt, New Delhi Delhi-110010 | Urology | 3 |
| Artemis Health Institute Sector 51, Gurgaon Haryana-122001 | Urology | 1 |
| Asian Institute of Nephrology and Urology 6-3-562/A, Erramanzil Colony, Somajiguda, Hyderabad Telangana-500082 | Urology | 2 |
| Aster Medcity Kuttisahib Road, Near Kothad Bridge, South Chittoor P. O., Cheranalloor, Kochi Kerala-682027 | Urology | 1 |
| Aykai Hospital Institute No.1, Sector 39a, Near Samrala Chowk, Ludhiana Punjab Punjab-141008 | Urology | 2 |
| B T Savani Kidney Hospital Near University Gate University Road, Rajkot Gujarat-360005 | Urology | 2 |
| Baby Memorial Hospital Indira Gandhi Road, Kozhikode Kerala-673004 | Urology | 2 |
| Batra Hospital and Medical Research Centre 1, Tuglakabad Institutional Area, M.B. Road, Delhi-110062 | Urology | 1 |
| Care Hospital Road No. 1, Banjara Hills, Hyderabad Telangana-500034 | Urology | 1 |
| Deenanath Mangeshkar Hospital and Research Centre. 8+13/2, Erandwane, Near Mhatre Bridge, Pune Maharashtra-411004 | Urology | 2 |
| Dr. B L Kapur Memorial Hospital Pusa Road, New Delhi Delhi-110005 | Urology | 2 |
| ESIC Medical College Hospital and Super Specialty Hospital Sanath Nagar, Hyderabad Telangana-500038 | Urology | 3 |
| Fortis Hospital 154/9, Opp. IIMB Bannerghatta Road, Bangalore Karnataka-560076 | Urology | 1 |
| Fortis Hospital Mulund Goregaon Link Road, Mumbai Maharashtra-400078 | Urology | 2 |
| Fortis Hospital Sector-62, Phase-VIII, Mohali Punjab-160062 | Urology | 1 |
| Fortis Hospital, 730, Anandapur, EM Bypass Road, Kolkata West Bengal-700010 | Urology | 2 |
| GCS Medical College, Hospital And Research Centre Opp. Drm Office, Near Chamunda Bridge, Naroda Road, Ahmedabad Gujarat-380025 | Urology | 2 |
| Global Hospital - Super Specialty and Transplant Centre 35, Dr. E Borges Road, Hospital Avenue, Opp Shirodkar High School, Parel, Mumbai Maharashtra-400012 | Urology | 1 |
| Govt. Medical College B-5, Medical Enclave, Jammu Jammu and Kashmir-180001 | Urology | 1 |
| Indraprastha Apollo Hospital Delhi-Mathura Road, Sarita Vihar, New Delhi Delhi-110076 | Urology | 2 |
| Institute of Urology Sakri Road, Dhule Maharashtra-424001 | Urology | 1 |
| Jaslok Hospital and Research Centre 15, Dr. Gopalrao Deshmukh Marg, Mumbai Maharashtra-400026 | Urology | 2 |
| Kalyani Kidney Care Centre 104, Sampath Nagar Main Road Erode Tamil Nadu-638011 | Urology | 2 |
| Kasturba Medical College Hospital (KMC Hospital) Dr. B R Ambedkar Circle, Jyothi Balmatta Road, Mangalore Karnataka-575001 | Urology | 3 |
| Kerala Institute of Medical Sciences P B No.1, Anayara P O, Trivandrum Kerala-695029 | Urology | 2 |
| KLE Centenary Charitable Hospital and MRC Near Annpurneshwari Temple, Yellur Road Vadgaon, Belagavi Karnataka-590005 | Urology | 1 |
| Kokilaben Dhirubhai Ambani Hospital and Medical Research Institute Achyutrao Patwardhan Marg, 4 Bunglows, Andheri (W), Mumbai Maharashtra-400053 | Urology | 2 |
| Kovai Medical Centre Post Box No. 3209, Avinashi Road, Civil Arodrom Post, COIMBATORE Tamil Nadu-641014 | Urology | 2 |
| Krishna Institute of Medical Sciences 1-8-31/1, Minister Road, Secunderabad Telangana-500003 | Urology | 2 |
| Lakeshore Hospital and Research Centre Ltd. Maradu, Nettoor P.O. Kochi, Ernakulam, Kerala Kerala-682040 | Urology | 2 |
| Lilavati Hospital and Research Centre A-791, Bandra Reclaimation, Bandra West, Mumbai Maharashtra-400050 | Urology | 2 |
| Malabar Institute of Medical Sciences Mini Bye Pass, Govindapuram, Calicut Kerala-673016 | Urology | 1 |
| Manipal Hospital No. 98, Rustum Bagh, Old Airport Road, Bangalore Karnataka-560017 | Urology | 4 |
| Max Super Specialty Hospital (Formerly- Pushpanjali Crosslay Hospital) W-3, Sector-1, Vaishali, Ghaziabad Uttar Pradesh-201012 | Urology | 1 |
| Max Super Specialty Hospital 1,2, Press Enclave Road, Saket, Delhi-110017 | Urology | 2 |
| Medanta The Medicity Sector-38, Gurgaon Haryana-122001 | Urology | 2 |
| Medical Trust Hospital M G Road, Kochi Kerala-682016 | Urology | 2 |
| Meenakshi Mission Hospital and Research Centre Lake Area, Melur Road, MADURAI Tamil Nadu-625107 | Urology | 2 |
| Muljibhai Patel Urological Hospital Dr. Virendra Desai Rd, NADIAD Gujarat-387001 | Urology | 6 |
| N U Trust Hospital CA-6, 15th Main, 11th Cross, Padmanabanagar, Bangalore Karnataka-70 | Urology | 3 |
| Narayan Medical College and Hospital AT+PO Jamuhar, PS-Dehri on Sone, Dist. Rohtas, Sasaram Bihar-821305 | Urology | 1 |
| Narayana Hrudayalaya Hospital (NH-Narayana Health City, Bangalore) #258/A, Bommasandra Industrial Area, Anekal Taluk, Bangalore Karnataka-560099 | Urology | 2 |
| P.D. Hinduja National Hospital and Medical Research Centre Veer Savarkar Marg, Mahim, Mumbai Maharashtra-400016 | Urology | 2 |
| Pace Hospitals Plot Number 23, HUDA Techno Enclave, Patrika Nagar, Madhapur, Hyderabad, Telangana-500081 | Urology | 2 |
| Paras HMRI Hospital NH - 30, Raja Bazar, Bailey Road, Patna Bihar-800014 | Urology | 1 |
| Pushpanjali Hospital and Research Centre Pushpanjali Palace, Delhi Gate, Agra Uttar Pradesh-282002 | Urology | 2 |
| Pushpawati Singhania Hospital Press Enclave, Sheikh Sarai Ph-II, Delhi-110017 | Urology | 1 |
| Rabindranath Tagore International Institute of Cardiac Sciences Premises No.1489, 124, Mukundapur, E M Bypass, Near Santhoshpur Connector, KOLKATA West Bengal-700099 | Urology | 3 |
| Rajagiri Hospital Chunangamveli Aluva Ernakulam District Kerala-683112 | Urology | 1 |
| Ruby Hall Clinic 40 Sassoon Road Pune Maharashtra-411001 | Urology | 3 |
| Saifee Hospital Post Box 3771, 15/17, Maharshi Karve Marg, Mumbai Maharashtra-400004 | Urology | 1 |
| Sarvodaya Hospital and Research Centre YMCA Road, Sector-08, Faridabad Haryana-121006 | Urology | 1 |
| Sigma Hospital P/8D Thonachikoppal Road, Saraswathipuram, Mysore Karnataka-570009 | Urology | 1 |
| Sir Ganga Ram Hospital Rajinder Nagar, New Delhi Delhi-110060 | Urology | 7 |
| Sri Narayani Hospital and Res. Centre Thirumalaikodi, Distt. Vellore Tamil Nadu-632055 | Urology | 2 |
| Sri Sathya Sai Institute of Higher Medical Sciences Prasantha Gram, ANANTHPUR Andhra Pradesh-515134 | Urology | 2 |
| Star Hospital 8-2-596/5, RD. NO-10, Banjara Hills, Hyderabad Telangana-500034 | Urology | 1 |
| Vedanayagam Hospital 133 East Bhakshyakaralu Road, R S Puram, COIMBATORE Tamil Nadu-641002 | Urology | 2 |
| Venkateshwar Hospital Sector 18a, Dwarka, Delhi-110075 | Urology | 1 |
| Venkateshwara Kidney Centre Ambedkar Road, Karim Nagar Telangana-505001 | Urology | 1 |
| Wenlock District Hospital Hampanakatta, Mangalore Karnataka-575001 | Urology | 2 |
| Yashoda Hospital Behind Hari Hara Kala Bhawan, S.P. Road, Secunderabad Telangana-500003 | Urology | 1 |
| Yashoda Super Speciality Hospital Nalgonda X Road, Malakpet, Hyderabad Telangana-500036 | Urology | 1 |
| Yashoda Super Speciality Hospital Raj Bhavan Road, Somajiguda, Hyderabad Telangana-500082 | Urology | 1 |
| Zydus Hospital Near Sola Bridge, S G Highway, Ahmedabad Gujarat-380054 | Urology | 1 |
Syllabus
A DrNB in Urology is a three years specialization course that provides training in the stream of Urology.
The course content for DrNB in Urology is given in the NBE Curriculum released by the National Board of Examinations, which can be assessed through the link mentioned below:
The major components of the Postgraduate curriculum shall be:
• Theoretical knowledge
• Practical and clinical skills
• Thesis skills.
• Attitudes including communication skills
• Training in research methodology.
Theory
Anatomy
Surgical Anatomy of the Retroperitoneum, Kidneys, and Ureters
• Anatomy and Embryology of GU tracts, adrenal &retroperitoneum.
• Applied physiology and biochemistry pertaining to Urology, Nephrology, renal transplantation and renovascular hypertension.
• Investigate veurology &Genito-urinary radiology and imaging including nuclear medicine.
• Male Infertility, Andrology, and Urological endocrinology
• Sexual dysfunction-investigations and management.
Infections and Inflammation
1. Infections of the Urinary Tract.
2. Schaeffer Inflammatory Conditions of the Male Genitourinary Tract
3. Interstitial Cystitis and Related Disorders
4. Sexually Transmitted and Associated Diseases Urological Implications of AID Sand Related Conditions
5. Cutaneous Diseases of the External Genitalia
6. Tuberculosis and Other Opportunistic Infections of the Genitourinary System
• Perioperative care, management of urological complications, and care of critically ill patients.
• Uro-dynamics and Neurology.
• Genito-urinary trauma.
Urolithiasis-Medical, Biochemical & Surgical aspects
• Upper & Lower Urinary Tract Calculi
• Evaluation, Diagnosis & Treatment
• Surgery-PCNC, Intracanopy, Cystoscopy, ESWL
Pediatric Urology
1. Normal and Anomalous Development of the Urinary Tract Renal Function in the Fetus Congenital Obstructive Uropathy
2. Perinatal Urology Evaluation of Pediatric Urologic Patient)
3. Renal Disease in Childhood
4. Urinary Tract Infections in Infants and Children
5. Anomalies of the Kidney Renal Dysplasia and Cystic Disease of the Kidney
6. Anomalies and Surgery of the Ureteropelvic Junction
7. Ectopic Ureter Vesicoureteral Reflux
8. Prune-Belly Syndrome
9. Exstrophy and Epispadias
10. Complex Surgical Technique for One-Stage Exstrophy
11. Reconstruction Bladder Anomalies in Children
12. Posterior Urethral Valves and Other Urethral Anomalies
13. Voiding Dysfunction in Children: Neurogenic and Non-neurogenic Urinary Tract Reconstruction
14. Hypospadias Abnormalities of External Genitalia in Boys Abnormalities of Testis and Scrotum: Surgical Management Sexual Differentiation: Normal and Abnormal Surgical Management of Intersex
15. Pediatric Oncology Pediatric Endourology and Laparoscopy Pediatric
Genitourinary Trauma
• Urinary tract infections and sexually transmitted diseases.
• Obstructive Uropathy.
• Renal transplantation (including transplant immunology medical & surgical aspects).
Prostate Molecular Biology, Endocrinology, and Physiology of the Prostate and Seminal Vesicles
• Etiology, Pathophysiology, and Epidemiology of Benign Prostatic Hyperplasia
• Natural History, Evaluation, and Nonsurgical Management of Benign
o ProstaticHyperplasiaMinimallyInvasiveandEndoscopicManagementofBenig Prostatic Hyperplasia
• Retropubic and Supra pubic Open Radical Prostatectomy
• Epidemiology, Etiology, and Prevention of Prostate Cancer
• Pathology of Prostatic Neoplasms Ultrasonography and Biopsy of the Prostate Tumor Markers in Prostate Cancer
• Early Detection, Diagnosis, and Staging of Prostate Cancer
• Definitive Therapy of Localized Prostate Cancer: Outcomes Expect and Management of Prostate Cancer
• Anatomic Retro grade Retropubic Prostatectomy
• Radical Perineal
Prostatectomy Laparoscopic and Robotic Radical Prostatectomy and Pelvic Lymphadenectomy
• Radiation Therapy for Prostate
• Cancer Cryotherapy of Prostate Cancer Treatment of Locally Advanced Prostate Cancer Management of Rising Prostate -Specific Antigen after Definitive Therapy
• Hormonal Therapy for Prostate
• Cancer Management of Hormone-Resistant Prostate Cancer
Kidney, Bladder, genitalia
• Anatomy
• Evaluation & Diagnosis
• Diseases
o Congenital
o Infection
o Oncology
Neuro –Urology
• Pathophysiology, Categorization,andManagementofVoidingDysfunctionUrody name and Video dynamic Evaluation of Voiding
• Dysfunction Neuromuscular
• Dysfunction of the Lower Urinary Tract Urinary
• Incontinence: Epidemiology, Pathophysiology, Evaluation,andOverviewofManagement The Overactive Bladder
• Pharmacologic Management of Storage and Emptying
• Failure Conservative Management of Urinary Incontinence: Behavioral and Pelvic Floor Therapy,
• Urethral and Pelvic Devices
• Electrical Stimulation and Neuromodulation in Storage and Emptying Failure
• Retro-pudic Suspension Surgery for Incontinence in Women
• Vaginal Reconstructive Surgery for Sphincteric Incontinence
• Pubovaginal Slings Tension-Free Vaginal Tape Procedures
• Injection Therapy for Urinary Incontinence
• Additional Treatment for Storage and Emptying Failure
• Geriatric Voiding Dysfunction and Urinary Incontinence
• Urinary Tract Fistulae Bladder and Urethral Diverticula
• Surgical Procedures for Sphincteric Incontinence in the Male:
• The Artificial Genitourinary Sphincter; Perineal Sling Procedures
The Adrenals
• Pathophysiology, Evaluation, and Medical Management of Adrenal Disorders
Surgery of the Adrenals
Newer developments in Genito-Urinary Surgery
• Electrocoagulation, lasers, fiber optics, instruments, catheters, endoscopes, etc.
• Energy Sources In Urology
• Robotics surgery
• Nutrition in Urology
• Molecular and Cellular Biology Basic
• Principles of Immunology
• Molecular Genetics and Cancer Biopsy
• Tissue Engineering Perspectives for Reconstructive Surgery
Clinical Decision Making
• Evaluation of the Urologic Patient
• History, Physical Examination, and Urinalysis Urinary Tract Imaging
Apart from the above-mentioned subjects, each candidate should have basic knowledge of the following:
1. Biostatistics & Epidemiology.
2. Computer Sciences.
3. Experimental & Research Methodology and Evidence-Based Medicine.
4. Scientific presentation.
5. Cardio-pulmonary resuscitation.
6. Ethics in medicine.
o Biostatistics, Research Methodology, and Clinical Epidemiology
o Ethics
o Medico-legal aspects relevant to the discipline
o Health Policy issues as may be applicable to the discipline
First Two Years Each Candidate should Spend time on basic research especially related to animal laboratory or in collaboration with basic departments i.e. biochemistry, biotechnology, and radiology.
Minor Urological Procedures:
• Needle biopsy of the prostate,
• Dilatation of Urethra
• Trocar cystostomy
• Open cystostomy
• Orchiectomy
• Circumcision
• Meatotomy/ Mentoplasty
• Arterio-venous shunts
• Cystoscopy
Uro-Radiological & Imaging Techniques: During this period a candidate should perform various uroradiological&Imaging procedures like
• Retro grade Urethrogram &Micturating
• Cystourethrogram
• Nephrostogram
• Whitaker test
• Sinogram
• vasoseminography
• Antegrade pyelography
• Interpretation of Ultrasound & computerized tomography scans and Renography
• Renal angiography including Digital Substation Angiography & venography
06-09 Months A candidate should learn, perform and interpret urodynamic studies like Cystometrogram, electromyography & Urethral pressure profile & Video urodynamics. He will also perform and interpret various tests of sexual dysfunction such as dynamic caver nosography, papaverine test, Penil-Brachial Index, Nocturnal penile tumescence, Regi scan, sacral latency period, and other evoked potential studies.
9-23 Months He will assist and perform the following procedures.
(a) Endoscopic Surgery:
• Internal urethrotomy,
• Bladder neck Incision,
• Litholopaxy,
• cystolithotripsy,
• insertion & retrieval of bladder & ureteral stent,
• ureteral meatotomy,
• endoscopic suspension of the bladder neck,
• Transurethral resection of bladder tumor.
(b) Surgical Procedures:
• Simple nephrectomy,
• Radical nephrectomy
• Cystolithotomy uretero-lithotomy,
• pyelolithotomy,
• nephrostomy,
• pyeloplasty,
• various urethroplasties.
• Retropubic & a transvesical prostatectomy,
• Surgery for undescended testis
• Partial and total amputation of penis,
• Extended pyelolithotomy,
• VVFrepair
24-36 Months
Open Surgery
Candidate should learn more complex surgical procedures like
• Transpubicurethroplasty,
• Hypospadias repair,
• Augmentation cystoplasty,
• AnatrophicNephrolithotomy under hypothermia,
• Boari's flap procedure,
• Exstrophy closure,
• Urinary diversion,
• ureteroneocystostomy
• partial and total cystectomy,
• nephroureterectomy
• penile prosthesis
• Artificial urinary sphincter
• Microsurgical Vasoepididmostomy and vasovasostomy,.
• Undiversion,
• Renal transplant surgery and AV fistulae,
• Retroperitoneal lymphadenectomy.
• Endoscopic Procedure Transurethral resection of the prostate
• Percutaneous nephrolithotomy,
• Uretero-renoscopy,
• Laser Surgery,
• Other endourological procedures etc.
Efforts will be made that candidate is able to perform the following minimum stipulated number of procedures within three years of his training.
• Endoscopies 100
• Urethroplasties 5
• Internal urethrotomy 20
• Internal tractreconstractions 10
• Repairofvesicovaginal fistulae 5
• Pyeloplasties 5
• Hypospadiasrepair 5
• TransurethralResectionofProstate 25
• Uretero-Renoscopy 25
• PercutaneousNephrolithotomy&endopyelotomy 15
• Donor Nephrectomies 5
• Recipient Surgery 2
In addition to the above-mentioned procedures, candidates will perform/assist a minimum of two or five of each of the following procedures depending upon the availability of the case material
• Nephrectomyforpyonephrosis-Surgicaltreatmentofstressurinaryincontinence
• Radical Cystoprostatectomy
• Radical Nephrectomy
• Ureteroneocystostomy
• Retroperitoneal lymph node dissection-Ileal replacement
• Different types of Urinary diversion of ortho Neobladder-Surgical management of Renal and Urethral trauma
• Transpubicurethroplasty
• Augmentation cystoplasty
• Nephroureterectomy–Un-diversion
• Anatrophic Nephrolithotomy
• Laparoscopic Urologic Surgery
• Paediatric surgical procedures.
• In-course Training Since it will be a full-time residency cum DNB course, a candidate will be responsible for the total care of the patients.
• He will have the courage to take independent decisions.
• every day there will be at least one hour of academic activity to a maximum of 10 hours/week in which all the faculty members & residents will participate.
• Case discussion will take place weekly with the 3rd-year resident as a moderator
• In OPD a candidate will see the cases independently and will make all the pertinent notes
• In problematic cases and a special referral, it is mandatory to show the case to the respective consultant.
• A candidate will not be allowed to provide independent consultations for the first six months.
• Interdepartmental meetings like uroradiology, uro-nephrology, uroradiotherapy& medical oncology, uropathology, and uro-imaging will provide an opportunity for open discussion on a common subject and it will also provide an opportunity to learn views of the specialists on these subjects.
• Posting: A candidate will be sent to the Nephrology department for one month to learn a medical aspects of Kidney diseases (except renal transplantation). This posting should be after one to 1.1/2 year after joining the course. It is highly desirable to formulate a reasonable teaching curriculum for this posting and a candidate is to be evaluated by the Nephrologist at the end of the posting.
Schedule of Postings
Inter-Disciplinary Posting – It is suggested that there should be posting in the following departments.
• Radiology–2 weeks
• Interventional Radiology–2 weeks
• Pathology–2 weeks
• Nephrology–2 weeks
• 2-week sex change with another teaching Urology department.
Exchange Programme: In view of expanding field of urology, it is difficult to see, observe and have training in all newer sub-specialties. Therefore, it is imperative to include an exchange program and residents should be rotated to two or three centers per the department committee's advice. It is also suggested that departments weak in some subspeciality should invite visiting professors from other centers to strengthen the course.
Practical:
• History, examination, and writing of records:
• History taking should include the background information, presenting complaints and the history of present illness, history of previous illness, family history, social and occupational history, and treatment history
• Detailed physical examination should include general physical and CVS examination
• Skills in writing up notes, maintaining problem-oriented medical records (POMR), progress notes, and presentation of cases during ward rounds, planning investigation and making a treatment plan should be taught
• Other Urology procedures-investigative Urological Procedures like uroflowmetry, CNG, Doppler, Ultrasound & Ultrasound-guided procedures.
• Clinical Teaching General, Physical and specific examinations of Genito urinary should be mastered.
• The resident should be able to analyze history and correlate it with Clinical findings.
• He should be well versed with all radiological procedures like IVU, Nephrostogram, and RGP, Ascending MisturatingUrethrafram.
• He should present his daily admissions in the morning report and try to improve management skills, fluid balance, and choice of drugs.
• He should clinically analyze the patient & decide on pertinent Investigations required for the specific patients. Job Responsibilities Outdoor Patient (OPD) Responsibilities:
• The working of the residents in the OPD should be fully supervised.
• They should evaluate each patient and write the observations on the OPD card with the date and signature.
• Investigations should be ordered as and when necessary using prescribed forms.
• Residents should discuss all the cases with the consultant and formulate a management plan.
• Patient requiring admission according to resident's assessment should be shown to the consultant on duty
• Patients requiring immediate medical attention should be sent to the casualty services with details of the clinical problem clearly written on the card.
• Patient should be clearly explained the nature of the illness, the treatment advice, and the investigations to be done.
• Resident should specify the date and time when the patient has to return for
follow-up. In-Patient Responsibilities Each resident should be responsible and accountable for all the patients admitted under his care.
The following are the general guidelines for the functioning of the residents in the ward:
a. Detailed workup of the case and case sheet maintenance:
b. He/She should record a proper history and document the various symptoms. Perform a proper patient examination using standard methodology. He should develop skills to ensure patient comfort/consent for examination. Based on the above evaluation he/she should be able to formulate a differential diagnosis and prepare a management plan. Should develop skills for the recording of medical notes, and investigations and be able to properly document the consultant round notes
c. organize his/her investigations and ensure collection of reports.
d. Bedside procedures for therapeutic or diagnostic purposes.
e. Presentation of a precise and comprehensive overview of the patient in clinical rounds to facilitate discussion with senior residents and consultants.
f. To evaluate the patient twice daily (and more frequently if necessary) and maintain a progress report in the case file.
g. To establish rapport with the patient for communication regarding the nature of illness and further plan management.
h. To write instructions about the patient's treatment clearly in the instruction book along with the time, date, and bed number with the illegible signature of the resident.
i. All treatment alterations should be done by the residents with the advice of the concerned consultants and senior residents of the unit.
Admission day following guidelines should be observed by the resident during admission day.
a. Resident should work up the patient in detail and be ready with the preliminary necessary investigations reports for the evening discussion with the consultant on duty.
b. After the evening round the resident should make changes in the treatment and plan out the investigations for the next day in advance.
Doctor on Duty
a. Duty days for each Resident should be allotted according to the duty roster.
b. The resident on duty for the day should know about all sick patients in the ward and the relevant problems of all other patients so that he could face an emergency situation effectively.
c. In the morning, detailed over (written and verbal) should be given to the next resident on duty. This practice should be rigidly observed.
d. If a patient is critically ill, a discussion about management should be done with the consultant at any time.
e. The doctor on duty should be available in the ward throughout the duty hours.
Care of Sick Patients
a. Care of sick patients in the ward should have precedence over all other routine work for the doctor on duty.
b. Patients in critical condition should be meticulously monitored and records maintained.
c. If the patient merits ICU care then it must be discussed with the senior residents and consultants for transfer to ICU.
Resuscitation skills
a. At the time of joining the residency program, the resuscitation skills should be demonstrated to the residents, and practical training provided at
various workstations.
b. Residents should be fully competent in providing basic and advanced cardiac life support.
c. They should be fully aware of all advanced cardiac support algorithms and be aware of the use of common resuscitative drugs and equipment like defibrillators and external cardiac pacemakers.
d. The resident should be able to lead a cardiac arrest management team.
Discharge of the Patient
a. Patient should be informed about his/her discharge one day in advance and discharge cards should be prepared 1 day prior to the planned discharge.
b. The discharge card should include the salient points in history and examination, complete diagnosis, important management decisions, hospital course and procedures done during the hospital stay, and the final advice to the patient.
c. Consultants and PG Residents should check the particulars of the discharge card and counter-sign it.
d. Patient should be briefed regarding the date, time, and location of OPD for the follow-up visit
In the Case of Death
a. In case it is anticipated that a particular patient is in a serious condition, relatives should be informed about the critical condition of the patient beforehand.
b. Residents should be expected to develop appropriate skills for breaking bad news and bereavement.
c. Follow-up death summary should be written in the file and face sheet notes must be filled up and the nurse in charge should be requested to send the body to the mortuary with respect and dignity from where the patient's relatives can be handed over the body.
d. In case of a medico-legal case, a death certificate has to be prepared in triplicate and the body handed over to the mortuary and the local police authorities should be informed.
e. Autopsy should be attempted for all patients who have died in the hospital especially if the patient died of a nun diagnosed illness.
Bedside Procedures The following guidelines should be observed strictly:
a. Be aware of the indications and contraindications for the procedure and record it in the case sheet. Rule out contraindications like low platelet count, prolonged prothrombin time, etc.
b. Plan the procedure during routine working hours, unless it is an emergency. Explain the procedure with its complications to the patient and his/her relative and obtain written informed consent on a proper form. Perform the procedure under strict aseptic precautions using standard techniques. The emergency tray should be ready during the procedure.
c. Make a brief note on the case sheet with the date, time, nature of the procedure, and immediate complications, if any
d. Monitor the patient and watch for complications(s).
OT responsibilities
a. The 1st year resident observes the general layout and working of the OT, understands the importance of maintaining the sanctity of the OT, scrubbing, working, and sterilization of all the OT Instrument, and know-how of endoscopes.
b. He/She is responsible for shifting OT patients, for participating in surgery as 2nd assistant, and for post-operative management of patients in recovery and inward.
c. The 2nd year resident is responsible for the pre-op workup of the patient, surgical planning, and understanding the rationale of surgery.
d. He/she is the first assistant in surgery and is responsible for anticipating intra-op and post-op complications and managing them.
e. The final year resident should be able to perform minor/medium/significant surgeries independently and assist in medium/major/extra major surgeries.
f. He/she should be able to handle all emergencies and post-op complications independently and is responsible for the supervision and guidance of his/her juniors.
Medico-Legal Responsibilities of the Residents
All the residents are given education regarding medico-legal responsibilities at the time of admission in a short workshop.
a. They must be aware of the formalities and steps involved in making the correct death certificates, mortuary slips, medico-legal entries, requisition for autopsy etc.
b. They should be fully aware of the ethical angle of their responsibilities and should learn how to take legally valid consent for different hospital procedures & therapies.
c. They should ensure confidentiality at every stage
Internal Assessment
The performance of the resident during the training period should be monitored throughout the course and duly recorded in the logbooks as evidence of the ability and daily work of the student. Marks should be allotted out of 100 as followed.
1. Personal Attributes 20
2. Clinical Work 20
3. Academic activities 20
4. End-of-term theory examination 20
5. End-of-term practical examination 20
1. Personal attributes:
• Behavior and Emotional Stability: Dependable, disciplined, dedicated, stable in emergency situations, shows a positive approach.
• Motivation and Initiative: Takes on responsibility, is innovative, enterprising, and does not shirk duties or leave any work pending.
• Honesty and Integrity: Truthful, admits mistakes, does not cook up information, has ethical conduct, exhibits good moral values, loyal to the institution.
• Interpersonal Skills and Leadership Quality: Has a compassionate attitude toward patients and attendants, gets on well with colleagues and paramedical staff, is respectful to seniors, and has good communication skills.
2. Clinical Work:
• Availability: Punctual, available continuously on duty, responds promptly to calls, and takes proper permission for leave.
• Diligence: Dedicated, hardworking, does not shirk duties, leaves no work pending, and does not sit idle, competent in clinical case workup and management.
• Academic ability: Intelligent, shows sound knowledge and skills, participates adequately in academic activities, and performs well in oral presentations and departmental tests.
• Clinical Performance: Proficient in clinical presentations and case discussions during rounds and OPD workups. Preparing Documents of the case history/ examination and progress notes in the file (daily notes, round discussion, investigations, and management) Skill in performing bedside procedures and handling emergencies.
3. Academic Activity: Performance during a presentation at Journal club/ Seminar/ Case discussion/ Stat meeting and other academic sessions. Proficiency in skills as mentioned in job responsibilities.
4. End of term theory examination conducted at end of 1st, 2nd year and after 2 years 9 months
5. End-of-term practical/oral examinations after 2 years and 9 months
Marks for personal attributes and clinical work should be given annually by all the consultants under whom the resident was posted during the year. The average of the three years should be put as the final mark out of 20.
Marks for the academic activity should be given by all consultants who have attended the session presented by the resident.
The Internal assessment should be presented to the Board of examiners for due consideration at the time of Final Examinations.
Career Options
After completing a DrNB in Urology, candidates will get employment opportunities in Government as well as in the Private sector.
In the Government sector, candidates have various options to choose from which include Registrar, SeniorResident, Demonstrator, Tutor, etc.
While in the Private sector the options include Resident Doctor, Consultant, Visiting Consultant (Urology), Junior Consultant, Senior Consultant (Urology), Critical Care Specialist, etc.
Courses After DrNB in Urology Course
DrNB in Urology is a specialization course that can be pursued after finishing a Postgraduate medical course. After pursuing a specialization in DrNB in Urology, a candidate could also pursue certificate courses and Fellowship programs recognized by NMC and NBE, where DrNB in Urology is a feeder qualification.
Frequently Asked Questions (FAQs) – DrNBin Urology Course
Question: What is the full form of DrNB?
Answer: The full form of DrNB is Doctorate National Board.
Question: What is a DrNB in Urology?
Answer: DrNB Urology or Doctorate of National Board in Urology also known as DrNB in Urology is a super specialty level course for doctors in India that is done by them after completion of their postgraduate medical degree course.
Question: What is the duration of a DrNB in Urology?
Answer: DrNB in Urology is a super specialty program of three years.
Question: What is the eligibility of a DrNB in Urology?
Answer: Candidates must be in possession of an MS/DNB (General Surgery) from any college/university recognized by the Medical Council of India (now NMC)/NBE.
Question: What is the scope of a DrNB in Urology?
Answer: DrNB in Urology offers candidates various employment opportunities and career prospects.
Question: What is the average salary for a DrNB in urology candidate?
Answer: The DrNB in Urology candidate's average salary is between Rs. 5,00,000 to Rs. 37,50,000 per year depending on the experience.
Question: Can you teach after completing DrNB Course?
Answer: Yes, the candidate can teach in a medical college/hospital after completing the DrNB course.