Case of perianal ulcers as adverse effect of nicorandil: BMJ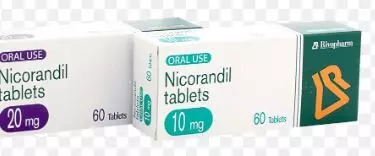 Dr Patricia McGettigan, at clinical pharmacology and medical education , William Harvey Research Institute, Queen Mary University of London, UK and colleagues have reported a case of Painful perianal ulcers following use of nicorandil.

Nicorandil is a nicotinamide ester that dilates arteries and veins, reducing after-load and pre-load on the heart. Guidelines from the European Society of Cardiology and National Institute for Health and Care Excellence recommend nicorandil as second line treatment in the management of stable angina that is inadequately controlled by first line agents such as β blockers and calcium antagonists or where these agents are not tolerated.
It has been documented to cause a rare but serious adverse reaction of painful, non-healing ulcers that affect the skin and mucosa, eye, including the gastrointestinal tract and genitalia. These warnings have been reiterated by the World Health Organization.
A 73 year old man presented with painful ulcers around his anus that have worsened, despite his use of a barrier cream. His bowel habit was unchanged, his weight is stable, he is not anaemic, and he has experienced no rectal bleeding. He had ischaemic heart disease for which he took aspirin, atorvastatin, bisoprolol, diltiazem, nicorandil, and ramipril.
On examination, extensive perianal ulceration was noted. Rectal examination was painful, but no masses were evident. Since clinical findings did not suggest cancer or inflammatory bowel disease, it was diagnosed to represent an adverse reaction to nicorandil.
Depending on the severity of the ulcer and any complications, healing is reported within 2-4 months after cessation, longer for more severe ulcers.
"The single effective treatment for the ulcers is to stop the nicorandil. . Stopping nicorandil treatment is unlikely to increase the risk of cardiovascular events, although it may exacerbate anginal symptoms. Discuss substituting or increasing the dose of another anti-anginal drug for symptomatic relief if the patient experiences symptoms on stopping nicorandil. Explain to the patient that nicorandil is a possible cause for the painful ulcers even though the drug has been taken for some time. Discuss substituting another anti-anginal drug or stopping altogether. Assess anginal symptoms and if the patient is still in cardiology care, keep the cardiologist informed."the team opined.
Based on the case some important observations were made.
· The ulcers are rare; some arise soon after commencing nicorandil, others after years of uneventful treatment.
· The only effective treatment for the ulcers is cessation of nicorandil; other treatments are ineffective or harmful.
For full article copy link : https://doi.org/10.1136/bmj.m3351
Primary source:British Medical Journal
Source : British Medical Journal