Donidalorsen significantly lowers rate of angioedema attacks in hereditary angioedema patients: NEJM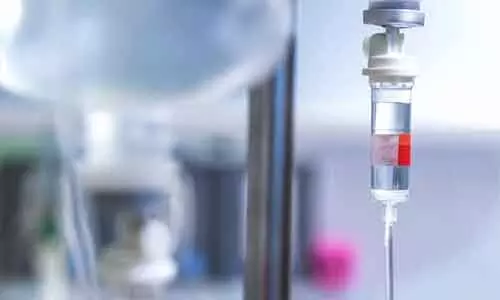 USA: Donidalorsen therapy resulted in a considerably reduced risk of angioedema attacks than placebo in patients with hereditary angioedema, says an article published in The New England Journal of Medicine.
Hereditary angioedema is distinguished by repeated and unexpected swellings that are both debilitating and possibly lethal. Antisense oligonucleotide medication (donidalorsen) may lower the frequency of attacks and the illness burden by selectively inhibiting plasma prekallikrein synthesis. As a result, Lauré M. Fijen and colleagues undertook this study to determine the effectiveness of the Donidalorsen treatment.
In this phase 2 study, individuals with hereditary angioedema and C1 inhibitor deficiency were randomly randomized to receive four subcutaneous doses of donidalorsen (80 mg) or placebo, with one dosage provided every four weeks, in a 2:1 ratio. The primary end measure was the number of investigator-confirmed angioedema attacks per month (attack rate) between weeks 1 (baseline) and 17. Quality of life, as determined by the Angioedema Quality of Life Questionnaire (scores ranging from 0 to 100, with higher scores indicating the lower quality of life), and safety were secondary end objectives.
The results of this study were as follow:
1. A total of 20 individuals were included in the study, with 14 randomly allocated to receive donidalorsen and 6 receiving a placebo.
2. The mean monthly rate of investigator-confirmed angioedema events was 0.23 in donidalorsen patients and 2.21 in placebo participants.
3. The mean change in the Angioedema Quality of Life Questionnaire score from baseline to week 17 was 26.8 points in the donidalorsen group and 6.2 points in the placebo group (mean difference, 20.7 points; 95% CI, 32.7 to 8.7).
4. Mild-to-moderate adverse events occurred in 71% of patients receiving donidalorsen and 83% of patients receiving placebo.
In conclusion, the findings of this study point towards the efficacy of Donidalosren with respect to the significant difference it makes in the people with Hereditary angioedema.
Among patients with hereditary angioedema, donidalorsen treatment resulted in a significantly lower rate of angioedema attacks than placebo in this small, phase 2 trial.
Reference:
Cohn, D. M., Viney, N. J., Fijen, L. M., Schneider, E., Alexander, V. J., Xia, S., Kaeser, G. E., Nanavati, C., Baker, B. F., Geary, R. S., Levi, M., Meijers, J., & Stroes, E. (2020). Antisense Inhibition of Prekallikrein to Control Hereditary Angioedema. The New England journal of medicine, 383(13), 1242–1247. https://doi.org/10.1056/NEJMoa1915035
Keywords: Hereditary Angioma, Donidalorsen, plasma prekallikrein, Antisense oligonucleotide, quality-of-life, subcutaneous, New England Journal of Medicine,
Source : The New England Journal of Medicine Medical Dialogues consists of a team of passionate medical/scientific writers, led by doctors and healthcare researchers. Our team efforts to bring you updated and timely news about the important happenings of the medical and healthcare sector. Our editorial team can be reached at editorial@medicaldialogues.in.