Low circulating ACE2 levels tied to severe COVID-19 infection in diabetics: Study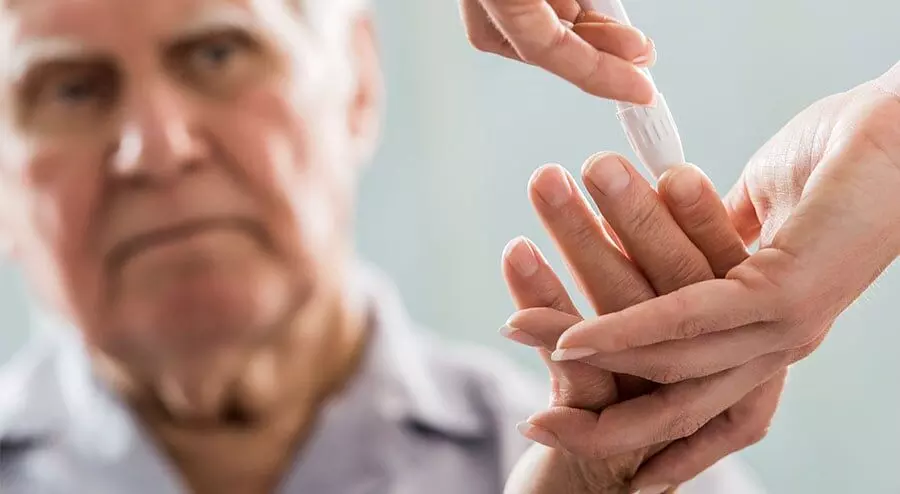 China: Diabetes patients with lower plasma levels of angiotensin-converting- enzyme 2 (ACE2) may be at an increased risk of severe COVID-19 infection, according to a recent study in the journal Aging.
Prior to the study, it was known that patients with pre-existing chronic disease are more susceptible to coronavirus disease 2019 (COVID-19). However, there is no clarity on the underlying cause of this increased infection risk.
ACE2 is a cell surface receptor that recognizes the coronavirus spike protein has protective effects against inflammation and chronic hyperglycemia in animal models. Owing to contradictory findings, the roles of ACE2 in severe SARS-CoV-2 infections remain ambiguous.
Against the above background, Yanliang Zhang, Nanjing Hospital of Chinese Medicine Affiliated to Nanjing University of Chinese Medicine, Nanjing, China, and colleagues aimed to investigate the relationship between human plasma ACE2 levels in diabetics and the high risk of severe SARS-CoV-2 infection.
For this purpose, the researchers analyzed medical records of 245 patients with SARS-CoV-2-positive who have chronic diseases. They recruited 404 elderly subjects with comorbid chronic diseases such as diabetes mellitus, coronary heart disease, cerebrovascular disease, hypertension, and obesity, and investigated the ACE2 plasma levels.
Key findings of the study include:

Plasma concentrations of ACE2 were much lower (2973.83±2196.79 pg/mL) in diabetics with chronic disease than in healthy controls (4308.21±2352.42 pg/ml), and the use of hypoglycemia drugs was associated with lower circulating concentrations of ACE2 (P=1.49E-08).
Diabetics with lower plasma levels of ACE2 may be susceptible to severe COVID-19.
"Our findings suggest that the poor prognosis in patients with diabetes infected with SARS-CoV-2 may be due to low circulating ACE2 levels," concluded the authors.
Reference:

The study titled, "Low plasma angiotensin-converting enzyme 2 level in diabetics increases the risk of severe COVID-19 infection," is published in the journal Aging.
DOI: https://www.aging-us.com/article/202967/text
Source : Aging