Single high dose of Vitamin B12 can treat pernicious anemia, finds study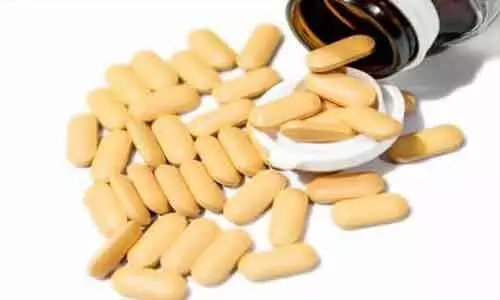 Reports of a recent study have shown that a single high dose (HD) of Vitamin B12 can be effective to maintain an haematologic response (HR), in patients with pernicious anemia,for 6 months instead of multiple low-dose injections.

The findings of the study have been published in the British Journal of Haematology.
Vitamin B12 is important for normal blood cells and nerves and helps body use fat and carbohydrates for energy and make new protein. Hydroxocobalamin is a man-made injectable form of vitamin B12 used to treat deficiency of this vitamin.
Vitamin B12 is plentiful in animal products such as fish, lean meat, poultry, eggs, and low-fat and fat-free milk. Fortified breakfast cereals also are a good source of B12 and other B vitamins.
Pernicious anemia is an autoimmune response against the parietal cells of the gastric mucosa causing intrinsic factor deficiency, impairing vitamin B12 absorption. Available formulations for B12 supplementation are cobalamin or hydroxocobalamin. The 'classical' treatment of Pernicious anemia includes administrations of 1000 ug of vitamin B12 through the intramuscular (IM) route every other day for 1–2 weeks, followed by weekly injections for a month, then tapered to monthly injections for life.
The need for frequent IM vitamin B12 administration may impair patient adherence. Further, the need for daily supplementation for long periods can be challenging.
With this in view, researchers from the Hematology Service, Facultad de Medicina y Hospital Universitario, Mexico, sought to report the clinical response of 13 patients which were first diagnosed with PA in their institution in the period from December 2017 to December 2018, using a single dose of a multivitamin formulation containing 10 000 ug of hydroxocobalamin, 100 mg of thiamine and 50 mg of pyridoxine for the treatment of newly diagnosed PA in patients without neurological symptoms.
All patients were followed for 6 months to assess haematologic response (HR). A complete blood count (CBC) was performed at different time frames. Also, researchers measured levels of Vitamin B12, HCY, and MMA acid at baseline, 3, and 6 months to assess B12 replenishment.
On data analysis, the following key facts emerged.
After a single HD, all patients achieved transfusion independence by day 15.
Normalization of Plt and WBC counts were observed by day 30 in 846% and 100% respectively.
After 3 months of follow-up, 84.6% of patients achieved a CR of Hb, which was maintained by 92.3% by the end of the study.
All patients had an improvement in Hb levels , only one experienced anemia.
Despite a concurrent increase in MMA and a drop in B12, no alterations were observed in the CBC. This may be explained by previous observations showing that isolated abnormalities of B12 or MMA levels do not predict clinical or hematologic manifestations of a B12 deficiency.
No adverse events were observed.
"Despite the impressive HR after a single dose of vitamin B12, this simplified treatment must be used with caution in patients with neurological dysfunction," said the team.
"Our results suggest that the HD B12 strategy is safe and effective, potentially leading to better compliance, a significant reduction in the costs of treatment, fewer outpatient clinic visits and ultimately resulting in a significant improvement in the quality of life," they concluded.
For the full article click on the link: 10.1111/bjh.17054
Primary source: British Journal of Haematology
Source : British Journal of Haematology