Vitamin D deficiency raises risk of hypocalcemia after total thyroidectomy: Study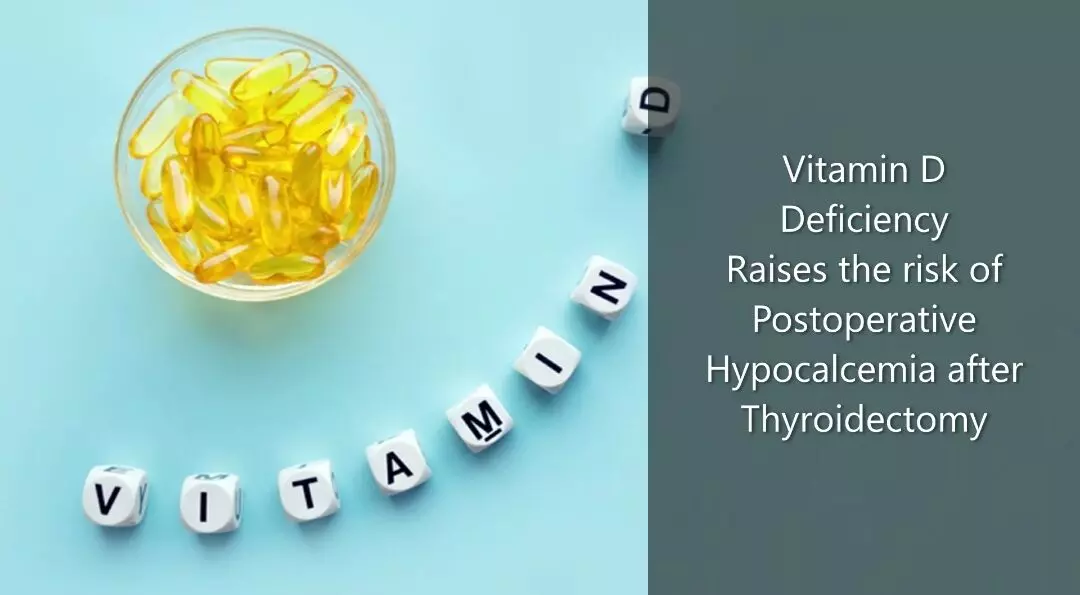 Postoperative hypocalcemia is a common complication of total or completion thyroidectomy. The prevalence of this condition was reported to be 10% to 50% and 0.5% to 4.4% for transient and permanent hypocalcemia, respectively.

In a recent study, researchers have reported that vitamin D deficiency is associated with a higher risk of hypocalcemia following total thyroidectomy. The research has been published in the Journal of Investigative Medicine on March 31, 2021.
Many factors have been postulated to increase the risk of hypocalcemia following thyroidectomy, including surgical trauma, devascularization, or inadvertent removal of the parathyroid glands, surgeon volume, the extent of cervical lymph node dissection, and so on. Recently, Vitamin D deficiency (VDD) has also been recognized as a risk factor for postoperative hypocalcemia following thyroidectomy in patients with benign thyroid diseases. However, the evidence is scarce and inconsistent. Therefore, researchers of the USA conducted a study to further investigate the association between vitamin D and postoperative hypocalcemia after thyroidectomy.
It was a multicentric post-hoc analysis in which researchers used the de-identified electronic health records database of Cerner Health Facts. They identified 2447 patients who underwent total or subtotal thyroidectomy between 2008 and 2016 and who had a documented 25-hydroxyvitamin D concentration obtained within 12 months of the surgery date using International Classification of Diseases 9/10, Current Procedural Terminology and Healthcare Common Procedure Coding System codes. The researchers analyzed data of 984 patients who underwent total thyroidectomy. They used analysis of variance (ANOVA) models to estimate the effect of VDD on postoperative numerical variables. They also used multiple logistic regression to evaluate the risk of postoperative hypocalcemia and hospital stay, adjusting for any imbalanced demographic variables and operative characteristics.
Key findings of the study were:
Upon analysis, the researchers found that postoperative total calcium concentrations in the VDD group were lower by 0.3 mg/dL compared with that of the non-VDD group.
They also found that the risk of postoperative hypocalcemia was 2.2 times higher in the VDD group compared with the non-VDD group.
They observed that the length of hospital stay after thyroidectomy was longer in the VDD group compared with the non-VDD group. However, they noted that VDD is not an independent risk factor for prolonged hospitalization following thyroidectomy.
The authors concluded, "VDD is associated with a higher risk of hypocalcemia following total thyroidectomy. Prethyroidectomy operative screening for VDD should be considered."
For further information:
https://jim.bmj.com/content/early/2021/03/30/jim-2020-001644
Article Source :
Journal of Investigative Medicine