Amoxicillin - A reaffirmed First-Line Therapy in Common Infections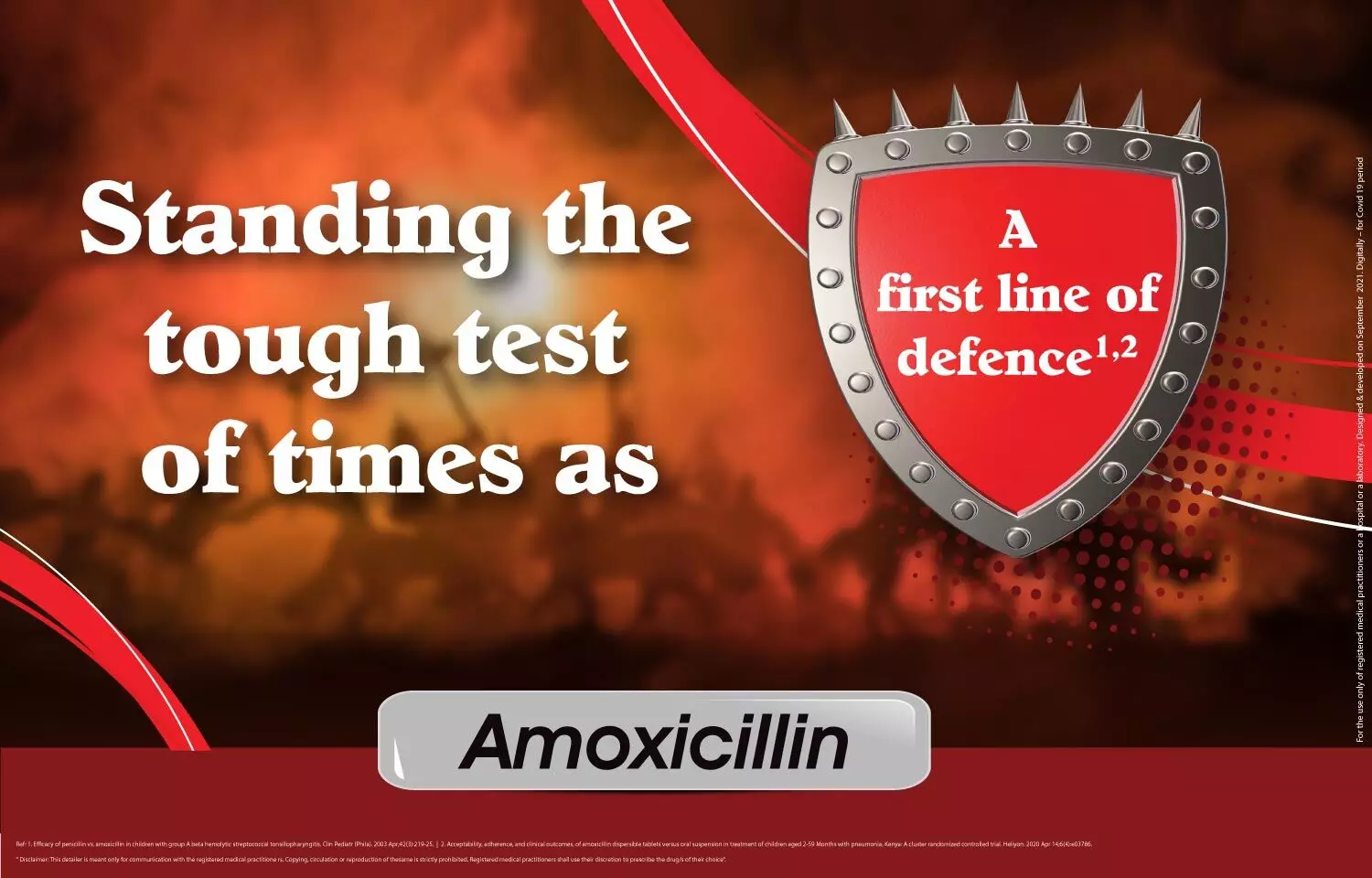 Amoxicillin is one of the most largely experienced, durably utilized antimicrobial agents in primary care settings (1). It remains a valuable choice for a practitioner who considers a prudent selection of antibiotics for treating infections in routine out-patient settings and thus, contributes not only towards individual patient care but also in the larger interest of public health.
Amoxicillin - Acid stable & Highly Absorbable Antimicrobial Agent

Amoxicillin was originally introduced in the early 1970s for oral use in the U.K. It eventually established a regular place as a broad spectrum antibacterial to treat a wide spectrum of infection(2). Amoxicillin enjoys such widespread clinical utility due to high oral bioavailability (up to 90%) with peak plasma levels achieved within 1 to 2 hrs (2). Oral amoxicillin has uniquely demonstrated efficacy independent of meals which could be rendering a great clinical advantage to patients in real-world settings.
Amoxicillin – Therapeutic Scope in Commonly Encountered Infections in Outpatient Settings
Amoxicillin is US-FDA approved for the treatment of ear, nose, and throat infections, lower respiratory tract infections, Helicobacter pylori infections, pharyngitis, tonsillitis, skin and skin structure infections, and genitourinary tract infections (1).
Tonsillopharyngitis: In a study published by Correne Curtin-Wirt et al, assessed the bacteriological and clinical efficacy of amoxicillin as first-line therapy for the management of tonsillopharyngitis and included 137 children in the amoxicillin group. The results demonstrated bacteriologic and clinical cure rates among amoxicillin-treated children as 76% and 84%, respectively(4).
Sinusitis: David Edelstein et al, in a comparative study, included 114 patients with sinusitis evaluated in two treatment groups - amoxicillin and cefixime and reported cure in 96% of patients in the amoxicillin group compared to 94% in cefixime group (5). Amoxicillin was thus concluded, to possess efficacy at par with third-generation cephalosporin, cefixime.
Dental Infections: A systematic network meta-analysis published by Martin Thornhill (6) compared the efficacy of different antibiotic prophylaxis regimens for reducing the incidence of post–invasive dental procedure bacteremia. Twenty-four studies were included, consisting of 2147 adult and pediatric patients. It was concluded that oral amoxicillin is likely one of the best antimicrobial prophylactic interventions for preventing post–invasive dental procedure bacteremia.
Superficial Skin Infections: In a study conducted by Ousmane Faye et al, 132 patients with bacterial superficial skin infections - diagnosed and clinically graded as 'severe', were assigned to oral treatment with amoxicillin (50 mg/kg per day). The results reported treatment success in about 89 % of patients and concluded consideration for oral amoxicillin as a first-line treatment for pyoderma(7)
Pneumonia: The landmark ISCAP Study Group from India conducted a double-blind, placebo-controlled, randomized trial across seven hospital settings in India. The study included 2188 children (aged 2-59 months) suffering from non-severe pneumonia who were treated with oral amoxicillin 31-54 mg/kg/day in three divided doses, among two treatment groups – either 3 days or 5-day treatment regimen. The results reported clinical cure rates with three days and five days of treatment as 89.5% and 89.9%, respectively. It was thus established that three days of treatment with amoxicillin is as effective as the standard five-day course in treating non-severe pneumonia among Indian children(8)
H Pylori Infection: With a large body of scientific evidence against H. Pylori infections, Amoxicillin remains an integral component of most H Pylori infection eradication regimens along with Clarithromycin, Metronidazole, Levofloxacin, and Proton Pump Inhibitors (PPI). These include concomitant non-bismuth quadruple regimen, PPI triple PAC* regimen, levofloxacin triple PAL# regimen, sequential non-bismuth quadruple regimen, hybrid non-bismuth quadruple regimen, high-dose dual therapy regimen, and rifabutin-containing therapy PAR$ regimen.(9)
Review of the Latest Evidence on the Clinical Utility of Amoxicillin
Pneumonia in South Asian Children - Treatment Effectiveness of Amoxicillin in 3 days: In a cluster-randomized, controlled equivalency trial published in Clinical Infectious Diseases, the official journal of the Infectious Disease Society of America (IDSA), children aged 2–59 months with fast-breathing pneumonia were treated with oral amoxicillin suspension (50 mg/kg/day) for 3 days. The study concluded that oral amoxicillin is an effective and safe treatment for fast-breathing pneumonia among this pediatric population. A shorter 3-day course of amoxicillin improves treatment adherence, is more cost-effective, and reduces the burden of antimicrobial resistance (10).
Pneumonia in Children Living in Low Resource Settings - Acceptability, adherence & clinical outcomes with amoxicillin:
Another cluster randomized controlled trial including 417 children aged 2-59 months with pneumonia, treated with oral amoxicillin (dispersible tablet & oral suspension) resulted in 95% acceptance to treatment and 98% cure rates. About 97% of caregivers reported willing to utilize an amoxicillin-based treatment regimen in future.
Amoxicillin – Global Testimony:
The World Health Organisation (WHO) Essential Medicines List, and Priority Medicines List for Children, have recognized amoxicillin 250 mg scored, dispersible tablet (DT) as a first-line agent for the treatment of pneumonia in children below 5 years(11)
Amoxicillin – Recommendations from the Indian Council of Medical Research (ICMR) Guidelines
The Indian Council of Medical Research (ICMR) has developed evidence-based treatment guidelines for management of common infection syndromes. This document endeavors to serve as a practical guide for Indian healthcare professionals in guiding the rational use of antimicrobial agents (12). The treatment guidelines have cited the following recommendations favoring the use of Amoxicillin:
√
Amoxicillin is recommended as one of the preferred
first-line agents for the treatment of mild bacterial sinusitis and acute otitis media
√ A
moxicillin is one of the preferred choices of agents for pediatric community-acquired pneumonia in children in outpatient settings.
√
Amoxicillin is one of the recommended oral antibiotics for bone and joint infections involving pathogens like B- hemolytic Streptococcus, Enterococcus spp.
Final Perspective for Practitioner
Amoxicillin is an antibiotic in use for close to five decades now, and still, garners consistently durable scientific evidence and recognitions from global health institutions(11), which only reaffirm its therapeutic potential. The preference favoring consideration of amoxicillin as first-line agent(12) in certain common infections syndromes in India even today is in itself a testimony to amoxicillin; and in all fairness, brings out that it has bravely stood the tough test of times of antimicrobial resistance.
* PAC: PPI plus Amoxicillin plus Clarithromycin
# PAL: PPI plus Amoxicillin plus Levofloxacin
$ PAR: PPI plus Amoxicillin plus Rifabutin
References
Adapted from
1. Akhavan BJ, Khanna NR, Vijhani P. Amoxicillin. 2020 Aug 27. In: StatPearls [Internet]. Treasure Island (FL): StatPearls Publishing; 2021 Jan–. PMID: 29489203.

2. SIMAR PREET KAUR et al, AMOXICILLIN: A BROAD SPECTRUM ANTIBIOTIC, International Journal of Pharmacy and Pharmaceutical Sciences 2011;3(3):30-37
3. Huttner A, Bielicki J, Clements MN, Frimodt-Møller N, Muller AE, Paccaud JP, Mouton JW, Oral amoxicillin and amoxicillin-clavulanate: properties, indications, and usage, Clinical Microbiology and Infection, https://doi.org/10.1016/j.cmi.2019.11.028.
4. Curtin-Wirt C, Casey JR, Murray PC, Cleary CT, Hoeger WJ, Marsocci SM, Murphy ML, Francis AB, Pichichero ME. Efficacy of penicillin vs. amoxicillin in children with group A beta hemolytic streptococcal tonsillopharyngitis. Clin Pediatr (Phila). 2003 Apr;42(3):219-25. doi: 10.1177/000992280304200305. PMID: 12739920.
5. Edelstein DR, Avner SE, Chow JM, Duerksen RL, Johnson J, Ronis M, Rybak LP, Bierman WC, Matthews BL, Kohlbrenner VM. Once-a-day therapy for sinusitis: a comparison study of cefixime and amoxicillin. Laryngoscope. 1993 Jan;103(1 Pt 1):33-41. doi: 10.1288/00005537-199301000-00008. PMID: 8421417.
6. Thornhill M. Amoxicillin Is the Most Effective Oral Antibiotic Prophylaxis Regimen for Reducing Post-Invasive Dental Procedure Bacteremia. J Evid Based Dent Pract. 2020 Sep;20(3):101464. doi: 10.1016/j.jebdp.2020.101464. Epub 2020 Jun 16. PMID: 32921384.
7. Faye O, Hay RJ, Diawara I, Mahé A. Oral amoxicillin vs. oral erythromycin in the treatment of pyoderma in Bamako, Mali: an open randomized trial. Int J Dermatol. 2007 Oct;46 Suppl 2:19-22. doi: 10.1111/j.1365-4632.2007.03364.x. PMID: 17958625.
8. Agarwal G, Awasthi S, Kabra SK, Kaul A, Singhi S, Walter SD; ISCAP Study Group. Three day versus five day treatment with amoxicillin for non-severe pneumonia in young children: a multicentre randomised controlled trial. BMJ. 2004 Apr 3;328(7443):791. doi: 10.1136/bmj.38049.490255.DE. Epub 2004 Mar 16. Erratum in: BMJ. 2004 May 1;328(7447):1066. PMID: 15070633; PMCID: PMC383371.
9. Fallone CA, Moss SF, Malfertheiner P. Reconciliation of Recent Helicobacter pylori Treatment Guidelines in a Time of Increasing Resistance to Antibiotics. Gastroenterology. 2019 Jul;157(1):44-53. doi: 10.1053/j.gastro.2019.04.011. Epub 2019 Apr 15. PMID: 30998990.
10. Sadruddin S, Khan IUH, Fox MP, Bari A, Khan A, Thea DM, Khan A, Khan I, Ahmad I, Qazi SA. Comparison of 3 Days Amoxicillin Versus 5 Days Co-Trimoxazole for Treatment of Fast-breathing Pneumonia by Community Health Workers in Children Aged 2-59 Months in Pakistan: A Cluster-randomized Trial. Clin Infect Dis. 2019 Jul 18;69(3):397-404. doi: 10.1093/cid/ciy918. PMID: 30596964; PMCID: PMC6637273.
11. Angwa LM, Ouma C, Okoth P, Nyamai R, Kamau NG, Mutai K, Onono MA. Acceptability, adherence, and clinical outcomes, of amoxicillin dispersible tablets versus oral suspension in treatment of children aged 2-59 Months with pneumonia, Kenya: A cluster randomized controlled trial. Heliyon. 2020 Apr 14;6(4):e03786. doi: 10.1016/j.heliyon.2020.e03786. PMID: 32322742; PMCID: PMC7160563.
12. Treatment Guidelines for Antimicrobial Use in Common Syndromes, Indian Council of Medical Research 2019, 2nd edition, Pages 1-206