Anemia in the Elderly- Clinical Implications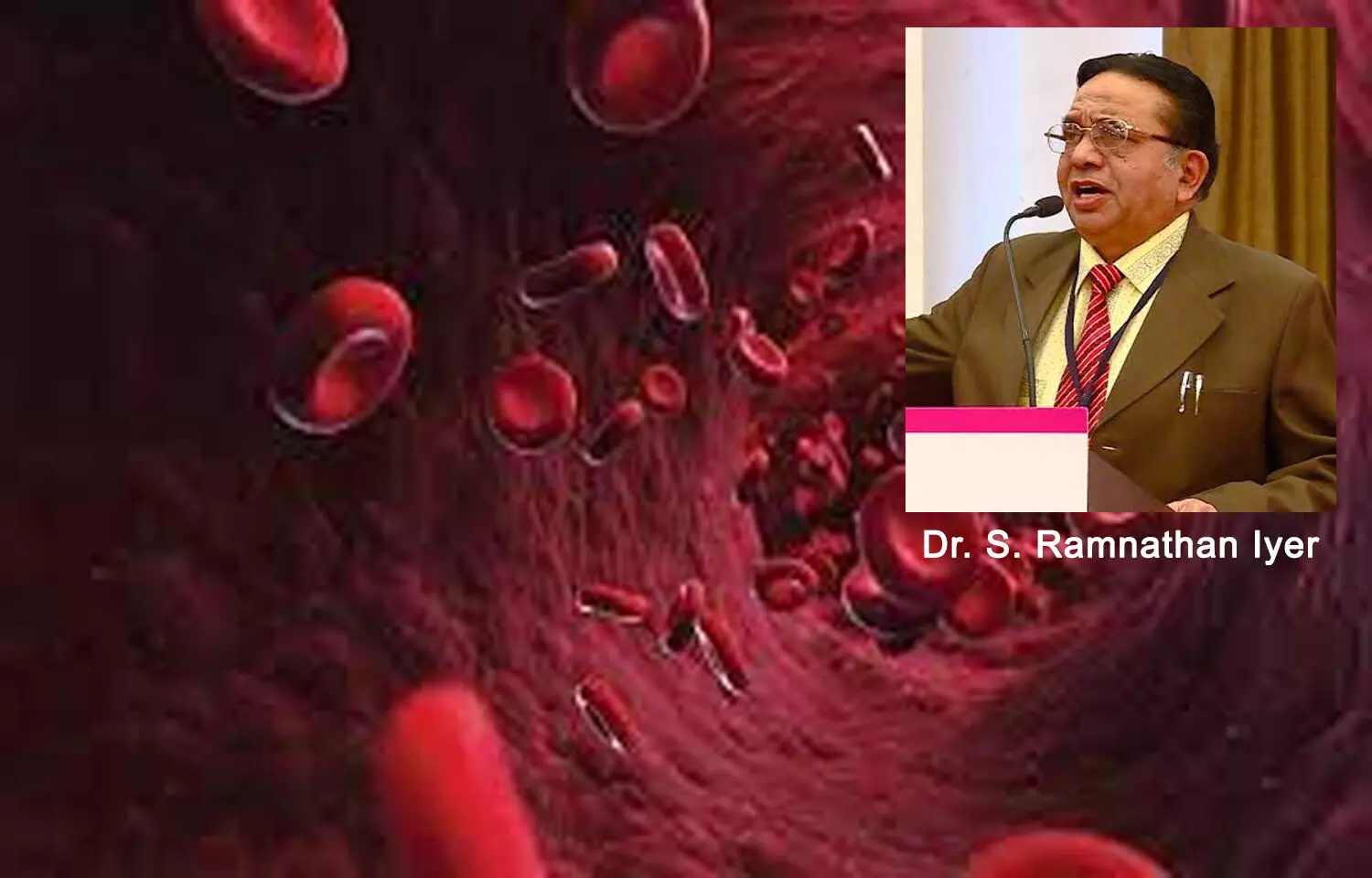 Anaemia in elderly is a clinical challenge especially when the etiology remains uncertain and/or (multiple) comorbidities are present.
Anaemia is defined as a state in which haemoglobin level is below the normal range for the patient's age, sex and altitude of residence. The elderly is an important demographic population that is growing rapidly all across the globe. Anaemia in the elderly is multifactorial and requires a cautious approach as it is a risk factors for several adverse outcomes including morbidity, mortality and hospitalization.

What constitutes anaemia? WHO defined anaemia as haemoglobin < 12 gms/dl in women and <13 g/dl in men.(1)It must be noted that Hb levels decline with age and are distinct in different ethnic groups. After 50 years of age, the prevalence of anaemia increases with advancing age and exceeds 20% in those >85 years of age. (2) In India Alwar V et al(3) reported the prevalence as 37.88%.
Clinical Presentations- Typical symptoms are fatigue, weakness, and dyspnea.
Patients present to a physician usually late assuming the symptoms are possibly related to advancing age. Pallor may be difficult to detect in the elderly. Anaemia can worsen underlying disorders like congestive cardiac failure, cognitive impairment, dizziness and apathy. It must be appreciated that patients with moderate anemia have few associated symptoms due to significant compensatory mechanisms that preserve oxygen transport in the setting of reduced haemoglobin. These mechanisms include increased blood flow due to decreased blood viscosity, increased unloading of oxygen to tissues due to increased red cell biphosphoglycerate, increased plasma volume and redistribution of blood flow.(4)
Symptoms- Generally elderly become symptomatic when haemoglobin is below two-thirds of the normal (i.e., less than 9-10 gms/dl) as basal cardiac output increases in the anemic patient and is manifested clinically by fatigue, dyspnea and tachycardia.(4) Majority of patients have mild anemia with haemoglobin infrequently less than 10g/dl. However, mild anemia is associated with significant negative outcomes including decreased physical performance, increasing number of falls, increased fraility, decreased cognition, increased dementia, impaired mood, restricted quality of life, increased hospitalization and mortality. The NHANES III (Third US National Health and Nutrition Examination Survey) investigators used fixed laboratory measures to determine that about one-third of anaemic patients have evidence of nutritional deficiency, primarily that of iron; one third have chronic inflammation or chronic kidney disease, and one third have unexplained anaemia.(6)
Perioperative myocardial ischemic episodes are associated with hematocrit levels less than 28% in patients undergoing radical prostatectomy.(7)
Diseases frequently associated with Anemia in the Elderly-few examples
1. Chronic Inflammatory Diseases- eg Rheumatological diseases like Rheumatoid arthritis.
2. Chronic Infections- eg Chronic hepatitis
3. Inflammaging- eg. Frailty, cachexia,
4. Miscellaneous- Chronic leg ulcers.
5. Endocrinologic and Metabolic causes- Low production of erythropoietin, Thyroid dysfunction-hypothyroidism and hyperthyroidism, Insulin deficiency- diabetes mellitus.
6. Blood loss- Gastrointestinal blood loss-peptic ulcer, NSAID induced gastritis, Surgical procedures, Epistaxis, hematuria.
7. Non-Hematopoetic neoplasms- Colorectal cancer, Multi-organ metastases
8. Increased consumption or destruction of erythrocytes- hypersplenism, autoimmune hemolytic anemia, heart valve mediated increased lysis.
9. Lack of nutrients- iron deficiency usually due to blood loss, Vitamin B12 and Folate deficiency, Trace element deficiency eg. Copper.
10. Drug-induced- Chemotherapy, antimetabolites, anticonvulsants.
11. Myelodysplastic syndrome
The etiology of anemia in this group is complex and ranges from bone marrow failure syndromes to chronic kidney disease and from nutritional deficiencies to inflammatory processes. Iron deficiency is common which is often associated with malnutrition. Folate deficiency may also exist. Age-dependent alterations in functions of GI tract, polypharmacy and social isolation, all contribute to malnutrition and subsequent anemia.
In a small number of cases, no clear-cut etiology can be identified. These patients are referred to unexplained anemia or idiopathic cytopenia of unknown significance. Some patients have somatic mutations in leucocytes but diagnostic criteria for myelodysplastic syndrome or other hematologic diseases are not fulfilled, a condition termed as clonal cytopenia of undetermined significance.
Management of anaemia in the elderly depends on the severity of anaemia, underlying condition(s), and patient-related factors including comorbidities. A multidisciplinary approach and detailed investigation of organ function is necessary.
Conclusions- The rising population of the elderly is a challenge to health services. The prevalence of anaemia in older adults is also increasing and this is possibly due to more frequently applied diagnostics. Even mild anemia could affect physical and cognitive capacities and quality of life. A complete evaluation and proper management can be highly rewarding.
References
1. Blanc B, Finch CA, Hallberg L, et al. Nutritional anaemias. Report of a WHO scientific group World Health Organ Tech Rep Ser. 1968;405:5-37
2. Patel KV Epidemiology of anemia in older adults Semin Hematol 2008;45:210-17
3. Alwar V, Reethi K, Ramesh Kumar K. Geriatric Anemia: An Indian perspective. Indian J Hematol Blood Transfus.2013; 29(2):126-47.
4. Finch CA, Lenfant C. Oxygen transport in man. N Engl J Med 1972;286:407-415
5. Goodnough LT, Despotis GJ, Hogue CW Jr, Ferguson TB Jr,. On the need of improved transfusion indications in Cardiac surgery. Ann Thorac Surg 1995;60: 473-480.
6. Guralnik JM, Eisenstaedt RS, Ferrucci L, Klein HG, Woodman RC. Prevalence of anemia in persons 65 years and older in the United States: evidence for a high rate of unexplained anemia. Blood. 2004; 104:2263–2268.
7. Hogue CW Jr, Goodnough LT, Monk TG. Perioperative myocardial ischemic episodes are related to hematocrit level in patients undergoing radical prostatectomy. Transfusion. 1998; 38:924–931.