Atrial fibrillation and Obstructive sleep apnea- Clinical Implications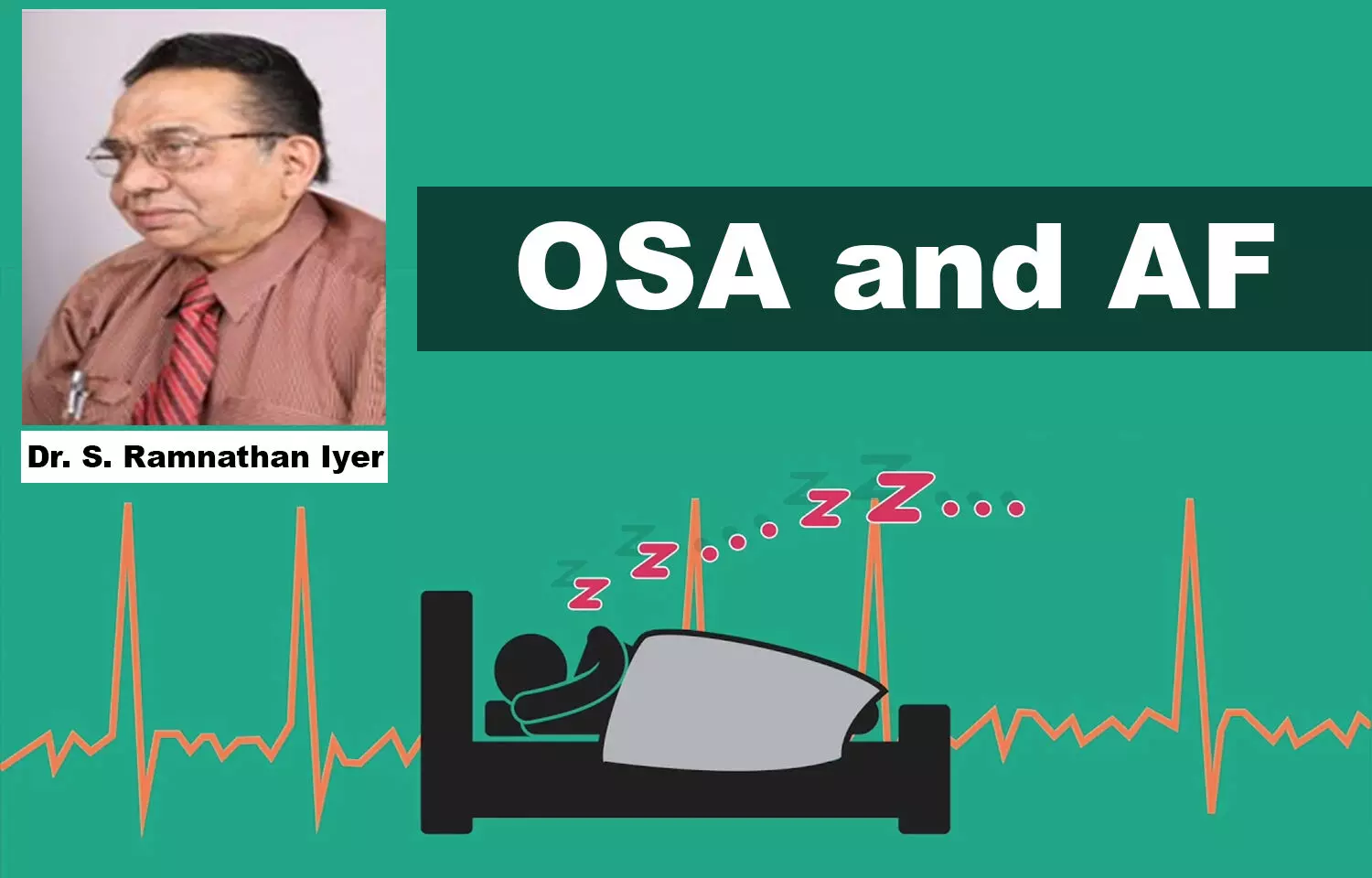 Sleep is dynamic and complex process. It is a function of the brain. Sleep is divided into 2 states-Non-Rapid Eye Movement (NREM) and Rapid Eye Movement (REM). There are unique autonomic influences over cardiac rhythm and hemodynamics in sleep. NREM sleep is characterized by an overall increase in parasympathetic and decrease in sympathetic tone. In REM sleep there are surges of sympathetic activity and decreased baroreceptor regulation and control. These influences can cause cardiac arrythmias which are in most part asymptomatic and benign unless accompanied by symptoms.
Atrial fibrillation (AF) is frequently encountered in clinical practice. It is associated with increased cardiovascular mortality and morbidity such as stroke. It is estimated that AF affects nearly 2.3 million people in the US; it is estimated that AF will affect more than 15 million Americans by 2050.(1) The traditional risk factors for AF include age, obesity, hypertension, diabetes, coronary artery disease and congestive cardiac failure. Advancing age, male gender, obesity is also risk factors for OSA. The prevalence of OSA in post-menopausal women is high.

Sleep apnea, a severe form of sleep-disordered breathing is broadly divided into 2 groups- a) Central sleep apnea (CSA) b) Obstructive sleep apnea (OSA). CSA can lead to Hunter-Cheyne-Stokes Breathing which is common in heart failure. The severity of CSA correlates with the incidence of arrhythmias such as AF.
OSA is characterized by repetitive pharyngeal collapse in sleep resulting in hypoxia, hypercapnia, sleep-related arousals, shifts in intrathoracic pressure, and sympathetic stimulation. Several studies have demonstrated that AF is more prevalent in patients with OSA than those without OSA.(2) It has also been shown that OSA is more prevalent in AF patients.(3) Studies reveal that the prevalence of OSA is substantially higher among the patients of AF (ranging from 39-49%), strongly indicating that OSA may be contributing to the initiation and progression of AF(4)
Mechanisms Underlying in the Development of AF in patients with OSA
1. Repeated myocardial ischemia in sleep promotes atrial and ventricular fibrosis which favours atrial and ventricular arrythmias and sudden death.
2. Excessive oxidative stress has a role in the development of inflammation.
3. Shamsuzzaman et al (5) reported significantly higher levels of plasma C-Reactive Protein (CRP) in patients with OSA than in control subjects. This also promotes vascular endothelial dysfunction predisposing to atherosclerosis.
3. Repeated episodes of negative intra-thoracic pressure results in atrial stretching of thin-walled atria. Repeated stretching results in chamber enlargement and fibrosis which predisposes to AF.(6) Also negative tracheal pressure during obstructive apnea is a strong trigger to AF(7) Atrial structure remodelling and electrical remodelling are important factors in the pathogenesis of AF.
4. Owing to nightly struggle with respiration the baseline sympathetic tone is significantly higher in patients with OSA.
5. Repetitive hypoxia and hypercapnia stimulate the central and peripheral chemoreceptors that augment sympathetic nerve activity. Also, the baroreceptor reflex is attenuated in OSA patients. All these combined together result in vasoconstriction and hypertension.
6. Prolonged atrial conduction time, increases in dispersion of refractoriness and enhanced atrial fibrosis contribute to the maintainence of AF.
Management
The accepted mode of therapy for OSA is the usage of Continuous Positive Airway Pressure (CPAP) while sleeping. Some patients may be more comfortable with the BIPAP mode. Shah et al (8) found that OSA is independently associated with adverse left ventricular remodelling and clinical outcomes whereas CPAP therapy is associated with beneficial effect on left ventricular remodelling. AF patients with OSA respond poorly to both pharmacological and non-pharmacological therapy with high rates of recurrence (9) CPAP therapy substantially reduced the incidence of AF, premature ventricular depolarization and sinus bradycardia in patients with severe OSA(10) Kanagala et al (11) reported that AF recurrence after cardioversion was 82% in those with untreated OSA compared to 42% in the CPAP treated group.
Conclusions-Patients of AF must be evaluated for sleep apnea and treated accordingly.
References
1. Go AS, Hylek EM, Phillips KA et al. Prevalence of diagnosed atrial fibrillation in adults: National implications for rhythm management and stroke prevention: The Anticoagulation and Risk Factors in Atrial Fibrillation (ATRIA) Study. JAMA;285:2370-5.
2. Latina JM, Mark Estes NA 3rd, Garlitski AC. The relationship between obstructive sleep apnea and atrial fibrillation: a complex interplay. Pulm Med.2013;2013:621736.
3. Porthan KM, Melin JH, Kupila JT et al. Prevalence of sleep apnea syndrome in lone atrial fibrillation A case control study. Chest 2004;125: 879-885.
4. Gami AS, Pressman G, Caples SM et al. Association of atrial fibrillation and obstructive sleep apnea. Circulation 2004;110:364-67.
5. Shamsuzzaman AS, Winnicki M, Lanfranchi P et al. Elevated C-reactive protein in patients with obstructive sleep apnea. Circulation 2002;105:2642-4.
6. Orban M, Bruce CJ, Pressman GS, et al. Dynamic changes of left ventricular performance and left atrial volume induced by the Mueller Maneuver in healthy young adults and implications for obstructive sleep apnea, atrial fibrillation and heart failure. Am J Cardiol 2008; 102:1557–61.
7. Linz D, Schotten U, Neuberger HR, et al. Negative tracheal pressure during obstructive respiratory events promotes atrial fibrillation by vagal activation. Heart Rhythm 2011;1436–43.
8. Shah RV, Abbasi SA, Heydari B, et al. Obesity and sleep apnea are independently associated with adverse left ventricular remodeling and clinical outcome in patients with atrial fibrillation and preserved ventricular function. Am Heart J 2014;167:620–6.
9.Naruse Y, Tada H, Satoh M, et al. Concomitant obstructive sleep apnea increases the recurrence of atrial fibrillation following radiofrequency catheter ablation of atrial fibrillation: clinical impact of continuous positive airway pressure therapy. Heart Rhythm 2013;10:331–7.
10. Abe H, Takahashi M, Yaegashi H, et al. Efficacy of continuous positive airway pressure on arrhythmias in obstructive sleep apnea patients. Heart Vessels 2010;25:63–9
11. Kanagala R, Murali NS, Friedman PA, et al. Obstructive sleep apnea and the recurrence of atrial fibrillation. Circulation 2003;107:2589–94