Medico-Legal Tip of the day-20th Oct 2015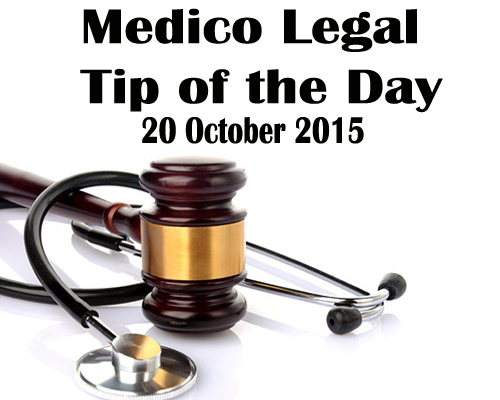 Query- is it mandatory to give injection prescribed by someone else. If some untoward happens who is answerable whether prescribing doctor or one who has prescribed.
Please advise
Dr. S.P.Arya
Answer- It is not mandatory to give injection prescribed by someone. If you are a doctor, nurse or pharmacist who is giving injection prescribed by some other doctor, you would be responsible if something happens. Please check at your end whether such injection is required or not, check dosages, route and you should be able to handle any complication. If not sure, never give injection. It may be case of medical error. Refer the patient back to prescribing doctor. For example, a doctor wrote wrongly insulin dosage 300 units instead of 30 , will you give it?
--
With warm regards,
Prof ( Dr ) R K Sharma
MBBS (AIIMS) , MD ( AIIMS), FIAMLE , FICFMT ,
Medico-Legal Consultant
President, Indian Association of Medico-Legal Experts , New Delhi
Former Head, Department of Forensic Medicine, All-India Institute of Medical Sciences, New Delhi
Director , Supreme Medico-legal Protection Services Pvt Ltd
e mail
medicolegalhelpline@gmail.com
website
www.smlps.in
tel no 0091-9891098542
Address
315 , Hemkunt Chambers.
89, Nehru Place
New Delhi- 110019
tel 011-41660642