Meerut: Pediatric heart Surgery on 9 month baby at Nayati Super-speciality hospital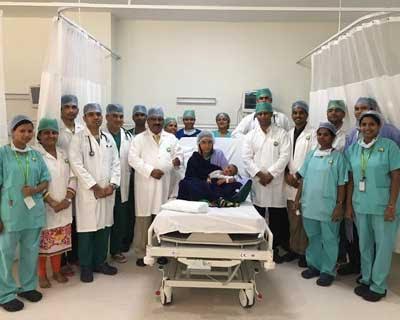 Mathura:   Nayati multi super specialty hospital,  recently performed a successful  pediatric cardiac surgery on a 9 month old child who had multiple holes in the heart.
Master Devender, son of Mr. Govind Singh, resident of Jait Village, Mathura aged 9 months was having repeated respiratory tract infection since few months of birth. At 7th month, child had severe breathlessness, cough for which patient was seen by local pediatrician who detected abnormal sounds from the heart along with pneumonia which made him to refer to doctors at Delhi. After thorough evaluation the child was treated for pneumonia and also diagnosed to have multiple holes in the heart both at atrial and ventricular level along with abnormal communication between major arteries of the heart along with narrowing of the blood vessel going to the left lung called "ACHD-ASD-VSD-PDA with LPA stenosis".
The patient's family learnt that children of this type of disease were being handled at Nayati's Multi Super Specialty Centre for Cardiac Sciences. Hence they approached us for surgery on 22.05.2016.
Dr. Venugopal Ram Rao, Chairman of Nayati Centre for Cardiac Sciences stated "This was a historic Pediatric Cardiac surgery being performed in Western U.P which were earlier done only in very few Cardiac centers in Delhi-NCR area. The child was operated successfully and underwent Intracardiac Repair with closure of both holes, closing of abnormal communication (PDA) and enlarging the narrowed blood vessel leading to left lung with assistance of heart lung machine. The child was shifted to post OP cardiac surgical ICU and was removed from Ventilator within few hours.
 Since the inception of cardiac surgeries at Nayati, we have operated upon half a dozen cases of Pediatric cardiac surgeries successfully. We had two blue baby syndromes (TOF-Tetrology of Fallot), multiple holes in the heart with abnormal connection in a patient who had heart on the right side of chest (Dextrocardiac – Multiple VSD – ASD – PDA with severe Pulmonary Hypertension), and holes in the heart of siblings of a same family. Each one of them was unique, challenging and complicated, he further added."