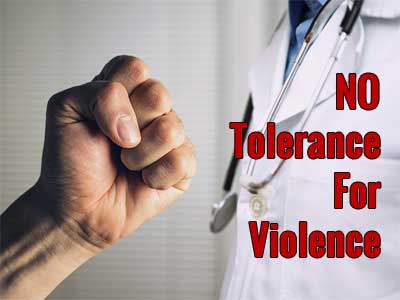 Meerut: In an incident that led to a police assault and illegal lockup of a psychiatrist by the SHO, the police authorities recently issued an apology to the medical practitioners, promising more cooperation from the police to doctors in cases of violence.
The incident goes back to 23rd June, 2017, when a patient altercation with a psychiatrist turned hostile. The patient came to the doctor, pressuring him for re-prescribing certain narcotic drugs. The doctor asked the patient to wait, as more patients were before him, which caused patient to create a ruckus at the centre. The doctor immediately dialed 100 calling the police, post which the patient left the centre. The patient along with a few other attendants, including his wife came back to the center in the evening, with an intention to assault the doctor. Physical altercation then broke out between the patient's attendants including his wife, and others who were trying to protect the psychiatrist.
Informing about the incident, Dr Veerottam Tomer, President IMA Meerut Branch told Medical Dialogues team," With the violence breaking out, another call was made to the police by dialing 100. In the mean time, an SO Medical came to the clinic, assaulted the doctor and illegally locked him up in the police cell at Medical ( College)  Thana."
................................ Advertisement ................................
When the news reached the IMA Meerut branch, representatives immediately reached the police station, " We told the police that locking up a doctor is against the law, but they did not listen at first. Its only when most of us gathered and started a dharna outside the SSP house, that they released the doctor," Dr Tomar added
................................ Advertisement ................................
In response to the incident, IMA Meerut threatened to go on strike, even getting statewide support from the UP head branch. They also held meeting with the higher officials, who promised an enquiry into the event. Finally, in a press conference held on the morning of 27th June, 2017, at the IMA Meerut office, police authorities including the SHO and CO issued a public apology to the doctors for the incident, in front of the media
Studied at Indraprastha College for Women (Delhi University), completed in year 2014. Currently working with Medical Dialogues, a online Medical news paper dedicated for healthcare Professionals.
1 comment(s) on Meerut: Police issues public apology for assaulting a Psychiatrist