Meghalaya Governor launches Indradhanush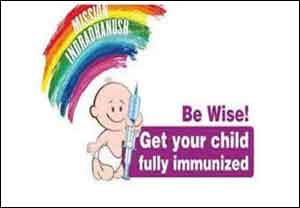 Shillong: The Meghalaya Governor launched the fourth round of seven day Intensified Mission Indradhanush. In the fourth round, the government aims to cover approximately 10,000 children below the age of 2 years and pregnant women in the state, who have not been immunised under the routine immunisation programmes.
Launching the fourth round of the programme, Meghalaya Governor Ganga Prasad said, "Immunization is one of the most cost effective health inventions which can save thousands of lives by preventing diseases."The districts covered in the fourth round include East Khasi Hills, East Jaintia Hills, West Jaintia Hills, South West Khasi Hills, North Garo Hills, West Garo Hills, South West Garo Hills and only in the urban areas in West Khasi Hills.
So far, the Meghalaya government has vaccinated 20,907 children of the 44,972 targeted children across the state.The governor said, vaccination is not only life saving, but is also the birth right of every child and pregnant woman, and urged all parents and guardians to join hand with the initiative of the government to achieve full immunization of more than 90 percent of new-borns in the country by 2020.
As a mark of launching the Mission, the Governor presented a MCP card to a mother and administered Polio drops to a baby on the occasion. The National Health Mission and Meghalaya State Health Department also urged the parents of children less than 2 years of age and pregnant women, who are unvaccinated or partially vaccinated to come forward and avail the services especially provided for them free of cost.This Intensified Mission is driven based on the information received from gap assessment, supervision through government, concurrent monitoring by partners, and end-line surveys. Under IMI, special strategies are devised for rigorous monitoring of the programme. States and districts have developed coverage improvement plans based on gap self-assessment. These plans are reviewed from state to central level with an aim to reach 90% coverage by December 2018.