Mission Indradhanush selected one of 12 best practices globally: MOS health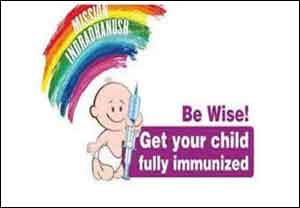 New Delhi: Through a written reply answer to the question in Lok Sabha the minister of health and family welfare Sh Ashwini Kumar Choubey informed about the Mission Indradhanush.
Mission Indradhanush' has been selected as one of the 12 best practices globally and has been featured in a special issue of the British Medical Journal titled 'Improving vaccination coverage in India: lessons from Intensified Mission Indradhanush, cross-sectoral systems strengthening strategy'.
Read Also: Status of Mission Indradhanush in India
Mission Indradhanush was showcased during the 'Partner's Forum' held at New Delhi on 12th-13th December 2018 which was attended by around 1200 international and national delegates working on Maternal, Newborn, Child and Adolescent Health.
Read Also: Mission Indradhanush Immunisation-A total of 247 lakh children covered
Mission Indradhanush is an important initiative taken by the government of India to immunize kids against 7 vaccine-preventable diseases