Mob attack at Holy Cross Hospital: 15 doctors injured, Acid Bottles thrown, doctors held hostage for 3 hours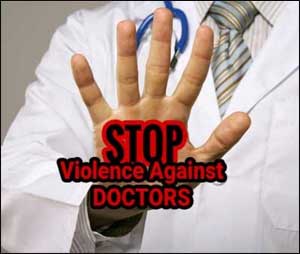 Mumbai: In another case of doctors assault, more than 500 people vandalized the Holy Cross Hospital at Kalyan and beat up 15 doctors including senior medical practitioners, after the demise of a 22 year old patient who suffered an MI (Myocardial Infarction).
It is reported that during the mob attack, not just doctors but staff, police and local persons were also injured. A mediaperson there reporting the incident was also brutally assaulted after the mob mistook him to be a doctor. The mob also broke the furniture and equipment at the hospital, as they progressed on their vandalizing spree.
The incident that led to the mob attack was the death of 22 year old patient Rohit Bhoir, who was admitted to the hospital in Kalyan following chest pain and was diagnosed with MI. Bhoir was on ventilator support when he died.
With the death of the patient, the doctors informed his family about his death where the attendants responded with allegations of that he died due to the negligence of doctors at the hospital, which later led to a heated argument. As the argument progressed, a mob of more than 500 people attacked the hospital and the doctors claiming that they killed the patient.
The mob created a total roadblock at Karnik road. Hospital structure/cash counter glass was broken and management staff was told to go out from the hospital, post which the entire three storey building was totally vandalized by the patient relatives.
As the mob began targeting the doctors at the hospital with acid bottles, it is reported that nearly 15 doctors took shelter by hiding in various corners of the hospital. They remained hostage in the hospital, nearly three long hours before police managed to release them from the rear entrance of the hospital.
Apart from doctors, seven people, including five hospital employees, a policeman, and a journalist, were injured in the violence. The body of the youth, who suffered multiple cardiac attacks, was later sent to Mumbai's JJ hospital for postmortem. The police have seized CCTV footage inside the hospital to identify the attackers.
Dr Ganesh Pawar, a resident physician at the hospital, told
TOI
, "Some of the relatives forcibly squatted inside the ICU, enquiring about each patient. We gave them all information but after the youth died at 3.45pm, his relatives started assaulting the staff."
The attack, that too in such a gruesome manner has literally shaken up the medical fraternity. The local IMA branches were immediately seen contacting the police, MLAs ans ministers demanding action. The doctors are demanding that the assaulters be booked under the Doctors' Protection Act that attracts an imprisonment of up to three years and a penalty of up to Rs 50,000. If no action on culprits, the total shutdown will be the resorted to fight against the cowardly attack on hospital and doctors, said the doctors.