Mob attack at JJ hospital after teenager dies, Policemen injured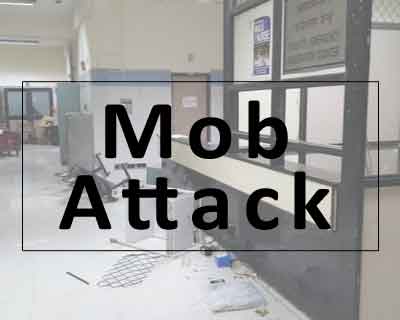 Mumbai: A mob attacked policemen and the security personnel of a state-run agency here after the death of a youth at the Sion Hospital which they blamed on "torture by police" and "negligence" of doctors, an official said today.
Two police constables and three personnel of the Maharashtra State Security Corporation (MSSC), including a woman, were injured in the incident, the police official said, adding that the mob also damaged four police vehicles.
Denying the allegations, the official tonight cited medical reports and said that Sachin Jaiswar (17), a resident of the Dharavi area, had died yesterday due to suspected leptospirosis, a bacterial disease.
Suspecting that he died due to the alleged police torture in custody and negligence of doctors at the hospital, around 100 people gathered outside the hospital late last night and started hurling stones at the policemen, their vehicles and MSSC personnel, the official said.
The protesters also tried to barge into the hospital but were stopped at its gate.
The mob then allegedly beat up the on-duty policemen and MSSC personnel (generally deployed at the state government offices and organisations), he said.
A 31-year-old police constable, Kishore Kumar Kadam, sustained serious head injuries in the attack.
He and the other injured personnel were undergoing treatment at a hospital.
A traffic police outpost, located near the hospital, was also allegedly vandalised by the mob, he said.
Police officials rushed to the spot to pacify the mob and told members of the crowd that Jaiswar had died of the bacterial disease.
Leptospirosis is contracted in humans through direct contact with urine from infected animals or through water, soil or food contaminated with their urine.
Jaiswar's postmortem was conducted at the JJ Hospital to ascertain the exact cause of his death, the official said, adding that the autopsy report was awaited.
The family members of the deceased have refused to take possession of the body demanding action against police officials who had called the youth for questioning.
The official said that Jaiswar was questioned by the Dharavi police on July 13 in connection with the theft of the mobile phone handset of a pedestrian and was allowed to go home.
The next day, Jaiswar ran a fever and went to the hospital. He was sent home after medication, the official said.
Jaiswar was admitted to the hospital on July 16 after he ran a fever again and started vomiting, he said, adding that the youth died yesterday.
The official said that police had received reports of the deceased's medical investigation from Kasturba Hospital in central Mumbai which suggest that he was suffering from leptospirosis.
No injury marks were found on the body, he said.
The official said Jaiswar was jobless as he had quit school when he was in Class 9.
Last year, police had filed a case of voluntarily causing hurt against Jaiswar.