MOS Health, Ashwini Choubey inaugurates 41st Annual Day function of NIHFW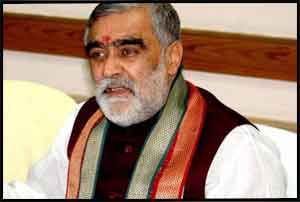 Shri Ashwini Kumar Choubey, Minister of State for Health and Family Welfare was the Chief Guest at the 41stAnnual Day function of the National Institute of Health and Family Welfare (NIHFW), here today. Shri Choubey also released the Hindi journal of the Institute -'Dhaarna' at thefunction. Shri B D Athani, DGHS, was also present at the function.
Addressing the gathering, he said that NIHFW is the apex institute for teaching and training in the field of public health,and is fully supporting the Ministry of Health and Family Welfare in many important projects. He further stated that the Institute, as a think tank, has the potential to match any of the best international institutes of public health in the world.
Speaking at the occasion, ShriChoubey said that the Government has announced two major initiatives in health sector, as part of Ayushman Bharat programme aimed at making path breaking interventions to address health holistically, covering both prevention and health promotion  components. Under this 1.5 lakh Health & Wellness Centres will bring healthcare system closer to the homes of people. These centres will provide comprehensive primary health care, including that for non-communicable diseases and maternal and child health services. ShriChoubey further stated that the second flagship programme under Ayushman Bharat is National Health Protection Scheme (NHPS), which will cover over 10 crore poor and vulnerable families (approximately 50 crore beneficiaries) providing coverage upto 5 lakh rupees per family per year for secondary and tertiary care hospitalization. "This will be the world's largest government funded health care programme. Adequate funds will be provided for smooth implementation of this programme,"Shri Choubey added.
Addressing the participants,Shri Choubey stated that the biggest achievements for the government in the healthcare sector came in the form of National Health Policy and Medical Devices Rule in 2017.  "Both these policy interventions are set to transform the Indian healthcare sector, making the delivery of services more affordable and inclusive.The new health policy is patient centric and quality driven," Shri Choubey elaborated.
Reiterating the commitment of the government, ShriChoubey said that India is on the cusp of transitioning from an older population to a new and younger one. It has more than 50% of its population below the age of 25 and more than 65% below the age of 35. "In the recent years, measures have been undertaken by the Govt. to make healthcare services more affordable with a sharp focus on empowering citizens to access quality healthcare through various policy interventions benefiting millions of patients across the country," Shri Choubey added.
ShriChoubey also awarded degrees and medals to the top performing students, sportspersons and staff of NIHFW. Also present at the function were senior officials from Ministry and NIHFW and representatives from various other organisations.