Multi-Pronged strategy adopted by govt to tackle malnutrition in the country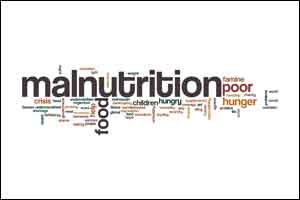 New Delhi: The nutritional status of the population is an outcome of complex and inter-related set of factors and cannot be improved by the efforts of a single sector alone.
The important determinants of malnutrition include inadequate food, frequent infections, poverty, low access of population to health, education, safe drinking-water, environmental, sanitation, hygiene and other social services. The approach to tackle the problem of malnutrition is multi-pronged.
While the measures related to improvement in the health status of women and children are being undertaken by the Health Department through the network of CHCs, PHCs and referral hospitals like AIIMS, the action related to bringing about improvement in the nutritional status of the women and children in the country are being undertaken by this Ministry in the form of various schemes, viz., Anganwadi Services, Scheme for Adolescent Girls and Pradhan Mantri Matru Vandana Yojna under the Umbrella Integrated Child Development Services Scheme as direct targeted interventions to address the problem of malnutrition in the country.
Recently, the Government of India has announced the setting up of National Nutrition Mission (NNM) for improving the nutritional indicators of children and pregnant women and lactating mothers.
The impact of the various schemes being implemented by the Government for tackling the problem of malnutrition in the country is assessed by periodic National Family Health Surveys being conducted by the Ministry of Health and Family Welfare. As per the recent report of National Family Health Survey (NFHS) 4 in 2015-16, 35.7% children under 5 years of age are underweight and 38.4% are stunted indicating a reduction from the previous NFHS 3 conducted in 2005-06, which reported 42.5% children under 5 years of age as underweight and 48% stunted. Further, 22.9% women (15-49 years of age) have chronic energy deficiency (BMI less than 18.5) which is a decline from the previous NFHS-3 levels which reported 35.5% women having chronic energy deficiency.
Besides the in-built five-tier monitoring system, the newly set up National Nutrition Mission has ICT-based real-time monitoring system through Common Application Software (CAS). The software also provides a template for its integration with Mother and Child Tracking System/Reproductive Child Health portal for facilitating auto-population of information across the software of MWCD and MoHFW. To digitize and computerize the data generated at the AWCs, Tablets and Smart Phones are provided to Lady Supervisors and Anganwadi worker.
This information was given by Minister of State for Women and Child Development, Dr. Virendra Kumar in reply to a question in Rajya Sabha.