Mumbai: Duty Doctor assaulted for Stating that Patient Does not need admission, Two arrested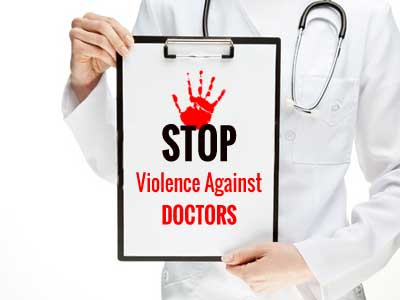 Mumbai: While the age-old norm in medicine has been that a doctor only decides whether a patient needs admission or not, a duty doctor at the state-run Gokuldas Tejpal hospital was assaulted by the relatives of a patient for doing just the same.
TOI reports about the incident, according to which two persons, residents of Girgaum Chowpatty, came to the hospital casualty on Saturday, when their 28-year-old cousin complained of giddiness. The resident doctor on duty informed the family that the patient didn't need to get admitted to the hospital, something which the patient's attendants did not want to hear. This was followed by the assault of the doctor
Confirming the incident, Medical Superintendent at the hospital, Dr M B Tayade, informed TOI, "The doctor on duty, a first-year resident doctor from the medicine department, examined the patient and told him that he doesn't require admission. On hearing this, the relatives lost their cool and tried to assault him. But the guards stopped them. They then hurled abuses at him."
The resident doctor involved in the incident is identified as one Dr Vishwajit Wadke.The hospital lodged a complaint regarding the matter with Azad Maidan police.
Based on the complaints of the authorities, the police have now arrested the miscreants. "We have arrested the duo," confirmed zonal DCP Manoj Kumar Sharma. The arrested have been identified as Vitthal (23) and Himanshu Bhuke (32).
The duo has been held on grounds of voluntarily causing a hurt or criminal force to deter a public servant from discharging his duty and criminal intimation under the Indian Penal Code. They have also been booked under the Maharashtra Medicare Service Persons and Institutions (Prevention of Violence or Damage or Loss to Property) Act.The accused were produced before the court on Sunday and were remanded in police custody for two days.
Gokuldas Tejpal Hospital is a state-run free hospital in South Mumbai, India. It was built in 1875 thanks to the beneficence of Gokuldas Tejpal, a renowned Hindu businessman and philanthropist of Mumbai.