Mumbai: Kidney racket busted at Hiranandani Hospital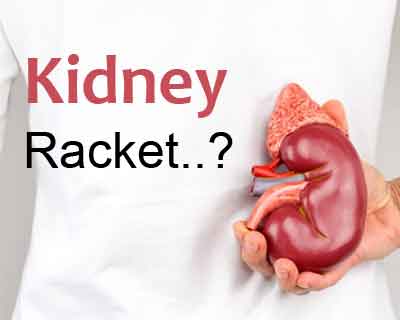 MUMBAI: Just a month after the Delhi police busted a major kidney racket on the premises of Delhi's premier Indraprastha Apollo Hospital, reports have now come in that the Mumbai police has busted another kidney racket in Mumbai's Hiranandani Hospital in Powai. The police have taken into custody 5 people in this regard.
This came after the Powai Police received a tip off from one social worker,Mahesh Tanna who informed that a kidney transplant of a suspicious nature was scheduled to take place at Hiranandani Hospital. The police reached the hospital and began its inquiries. The inquiry revealed the case of one Brijkishore Jaiwal ( 48) who was to receive kidney from his wife, Rekha. On inspection the police found that all documents of the "wife" including her ration card, marriage certificate and birth certificate, were all forged
"After inquiries established that the donor was not Jaiswal's wife, the surgery was cancelled and Jaiswal, along with four others, were taken to the police station for inquiries," said Deputy Commissioner of Police Vinayak Deshmukh, Zone X told Hindu.
The police have taken the man, the women as well as the man's son into custody. Moreover, the police have also detained three people, Vaijendra Bisen, Bharat Sharma and Iqbal Siddiqui, assumed to be middlemen who were helping the patient finding the match for his kidney and organizing the forged documents. A case has been registered against all under relevant provisions of the IPC and Transplantation of Human Organs Act, 1994
State health officials have confirmed to hindu that they have received the intimation from the police and that they will act against the hospital if the charges are proved right. Dr. Gauri Rathod, nodal officer for the state's human organ transplant programme said: "The hospital has a licence for both organ retrieval and transplant. We have already given a letter to the hospital that their licence will be cancelled if the charges are proved to be right. A lot of good work is being done and such a case will spoil the programme."
Dr. Mohan Jadhav, director, health services, said action based on the Transplantation of the Human Organs Act, 1994 will be taken. "We will be gathering the details of the police report tomorrow and take action based on the Act," he said.
A Hiranandani Hospital spokesperson said the hospital was cooperating with the police investigation in the matter, besides bringing it to the attention of other healthcare service providers and health authorities.