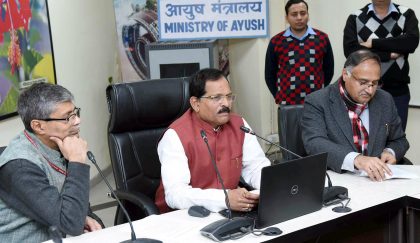 Kohima:  Union Minister Shripad Yesso Naik has assured Nagaland Health and Family Welfare Minister S. Pangnyu Phom that the Union Government will establish one AYUSH hospital in each district of Nagaland in phase manner.
According to an official report today, Union Minister Naik has given this assurance when Nagaland Health Minister S. Pangnyu Phom, who had submitted a proposal for AYUSH hospitals in all the districts and a separate department for AYUSH in the state. The Union Minister was also impressed on the implementation of central project in the state and said that Nagaland could become one of the best AYUSH mission states in the country in the coming days.
Read Also: PM Modi to release Commemorative Stamps in honour of AYUSH Master Healers
The Union Minister has also accepted the invitation to visit Nagaland and to inaugurate AYUSH Hospital in Tuensang, the release stated. Meanwhile, Pangnyu briefed Shripad on the implementation of central scheme in the state and its functioning in the interior district. He also appreciated the union minister for his continuous support to the state, the release said.
Read Also: Ayushman Bharat emerges as core of development agenda
0 comment(s) on Nagaland to get AYUSH hospital in each district, says Union Minister