Name and shame Gynacologists who conduct unnecessary C-sections: Maneka Gandhi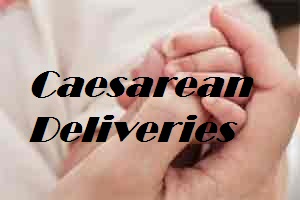 Doctors who carry out Caesarean operations without a valid medical reason must be "named and shamed", said Union Women and Child Development Minister Maneka Gandhi who has also written to the health minister on the issue. Gandhi wants Health Minister J P Nadda to make it mandatory for hospitals to display their rate of Caesarean, also known as C-section, deliveries in response to a Change.org petition against hospitals and doctors profiteering by pushing women towards surgical deliveries instead of natural vaginal birth.

The petition has received 1.3 lakh signatures so far. "We would probably need multiple methods to attack this problem. One could be mandating the nursing homes and hospitals to publicly display the number of C-section deliveries vis-a-vis the normal deliveries during the month," Gandhi wrote in her letter to Nadda.

"We would like naming and shaming of gynecologists who do Caesarean deliveries for no reason at all except money. I would like all women in India to get together and start protesting because a Caesarean for a woman is very invasive, and it turns a natural delivery into something that is an unnecessary operation," Gandhi told reporters.

Subharna Ghosh, who started the petition on Change.org says if hospitals compulsorily display their rate of Caesarean operations, it will help women make an informed choice.

"Women need to be made aware of the C-section percentages of different hospitals and maternity homes, so that they can choose their hospitals carefully." The petition also demands "enquiry against those with abnormally high C-section rate" and "clear guidelines for conducting Caesarean surgery to safeguard the health and rights of women and children".

The World Health Organisation (WHO) norms prescribe that C-section deliveries should ideally be 10-15 per cent of the total number of deliveries in the country. However, according to the National Family Health Survey 2015-16, the combined Caesarean section rate in both government and private hospitals is as high as 58 per cent in Telangana and 34.1 per cent in Tamil Nadu. The rate of Caesarean section deliveries in private hospitals alone is as high as 70.9 per cent in West Bengal and 74.9 per cent in Telangana.