Narayana Health awards scholarships to future doctors of rural India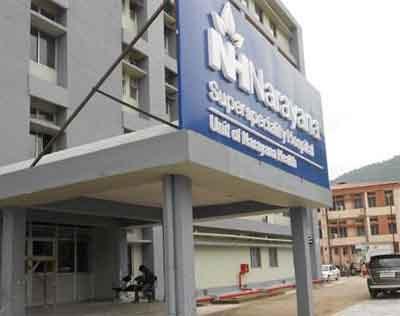 Howrah: As part of its initiative 'Udayer Pathey', Narayana Health awarded with scholarships to eight economically challenged meritorious students from rural West Bengal to help them pursue medical education.
Giving away the scholarships at a function at Narayana Super speciality Hospital here, Dr. Devi Shetty, Chairman, Narayana Health, said, "While India has a population of 1.2 billion, there are only 6 lakh doctors, out of which approximately 4 lakh are active.


"India needs 30 lakh doctors and 60 lakh nurses because status of healthcare delivery is poor."

"Currently only 25 million surgeries are taking place in the country every year whereas the annual requirement target is 65 million surgeries," he said adding "We have seen outstanding doctors coming from deprived background."

Even as the children from rural India have the desire and zeal to become outstanding medical professionals, their economic background pulls them back from achieving it, Shetty regretted.

"That is why our initiative 'Udayer Pathey' came in. 2016 marks the ninth year of this initiative, through which we aim to continue supporting deserving rural children in West Bengal to pursue medical education and thereby motivate them to render medical services in their villages and small towns," Shetty said.

This programme caters to students who have passed class X and class XII and require financial assistance for the two-year scholarship to prepare for JEE (Joint Entrance Examination) in the field of Medicine.

It also caters to students who have ranked in the WBJEE of medicine and require financial assistance to accomplish their dream of becoming a doctor.

These students who are currently being supported by 'Udayer Pathey' are children of daily wage workers, auto rickshaw drivers or others who are from economically weaker sections of society, Shetty added.

Narayana Health also felicitated 12 doctors, who have benefited from this initiative in the last few years.

Dr. Ashutosh Raghuvanshi, Vice-Chairman, MD & Group CEO, Narayana Health, said, "Without quality healthcare professionals across the country, the Indian healthcare ecosystem will remain incomplete, as majority of Indian population resides in rural India."

"Our initiative has made a difference in the lives of around 365 students as well as various rural communities over the last nine years and helped produce quality medical professionals in rural India," he added.