NASA assisted drone to deliver drugs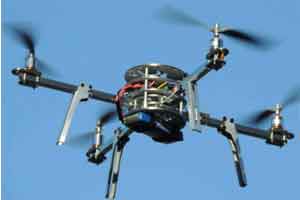 A remote clinic in Virginia gets access to NASA assisted drone delivery of drugs
10 pounds of pharmaceuticals and drugs delivered to a remote clinic that attends to more than 1500 patients with an UAV assisted by NASA, operated by a start-up company Flirtey Inc
NASA has recently assisted a drone, for the first beyond its original line of sight, to deliver pharmaceuticals to a remote clinic in Southwest Virginia. A NASA Langley fixed-wing Cirrus SR22 aircraft assisted an unmanned aircraft system (UAS), operated by Startup Company Flirtey Inc, in the mission.
The objective of this Arial task was to deliver 10 pounds of medical assignment from an airport in Tazewell County in southwest Virginia. This load of medical supplies was delivered by NASA, which always had a safety pilot on board, to the clinic at the Lonesome Pine Airport in Wise County.
The 10 pound supplies were disintegrated into 24 smaller packages by the crew on the NASA plane, so as to deliver it by small, unmanned drone to the free clinic during a number of flights over two hours. This initiative highlights the humanitarian possibilities of the remote use of technology.
A company pilot controlled the drone which lowered the pharmaceuticals to the ground by tether. Health care professionals received the packages and distributed the medications to the appropriate patients (as reported by IANS).
"This first unmanned aerial delivery gave us the chance to do some critical research and mission exploration with our Cirrus SR22," said Frank Jones, deputy director of NASA Langley's Research Services Directorate that oversees all Langley aircraft.
"We flew the aircraft remotely beyond visual line of sight for the first time from a portable ground station," he said in a statement (as reported by IANS).