NEET PG 2018 turns Nightmare for 15 MBBS students- Not allowed to Appear for Exam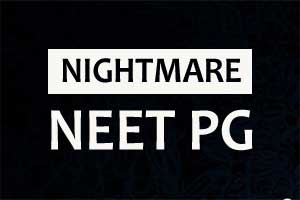 New Delhi: NEET PG 2018 turned out to be a nightmare for 11 doctors appearing for the exam as they were not allowed to appear for the exam on account of being late to the exam centre beyond stipulated time. Ironically, students claim that they were misguided by the officials present at the exam centre and sent to another exam hall where an MBA exam was being held.

The incident took place at the AOn Digital Centre at Mundika Metro Station in Delhi where two exams of NEET PG and XLRI MBA were being held at the same time.  Speaking to Medical Dialogues team, Dr Akanksha Singh, one of the candidates who were not able to appear in the exams informed, " We reached at the exam centre at 8.30 am and saw two queues there. There was no information, no sign boards, nothing-so we joined one of the queues. When we reached the gate we asked the Guard where to go and he told us to go to the next street at the other exam hall. We went to the next exam hall, only to find that our roll numbers were not there as well. Apparently, that was the centre for an MBA exam for XLRI."

" By the time, we rushed back, the same guard had closed the gates and told us that its 9.05 am and you cannot enter now. We pleaded with him that we are going to lose one whole year because of this and that it was him only who had directed us to another centre, but he misbehaved with us and did not let us enter. At 9.15 am, another senior person, presumably an NBE official came and instead of listening to our plight also misbehaved with us." she added

The angry doctors then called the police by dialling 100, however, the police also refused to file an FIR in the case stating that there was no basis to file an FIR. Disillusioned the students who were not allowed to give the exam, now see losing one full year on account of the goof-up.

Federation of Resident Doctors Association has now taken up the issue. Speaking to Medical Dialogues team, Dr Vivek Chouksey, President FORDA said" We have written a letter to the Health Ministry, copy to PMO as well as NBE, demanding a proper inquiry be done in this case. If the centre is found guilty, then it should be immediately blacklisted. Such centres should not be allowed to play with the lives of the students. Moreover, we have demanded that these students should be given a chance at reexamination as they have suffered partly due to the mismanagement of the centre."