Early renal replacement therapy may Reduce Mortality risk from Severe COVID 19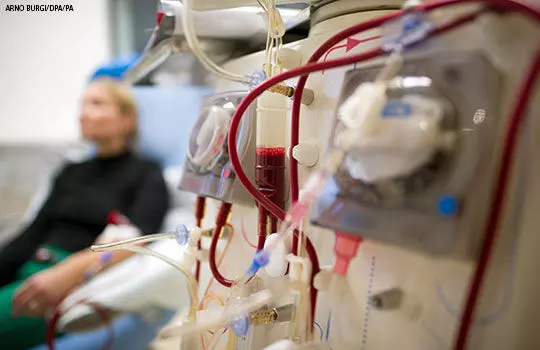 International data suggest that the prevalence of Acute Kidney Injury (AKI) in patients with COVID-19 is 3-9% and is more common in patients with severe disease, affecting up to 30% of critically ill patients in the ICU. In a study, researchers have found that early renal replacement therapy reduces the risk of all-cause in-hospital mortality in patients with severe COVID-19. The study findings were published in the Kidney International Reports on April 01, 2021.

AKI is more common among patients with a severe infection of COVID-19 and is considered a negative prognostic factor for survival. COVID 19 also increased the need for patients requiring dialysis with AKI in the ICU. However, the efficacy of renal replacement therapy (RRT) remains to be validated in COVID-19. Therefore, researchers of the Huashan Hospital Fudan University, China, conducted a study to assess the efficacy of early initiation of RRT in ICU adults with severe COVID-19.
It was a retrospective study of fifty-eight adult patients in ICU with critically ill or severe COVID-19 with a tendency of critical illness. The ICU medical team determined the early RRT based on a boom in cytokines levels, increased organs injury/failure and rapid aggravation of the condition. All participants were followed up from the first day of ICU admission to March 30, 2020. The major outcome assessed was all-cause mortality in ICU.
Key findings of the study were:
Among 58 patients, 81.0% had at least one comorbidity before hospitalization.
The researchers noted that twenty patients were initiated early RRT after 24.1±10.4 days from the onset and 6.4±3.6 days from ICU admission.
They also noted 34 of 58 patients died during ICU follow-up.
Upon univariate and multivariate Cox proportional-hazards model, they found that early RRT was associated with a lower risk of all-cause mortality in ICU with an adjusted HR of 0.280.
They also found that sudden unexpected death (SUD) was remarkably reduced in the early RRT group, compared with the control group (0.2 vs 2.9 per 100 person-day).
The authors concluded, "Early RRT can reduce the all-cause in-hospital mortality, especially SUD in patients with severe COVID-19, but not improve multi-organ impairment or increase the risk of AKI. Early initiation of RRT merits an optional strategy in critically ill patients with COVID-19."
For further information:
https://www.kireports.org/article/S2468-0249(21)00197-2/fulltext
Article Source :
 Kidney International Reports