Investigational inaxaplin shows promise for race-linked kidney disease in phase 2a study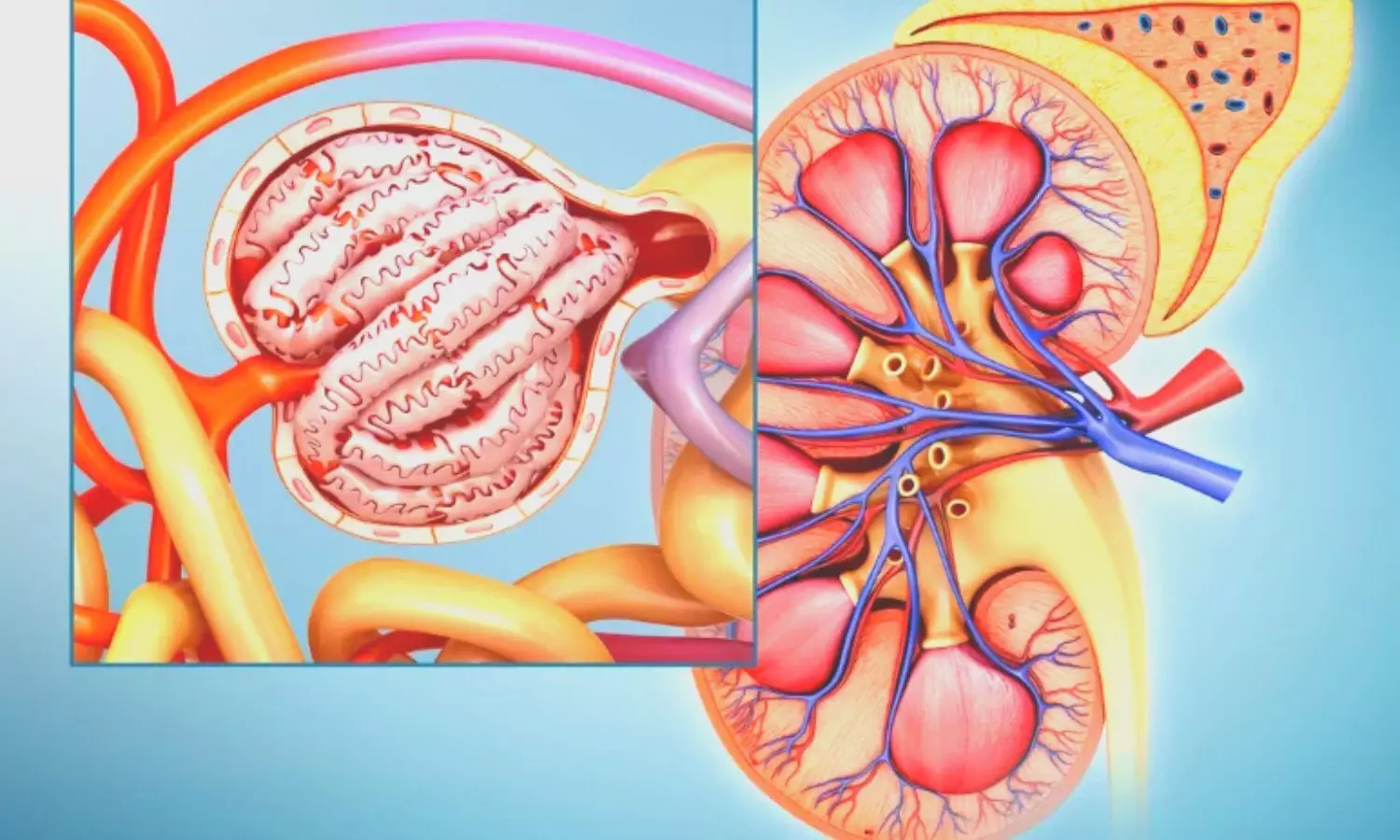 USA: An investigation agent, Inaxaplin, was shown to substantially reduce proteinuria in patients with FSGS (focal segmental glomerulosclerosis) and the right genotype in an uncontrolled phase 2a study, the findings of which were featured in The New England Journal of Medicine.
Inaxaplin is an investigational oral small molecule developed to counter the pathological effect of two gene variants on chromosome 22 tied to kidney damage that exclusively occurs in people of sub-Saharan African ancestry. The drug has shown potential in the small proof-of-concept study.
People with toxic gain-of-function variants in the gene encoding APOL1 (apolipoprotein L1) are at a higher risk for developing rapidly progressive, proteinuric nephropathy. Despite the known genetic causes, there is a lack of therapies targeting proteinuric kidney disease in people with two APOL1 variants (G1 or G2).
Currently, inaxaplin is being investigated in a randomized, phase 2/3 "adaptive" study across more than 100 sites in Canada, the US, and Europe, with a planned enrollment of 470 patients with a high-risk genotype and proteinuric kidney disease. The study was initiated in 2022 and has a scheduled completion date of 2026.
Inaxaplin received breakthrough therapy designation from the US FDA (Food and Drug Administration) for APOL1-mediated FSGS and orphan drug and PRIME designations from the EMA (European Medicines Agency) for APOL1-mediated kidney disease.
Ogo Egbuna, Vertex Pharmaceuticals, Boston, MA, and colleagues used tetracycline-inducible APOL1 human embryonic kidney (HEK293) cells to examine the inaxaplin's ability to inhibit APOL1 channel function. They used an APOL1 G2–homologous transgenic mouse model of proteinuric kidney disease to investigate inaxaplin treatment for proteinuria.
The investigators then conducted a single-group, open-label, phase 2a clinical study in which inaxaplin administration was done in patients who had two APOL1 variants, proteinuria defined as the urinary protein-to-creatinine ratio of ≥0.7 to <10 and estimated glomerular filtration rate (eGFR) of ≥27 ml per minute per 1.73 m2 of body-surface area, and biopsy-proven focal segmental glomerulosclerosis.
Participants were given inaxaplin daily for 13 weeks (45 mg for 11 weeks and 15 mg for two weeks) along with standard care. A safety assessment was also done. A safety assessment was also done. A percentage change from the baseline urinary protein-to-creatinine ratio at week 13 in participants with at least 80% adherence to inaxaplin therapy was determined (primary outcome).
The authors reported the following findings:
Inaxaplin selectively inhibited APOL1 channel function in vitro in preclinical studies and reduced proteinuria in the mouse model. Sixteen participants were included in the phase 2a study.
Among the 13 participants treated with inaxaplin and who met the adherence threshold, at week 13, the mean change from the baseline urinary protein-to-creatinine ratio was −47.6%.
In an analysis that included all the participants irrespective of adherence to inaxaplin therapy, reductions similar to those in the primary research were seen in all but 1 participant.
Adverse events were of mild or moderate severity; none led to study discontinuation.
The researchers conclude, "targeted inhibition of APOL1 channel function with inaxaplin lowered proteinuria in people with two APOL1 variants and focal segmental glomerulosclerosis."
Reference:
Egbuna O, Zimmerman B, Manos G, Fortier A, Chirieac MC, Dakin LA, Friedman DJ, Bramham K, Campbell K, Knebelmann B, Barisoni L, Falk RJ, Gipson DS, Lipkowitz MS, Ojo A, Bunnage ME, Pollak MR, Altshuler D, Chertow GM; VX19-147-101 Study Group. Inaxaplin for Proteinuric Kidney Disease in Persons with Two APOL1 Variants. N Engl J Med. 2023 Mar 16;388(11):969-979. doi: 10.1056/NEJMoa2202396. PMID: 36920755.
Source : New England Journal of Medicine Dr Kartikeya Kohli is an Internal Medicine Consultant at Sitaram Bhartia Hospital in Delhi with super speciality training in Nephrology. He has worked with various eminent hospitals like Indraprastha Apollo Hospital, Sir Gangaram Hospital. He holds an MBBS from Kasturba Medical College Manipal, DNB Internal Medicine, Post Graduate Diploma in Clinical Research and Business Development, Fellow DNB Nephrology, MRCP and ECFMG Certification. He has been closely associated with India Medical Association South Delhi Branch and Delhi Medical Association and has been organising continuing medical education programs on their behalf from time to time. Further he has been contributing medical articles for their newsletters as well. He is also associated with electronic media and TV for conduction and presentation of health programs. He has been associated with Medical Dialogues for last 3 years and contributing articles on regular basis.