First ever COVID-19 case presenting as Guillain-Barré syndrome- A report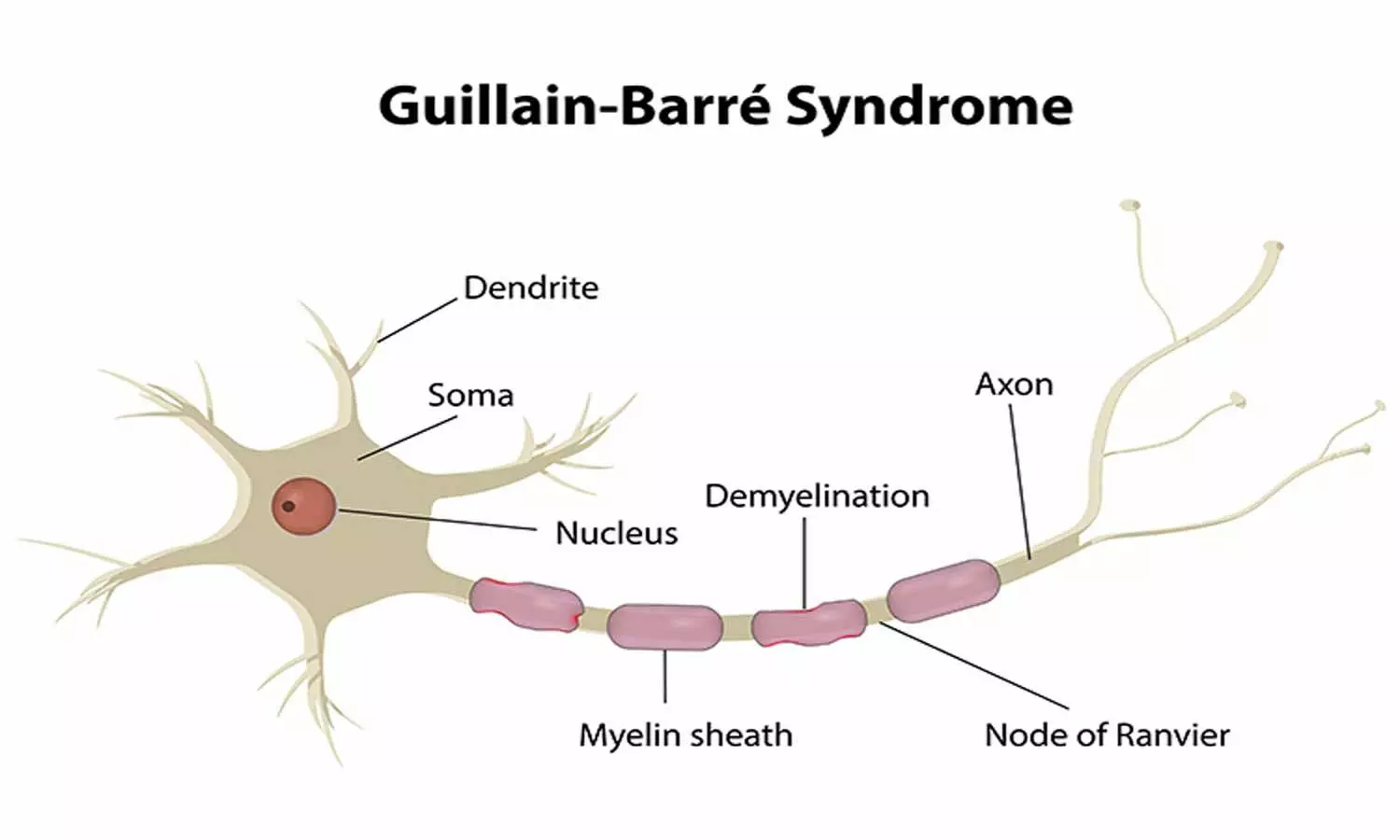 Doctors in China have reported what they believe is the first case of COVID-19 initially presenting as acute Guillain-Barré syndrome (GBS).The case has been published online in Lancet Neurology.
Guillain-Barré syndrome (GBS) is a rare neurological disorder in which the body's immune system mistakenly attacks part of its own peripheral nervous system. GBS can range from a very mild case with brief weakness to nearly devastating paralysis, leaving the person unable to breathe independently.
In the instant case the patient was a 61-year-old woman returning home from Wuhan during the pandemic.
She presented to the hospital with acute weakness in both legs and severe fatigue that progressed.
At presentation her body temperature was 36·5°C, oxygen saturation was 99% on room air, and respiratory rate was 16 breaths per min. Lung auscultation showed no abnormalities. Neurological examination disclosed symmetric weakness (Medical Research Council grade 4/5) and areflexia in both legs and feet. 3 days after admission, her symptoms progressed. Muscle strength was grade 4/5 in both arms and hands and 3/5 in both legs and feet. Sensation to light touch and pinprick was decreased distally.She was not tested for SARS-CoV-2 at that point of time.
Her laboratory test results indicated a low lymphocyte count and thrombocytopenia. Her results of nerve conduction studies performed on day 5 of hospitalization were consistent with demyelinating neuropathy.
The patient was diagnosed with GBS and given intravenous immunoglobulin. On day 8, she developed a dry cough and fever, and a chest CT showed ground-glass opacities in both lungs. At this point, she was tested for SARS-CoV-2, and the results were positive.
She was immediately transferred to an isolation room and received supportive care and antiviral drugs. Her condition improved gradually, and her lymphocyte and thrombocyte counts were normal on day 20.
She was discharged after one month.At discharge she had normal muscle strength in both arms and legs, and tendon reflexes in both legs and feet were also normal. Her respiratory symptoms had resolved and her second SARS-CoV-2 test was negative.
This single case report suggests a possible association between Guillain-Barré syndrome and SARS-CoV-2 infection, and more cases with epidemiological data are necessary to support a causal relationship.
This case also suggests the need to consider potential neurological symptoms of SARS-CoV-2 infection. Furthermore, this report should alert clinicians to the risk of inadvertent SARS-CoV-2 infection, even if they work outside of the emergency or infectious disease department.
For further reference log on to:
Source : Lancet Neurology