Micronet-covered carotid artery stent provides superior cerebral protection after stenting: Study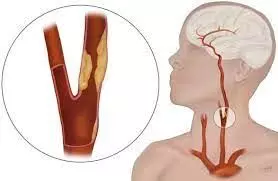 As compared to a conventional stent, the Micronet covered stent provides superior cerebral protection during and after carotid artery revascularization, as per new study published in the JACC journal.
The aim of this study was to compare procedure-related ipsilateral cerebral embolism with a conventional (Acculink, Abbott Vascular) versus a MicroNet-covered (CGuard, InspireMD) stent in carotid artery stenting (CAS).
The MicroNet-covered stent may reduce periprocedural cerebral embolism in CAS, but level 1 evidence is lacking.
A total of 100 consecutive patients were randomized 1:1 to filter-protected CAS using the Acculink or the CGuard device. The study was powered for its primary endpoint of at least 50% reduction in ipsilateral diffusion-weighted magnetic resonance imaging lesion average volume 48 hours postprocedure (blinded external core laboratory analysis).
The Results of the study are as follows:
The baseline characteristics of the study groups were similar.
Eighty-two (total volume = 18,212 mm3) diffusion-weighted magnetic resonance imaging postprocedural cerebral lesions occurred in 26 Acculink-treated patients and 45 lesions (total volume = 3,930 mm3; 78.4% reduction) in 25 CGuard-treated patients.
New cerebral lesion average volume was 171 mm3 vs 73 mm3 per affected patient and 222 mm3 vs 84 mm3 per lesion (Acculink vs CGuard). In lesion-affected patients, the average sum of lesion volumes was 701 mm3 vs 157 mm3
The Acculink significantly increased the risk for multiple (≥5) cerebral lesions
At 30 days, new permanent (fluid-attenuated inversion recovery) lesion prevalence was 3:1 with total permanent lesion volume 7,474 mm3 vs 574 mm3
There were 6 vs 0 new ipsilateral lesions and 2 versus 0 strokes.
Thus, the researchers concluded that the MicroNet-covered stent significantly reduced periprocedural and abolished postprocedural cerebral embolism in relation to a conventional carotid stent. This is consistent with the MicroNet-covered stent's sustained embolism prevention, translating into cerebral protection not only during but also after CAS. The present findings may influence decision making in carotid revascularization.
Reference:
Randomized Controlled Trial of Conventional Versus MicroNet-Covered Stent in Carotid Artery Revascularization by Andrey Karpenko et al. published in the JACC journal.
J Am Coll Cardiol Intv. 2021 Nov, 14 (21) 2377–2387
Source : JACC Journal